Digging Deep; 12 NFL Draft Sleepers for Gang Green to Consider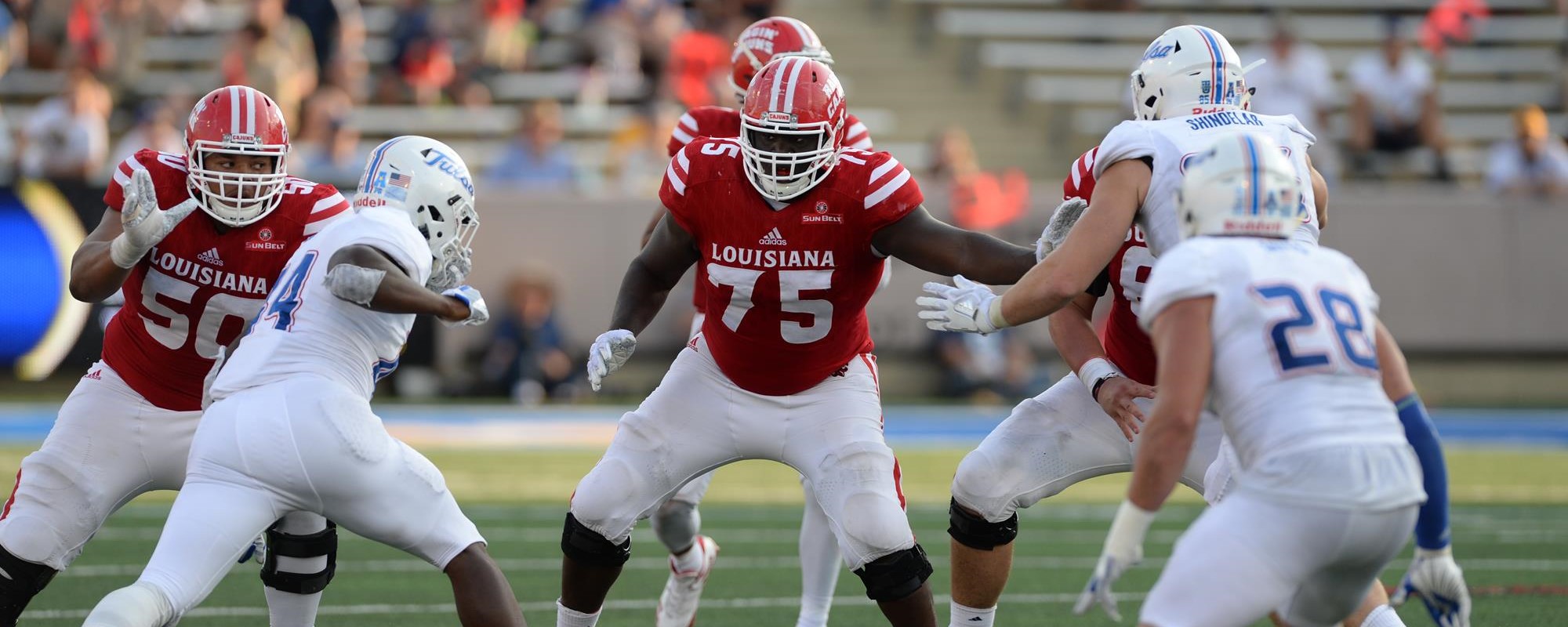 The NFL draft is less than a week away and at this point we're drowning in mock drafts and we've heard the endless debates about whether the Jets should take an offensive tackle or a wide receiver with the 11th overall pick.  But while the first round is where all of the "sexy" names are, it's the later rounds where teams can build a winner by finding late-round gems.  From what we've seen up to now, who are some of those sleepers that could help the Jets?
OG Cameron Clark, Charlotte:
We watched what little we were able to find on this small school product and came away blown away after watching his performance against perennial powerhouse Clemson University.  Clark plays with a definite mean streak and was able to consistently win his battles against a variety of rushers.  If Clark is on the board on day 3, he could be a steal for Joe Douglas. Clark was a left tackle at Charlotte but projects inside as a pro.
Back to back plays here from @CharlotteFTBL LT Cameron Clark (71) vs Clemson 💪. Physical dude who was still going all out when this game was a blowout in 4th qtr. Likely move inside in the NFL but not a bad project pick in later rounds. pic.twitter.com/ytmIUJCRkT

— Glenn Naughton (@AceFan23) April 12, 2020
Edge Tipa Galeai, Utah State:
We projected Galeai to the Jets in our seven-round mock just a few days before the folks at Bleacher Report made the same call.  Galeai will need to put on some weight but his combination of length and explosiveness make him a candidate to become a quality pass rusher as a pro if he lands with the right coach.
Tipa Galeai out of Utah State could be a late round pass rush option. Shows good get off but will need to get bigger to be an every down player. Has the tools to cause trouble off the edge. pic.twitter.com/ErpWTSk7QD

— Glenn Naughton (@AceFan23) February 3, 2020
WR Juaun Jennings, Tennessee:
In this class, you could probably pick out a dozen potential steals at wide receiver but we'll limit it to just a few.  Jennings leads off as a standout at the senior bowl as pointed out by former scout and senior bowl president Jim Nagy.  Jennings showed great toughness and production during his time in college.
Don't care about @Vol_Football WR Jauan Jennings' 40 time. Or any other Combine numbers for that matter. There's always outliers and Jennings is an outlier. It'll be fun watching how many WRs drafted ahead of him that he out-plays at the next level.#TheDraftStartsInMOBILE pic.twitter.com/39BknG4n3z

— Jim Nagy (@JimNagy_SB) April 13, 2020
In his final collegiate season, Jennings picked up 969 yards and 8 touchdowns.  Will often overpower defenders and find ways to get open and break tackles after the catch.
WR Joe Reed, Virginia:
The Jets have made it clear that they're looking for versatility on offense and Joe Reed offers that.  A former high school running back, Reed moved to wide receiver at Virginia where he lined up inside and outside.  He also saw 34 career carries in Virginia where he was also used frequently as a receiver out of the backfield.  Reed also ran back 5 kickoffs for touchdowns during his college career.
Jets are looking for versatilitly and Virginia WR Joe Reed brings that. Lines up inside ahd outside, had 5 KR for TD in college and even saw 34 carries as a rusher. pic.twitter.com/8OM4ABGJYX

— Glenn Naughton (@AceFan23) April 16, 2020
Reed, along with Jennings and our next player, James Proche, were recently mentioned by Eric Galko's optimum scouting as three receivers who graded out well in using their analytics, so there are others on board with the notion of them being quality players.
Some WRs that our analytics viewed highly + were among my personal favorites on film:
James Proche, SMU
Jauan Jennings, Tenn
Joe Reed, Virginia
Ja'Marcus Bradley, ULL
Siaosi Mariner, Utah St
JJ Koski, Cal Poly

Here's our report on SMU's Proche
Maybe my favorite 2020 WR to watch. pic.twitter.com/xcUMnruTmb

— Eric Galko (@EricGalko) April 16, 2020
WR James Proche, SMU:
In one of the deepest receiver classes in NFL history, Proche might have the best hands in the group.  He routinely makes highlight reel grabs and projects as a slot receiver in the NFL.  If you get the ball anywhere near Proche, he's going to come down with it.
This just in…@SMU_Football WR James Proche just might have some pretty decent hands. Projected day 3 pick in deep WR class. pic.twitter.com/SGq97CecyV

— NFL Draft Prospects (@NFLDraftProspe1) April 9, 2020
Proche is currently projected as a round 5 pick by bleacher report.
RB Antonio Gibson, Memphis:
Another late round projection (6th) by Bleacher Report who has great speed at 4.41 and has played running back and wide receiver.
Antonio Gibson averaged 11.7 yards after catch per reception

Most among all draft-eligible players pic.twitter.com/LJfzg4ANsc

— PFF Fantasy Football (@PFF_Fantasy) April 16, 2020
His elusiveness led to an impressive average of 11.7 yards after the catch.  For a team looking for speed and play makers, Gibson would make plenty of sense if he's there on day three, if not sooner.
DL Nick Coe, Auburn:
If the Jets are going to venture over to the defensive side of the ball during this draft, fans had better hope it's in the later rounds and a result of having traded down and added more picks.  If so, Nick Coe from Auburn should be an option.  Coe played both inside and outside for Auburn but when playing along the D-line in 2018, picked up 13 tackles for loss and 7 sacks.  He has the type of versatility Gregg Williams covets and is currently viewed as a day 3 pick.
RB Reggie Corbin, Illinois:
Corbin shows quite a bit of juice out of the backfield and can make guys miss. When watching a few of his games he had a Leon Washington vibe to him.  Small back who can explode through the line for big gains while also being a good target out of the backfield.  Corbin may even go undrafted based on some projections, so adding him as an UDFA should be on the table.
Illinois RB Reggie Corbin has some exposiveness and does a good job here of making people miss. Could go anwhere from round 6 to UDFA. pic.twitter.com/84clpuZWe2

— Glenn Naughton (@AceFan23) February 27, 2020
OG Kevin Dotson, Louisiana:
Strong as an ox, Dotson is another player who has been projected up and down the draft.  Emory Hunt of football game plan had him going to the Jets in the third round after loving what he saw from Dotson during the East/West shrine bowl.  Then there's the other side of the spectrum where Bleacher Report has Dotson going undrafted.  If we had to guess, we'd put Dotson in the round 5-6 range with the tools to undoubtedly become a starter.
Louisiana RG Kevin Dotson (75) shouldn've had a combine invite. Strong as a bull and plays through the whistle. Takes a defender several yards down the field before tossing him to the ground on this play. pic.twitter.com/ueEGC0xOIn

— Glenn Naughton (@AceFan23) February 24, 2020
Dotson was one of the more surprising combine snubs this year and we profiled him right here.
CB Amik Robertson, Louisiana Tech:
Mocked to the Jets by JetNation Radio's Alex Varallo (@nyjetslife23) in our mock draft 2.0, Robertson is an aggressive corner who may not be in the "sleeper" category anymore as he's now showing up in the middle  rounds for some pundits.  He has the hard-nosed mentality that Gregg Williams loves and can be disruptive against the pass.
WR Tyler Johnson, Minnesota:
Okay, we lied.  Another wide receiver but this is for good reason.  Johnson is the most puzzling of all the receivers in this class in terms of how little talk he's generating.  Yes, it's a deep class, but this is a guy who did nothing but find ways to get open over and over again for Minnesota.  Johnson had 164 receptions for 2,487 yards over his final two collegiate seasons and found the end zone 25 times.
In his final 8 games in 2019, Johnson was unstoppable in a stretch that included big school opponents in Penn State, Iowa, Northwestern, Wisconsin and Auburn.  In all, he picked up 58 catches for 968 yards and 8 touchdowns.  If he can be had outside of the first three rounds, somebody could get a steal.
TE CJ O' Grady, Arkansas:
There isn't a huge need at tight end for the Jets with Chris Herndon, Ryan Griffin, Trevon Wesco and Daniel Brown.  Even still, O' Grady is one of the most interesting prospects in this class.  Some have him going undrafted entirely and others have him as a day 3 pick.  This is due more to O' Grady having multiple suspensions and injuries at Arkansas than his ability on the field.  He was rarely targeted at Arkansas, but when he had the ball in his hands, he made some eye-opening plays.
There are character concerns and injury concerns, but if teams are satisfied with his interviews, somebody could get a steal in the later rounds with Arkansas tight end CJ O' Grady. Very little college production but when he had the ball in his hands, he did things like this. pic.twitter.com/Ajn0NqgZTT

— Glenn Naughton (@AceFan23) April 18, 2020
Arkansas TE CJ O' Grady shows concentration and soft hands en route to the end zone here. pic.twitter.com/F0TZeBt23F

— Glenn Naughton (@AceFan23) April 18, 2020
Every year there are players who are taken too early that teams look back at and regret, but the players above could offer the opportunity to be the late-round steal that the Jets and others so often seem to miss out on.
Videos
Aaron Rodgers Injury Fallout & Jets/Bills Recap