Week 8 Report Card: Blowouts now the Norm for Gase and Company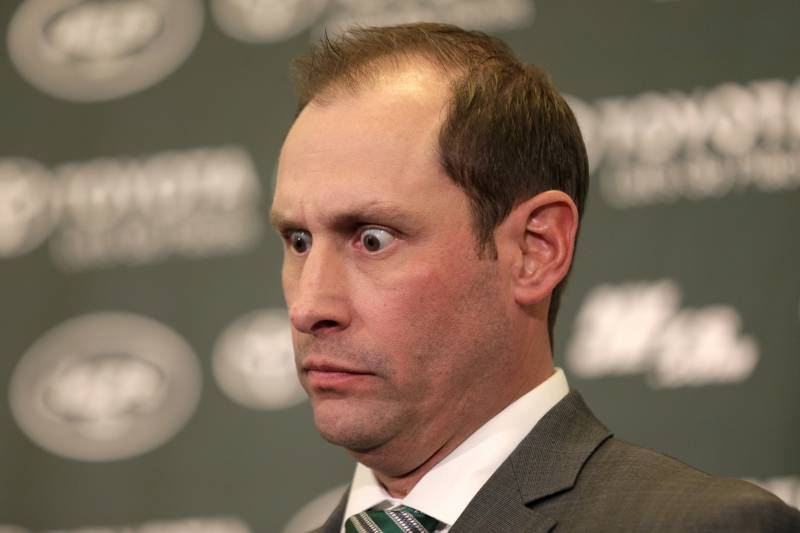 Stop us if you've heard this before; the New York Jets got their doors blown off this Sunday, were not competitive and looked overmatched to the point where the players themselves are probably counting down the days until Adam Gase is fired.  Losers of their eighth consecutive game, Jets players could do little more than sit and watch while the Kansas City Chiefs rubbed their noses in a 35-6 loss.  How did each group grade out?
Disrespectful 💀

Chiefs started Swag Surfin' on the Jets during the game.

(via @Chiefs)pic.twitter.com/BP9G7vqDBk

— Bleacher Report (@BleacherReport) November 2, 2020
Quarterback: D
Sam Darnold managed the game well early on in the short to intermediate passing game but when he had shots to hit open receivers deep down the field, he was way off.  It would have made little difference, but at one point Darnold had wide receiver Jeff Smith wide open down the left sideline just before the half.  Instead of a deep TD, Darnold misfired and overthrew Smith by several yards.  In addition, Darnold targeted rookie reciver Denzel Mims just 3 times on the day.  Meanwhile, Jeff Smith and Braxton Berrios combined for 19 targets.
Running Back: D
Adam Gase continues to lean heavily on Frank Gore who got the majority of the workload once again and averaged just 3 yards per carry, picking up 30 yards on 10 carries.  Rookie running back La'Mical Perine didn't do much better with 34 yards on 8 attempts.  The team's most explosive runner, Ty Johnson, didn't see a carry but did have one catch for six yards.
Wide Receivers: D
Braxton Berrios led the Jets with 8 receptions for a grand total of 34 yards.  This is Adam Gase's brilliant offense.  Their top receiver averaged fewer yards per reception than most running backs average per carry.  Denzel Mims showed promise when given the opportunity but was saw just 3 targets on the day, picking up 42 yards.
This one kind of boggles the mind …#Jets are averaging 4.62 yards per pass attempt through 8 games

NINE teams are averaging more than 4.62 per RUSHING attempt.

Through all completed games.

— Rich Cimini (@RichCimini) November 2, 2020
Tight Ends: F
Chris Herndon finally had a catch and all it did was lead to another fumble.  That was it on the day for the tight ends.  Completely invisible.
Offensive Line: C
It's hard to penalize the O-line at this point.  So much of the Jets offense happens within 10-15 yards of the offensive line that teams feel no need to back off and often overload the box.  Whether it's attacking the run or the pass, the offensive line is often asked to block more bodies than they have at their disposal.  Mekhi Becton continues to be a force at left tackle.
Defensive Line: B+
No sacks for the D line against the Chiefs but Gregg Williams did close to no blitzing with frequent 3-man rushes to maximize coverage on the back end.  Quinnen Williams continues to get better every week and those who gave up on him after a handful of NFL games have grown eerily silent.  Williams played just over half of the team's defensive snaps (56%) and still stood out, picking up a pair of tackles for loss.  Henry Anderson may have played his best game of the season and John Franklin-Myers continues to impress up the middle.
Linebackers: F
Avery Williamson was picked on in the passing game early and often.  It was evident on game day, but if the folks at PFF got it right, the numbers are downright scary.  According to PFF.com, Williamson was targeted 13 times, allowing 13 receptions for 190 yards…yikes!  Tarell Basham was quietly solid as is often the case but Jordan Jenkins was invisible along with Williamson.
Secondary: F
When you surrender over 400 yards through the air and 5 passing touchdowns, there's really not much to say other than "F".
Special Teams: F
A blocked field goal and being asleep on a 4th down fake punt and nothing from Braxton Berrios as a punt returner earn this group an F.  The highlight of the game may have been rookie punter Braden Mann's 60-yarder that sailed out of bounds and could not be returned.
Coaching: F
Instead of trying to get youngsters La'Mial Perine, Denzel Mims and Ty Johnson involved, they were overshadowed by Frank Gore and Braxton Berrios.  When the Jets couldn't cover, there was no second option offered and the dink and dunk offense is beyond embarrassing at this point.
Videos
Aaron Rodgers Injury Fallout & Jets/Bills Recap