Featured Editorials Game Recap
Game Observations; Ty Johnson & Targeting Playmakers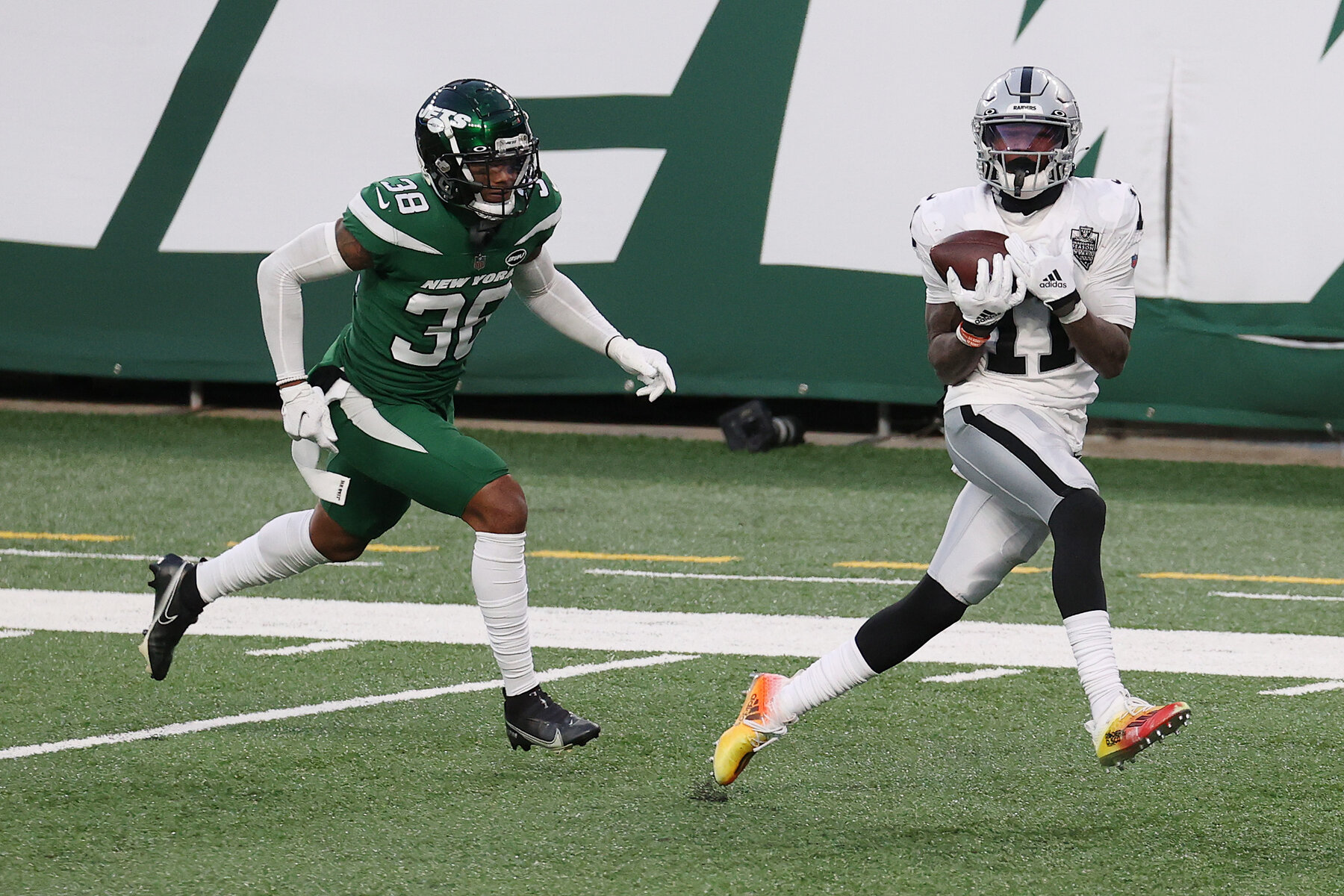 You've got to be kidding me, that was way too close for comfort!  Henry Ruggs finally woke up and played like a #1 pick and bailed out the Las Vegas Raiders and kept the NY Jets draft position intact. The Raiders remain in the playoff race and the Jets stay in the lead for Trevor Lawrence.  I know it must sting for the players but I'm sorry one win doesn't help this team going forward they need the #1 pick, period.
– For the first time all year you saw a rookie game from Mekhi Becton. After shutting out the likes of Nick & Joey Bosa, Melvin Ingram and Chris Jones he actually struggled with Clelin Ferrell and gave up two strip sacks.  But the very encouraging aspect from this game was the chemistry between Becton and Pat Elflein.  Other than the two sacks their communication in pass blocking was solid.  But they were absolutely dominant in the run game cleaning out the left side of LV DLine all game.  Elflein showed excellent mobility getting to the second level, was strong at the point of attack in pass blocking.  And showed a "Becton type of nastiness" in the run game pushing players 3-4 yards down the field and driving them into the ground.  I doubt we see Alex Lewis again this season, Elflein needs to stay at LG because if he continues this level of play that's one less OLinemen we need in the offseason.
– Tremendous production on the ground (34 rush / 206 yds / 2 TD) thanks to the OLine, particularly Becton and Elflein.  The scheme remained unimaginative but the dominance of the line overcame the boring calls.
– Good games from Ty Johnson (22 rush / 104 yds / TD) and Josh Adams (8 rush / 74 yds) which shows "no name RB's" can be highly productive if an OLine is good.  Johnson though is going to have a hard time remaining in the league if he doesn't do a better job picking up the blitz.  His awareness is awful right now.
– Whoever the next head coach and offensive coordinator are they must have the mindset I saw from Las Vegas today in their passing game.  They had a huge mismatch in Darren Waller and they force fed him all day (17 targets).  And he destroyed the Jets with 13 rec / 200 yds / 2 TD, a mismatch must be exploited and we never see that from the Jets.
– To enforce the above point Denzel Mims had 2 rec / 40 yds but only 3 targets for the entire game.  And Breshad Perriman had 1 rec / 22 yds but only 4 targets for the entire game.  That's beyond ridiculous, that type of size and speed has to challenge the defense all game.  Adam Gase scheme seems to focus on sticking to plays and progressions and not attacking mismatches.
– Sam Darnold was better than last week but he wasn't good (14/23, 186 yds, 2 TD, INT, 2 fumbles).  In 4 games his Jet career will be over and you hope Joe Douglas can get a 3rd rounder for him maybe a 2nd rounder.
– Another quality game from Quinnen Williams as he continues to show that he'll be a defensive building block going forward (4 Tkls, Sack, TFL, 3 QB Hits).
– I'm thankful that Henry Ruggs came up with the TD but I have to say he wasn't impressive.  Its great to have speed but if you can't hang onto the ball who cares.  His ball security has a long way to go.
The fake outrage over the loss today is beyond laughable.  The Jets are 4 games away from:
– Having the ability to draft the "next big thing" at QB.
– Basically having three first round picks (#1, #25, #33).
– Having five premium picks in the first 3 rounds.  And with a tradeable asset in Darnold potentially adding a sixth one.
– Having the most cap space in a year when the cap is going down.
Stop the fake crying you're embarrassing yourself.
Videos
Aaron Rodgers Injury Fallout & Jets/Bills Recap