Featured Editorials Game Recap
NY Jets Game Notes (KRL); Mims, Huff & Wilson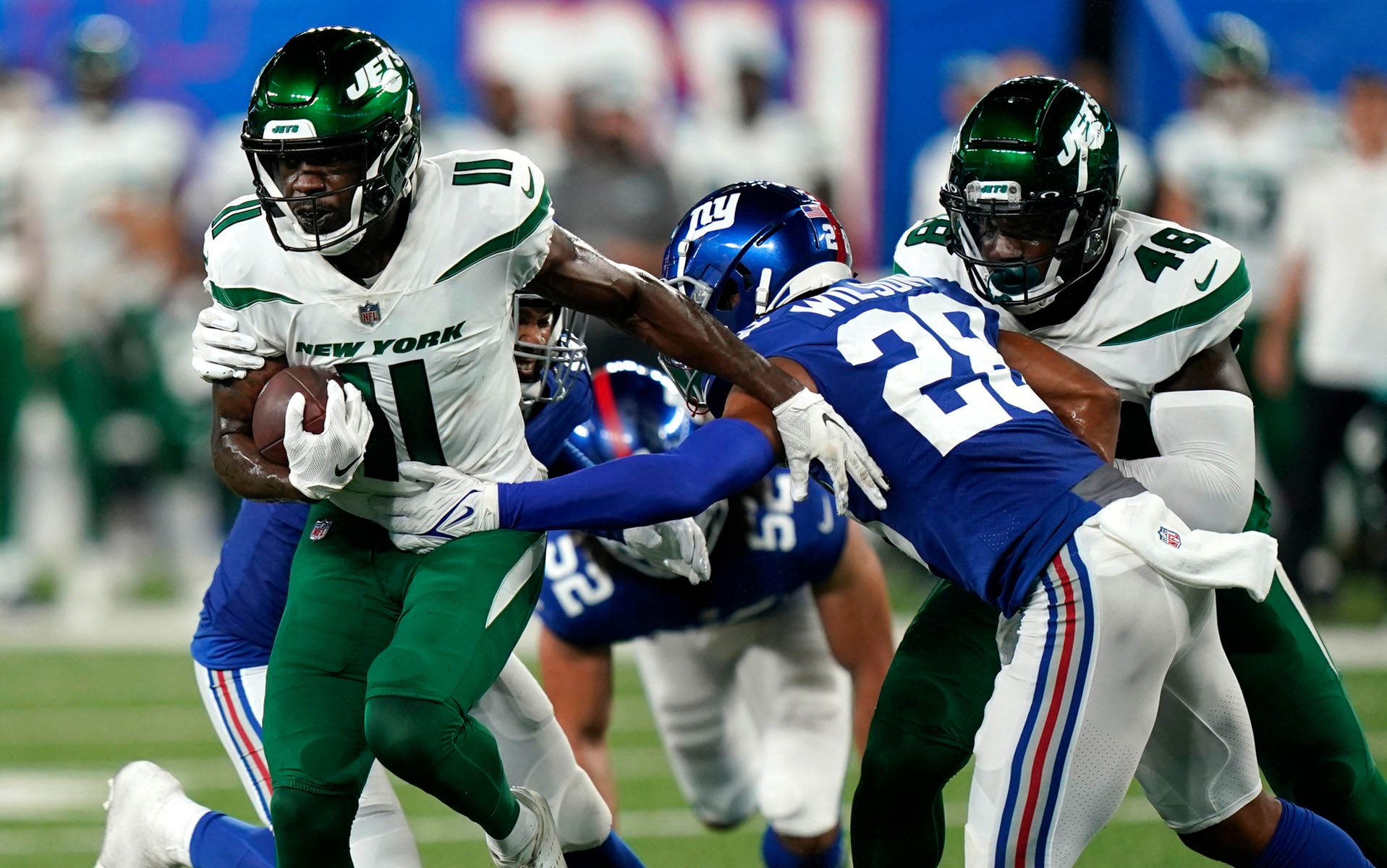 It was good to have pre-season football back after a year absence. Most will dismiss it, but there's nothing like live reps to see how the NY Jets roster is developing. Let's take a look:
Special Teams
– This is my first time seeing Chris Naggar and I wasn't impressed. His leg was short on kickoffs and his FG attempt from 53 yards looked like a wounded duck.
– Props to Denzel Mims for being on the coverage units. With him having a slow start to camp its crucial to make yourself valuable to the coaching staff by showing you can play specials.
– Impressive "downing" of a punt by Vyncint Smith at the one yard line, as he raced into the end zone and knocked it back into the field of play.
Defense
– With so much youth in the secondary, it was good to see solid "back 7" coordination in pass coverage. Multiple PBU's from the likes of Jamien Sherwood, Brandin Echols and Javelin Guidry.
– I don't care if it was "pre-season" how nice was it to see a DLine bring pressure and generate 5 sacks and 10 QB hits. And with the game "on the line" how shocking was it to see the defense actually end the game with a sack and a safety. Instead of allowing the offense to drive the field for a game winning score.
– Its early and after a two year layoff I still have "LeVeon Bell concerns", but CJ Mosley was impressive in his return to the field. A noticeable difference in his speed/range allowed him to cover the middle of the field on the first play of the game and to knock down a seam pass. A 2018 Mosley with more speed would be a huge addition to this defense, we'll see.
– Bryce Huff with a huge game as he got 2 sacks and multiple pressures. With the switch to a 4-3 and a return to his natural DE position Huff looked like an entirely different player.
– Nice debut by Jonathan Marshall as he brought pressure up the middle, generated 1.5 sacks and ended the game with a safety.
– Bad missed tackle by Zane Lewis on the 50+ yard NYG run. He came free off the left side, stumbled and let the RB out of the gate.
Offense
– Nice to finally see an effective run scheme and multiple "gash runs", particularly from the #1 OLine. In addition all the OLines did a good job securing the pocket for all the QB's.
– They came up a little bit short (as they had to punt) but a nice end of game "4 minute" drive by the offense. They ran the ball effectively, drained the clock and almost kept NYG from getting the ball back.
– Good to see Denzel Mims show up on offense (3 recs / 51 yards) after a very slow start to camp. Hopefully his epic "big boy" run where he dragged 4-5 defenders to pick up a first down will increase his confidence.
– Nice game by Vyncint Smith (3 recs / 39 yards) as he ran with the #1's.
– Bad showings by Kenny Yeboah and Austin Walter. Yeboah didn't secure the ball on his catch and gave up a fumble which set NYG up for their only score. And Walter had a night to forget where on one rep he got run over by a LB and allowed the QB to get hit. And on another rep he fell down on a running play, got back up took the handoff and then fumbled all on the same play. You can't make the team with that many mistakes.
QB
– I'm not going to gush over Zach Wilson and say he's "going to Canton" he was solid and efficient (6/9 63 yards). The best thing about his play was he didn't give off any "rookie vibes". If you didn't know who Wilson was and I said he was a third year QB just getting a couple of reps in preparation for the season you wouldn't have been shocked. There were no fumbled snaps, no missed assignments and no plays where he looked like a chicken with no head.
– Nice performance by Mike White (13/19 127 yards), he looks like he could be a competent backup and James Morgan wasn't bad. After seeing the likes of Christian Hackenberg "wet the bed" in pre-season, credit the offensive staff for having the backups ready to play.
With camp set to continue and the joint practices in GB this week, I can't wait to see Quinnen Williams, Alijah Vera-Tucker and Elijah Moore added back to both sides of the ball.
Videos
New York Jets OTA Presser Takeaways, Aaron Rodgers' Impact and Summer Delusion