Featured Editorials Game Recap
Jets Beat Packers 23-14; KRL Game Recap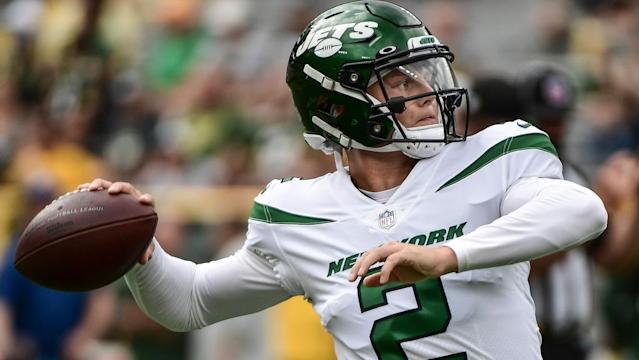 The New York Jets beat the Green Bay Packers 23 – 14 to get their 2nd win of the preseason. The game was a total mixed bag:
– The Jets won.
– The offense and special teams took a nice step forward.
– The defense was shaky stopping the run, allowed too many third down conversions and had too many penalties.  But they "bent and didn't break" as they held GB to 14 points and generated three turnovers.
Let's take a look:
Special Teams
– Matt Ammendola had an impressive debut going 3/3 in FG with a booming 54 yarder.  And he showed a nice variety on KO's, kicking some out of the end zone while on others he put them inside the 10 but with good hang time which allowed coverage to pin GB deep.
– Braden Mann had a 46 yard average on his punts and placed three inside the 20 yard line.
– Impressive 70+ yard KO return by Corey Ballentine, but can he be a serviceable CB and make the roster?
Defense
– Poor run defense and too many "gash runs" (32 carries / 135 yards) kept GB in manageable downs which led to too many third down conversions (8/14).  That recipe led to a neutralized pass rush (1 Sack / 2 QB hits) and not much pressure on Benkert.
– Too many unnecessary penalties away from the play (defensive holding, illegal hands to the face) also allowed GB to extend drives.  That has to be cleaned up.
– But credit to the defense for being opportunistic and generating three turnovers. Brandin Echols and Lamar Jackson with INT's and Jamien Sherwood with a fumble recovery.
– The best defender of the day had to be JT Hassell (5 Tackles, Sack, TFL, FF).  With only two safeties definitely making the roster (Marcus Maye & LaMarcus Joyner) can he stick as a backup?
Offense
– Another short yardage failure on 3rd & 1 for the second game in a row.  Which leads to my next point, Alijah Vera-Tucker needs to get back to his LG spot.  Dan Feeney got pulled from the #1 OLine after that short yardage failure and his replacement, Jimmy Murray, was too soft in pass protection.  Apart from those two critiques the OLine kept Zach Wilson untouched for a second game in a row and generated good push on the ground (26 carries / 109 yards).
– Trevon Wesco was excellent blocking as a FB/HB/TE again and even contributed as a pass catcher (1 rec / 17 yards).  The "Shanahan offense" is looking for a Kyle Juszczyk type of FB, can Wesco fill that role?
– Corey Davis with a big game (4 recs / 70 yards) as the chemistry he's developing with Zach Wilson showed for the first time.
– Tyler Kroft with a nice game (2 rec / 36 yards / 2 TD) as he catches the first two TD's of Zach Wilson's career.
– Hard running with good explosion shown by Michael Carter (10 carries / 52 yards) and Tevin Coleman (4 carries / 19 yards).
QB
– Zach Wilson took a step up from his performance against NYG.  He continues to give off that "3rd year QB" vibe that I mentioned last week:
* No fumbled snaps
* No falling down when pulling away from the center
* No timeouts as the play clock is running out
* No obvious missed assignments
* No running around like a chicken without a head
But more than that there was production (9/11, 128 yards, 2 TD) and flashing of his "off script" skills today.  The prettiest play being when he scrambled to his right and found Davis wide open with a 35+ yard throw as he left his feet.
Videos
Was Boomer Right to Blast Becton? Former Jets QB Sounds off Against Jets Tackle.