Featured Editorials Game Recap
Jets Beat Texans — Game Notes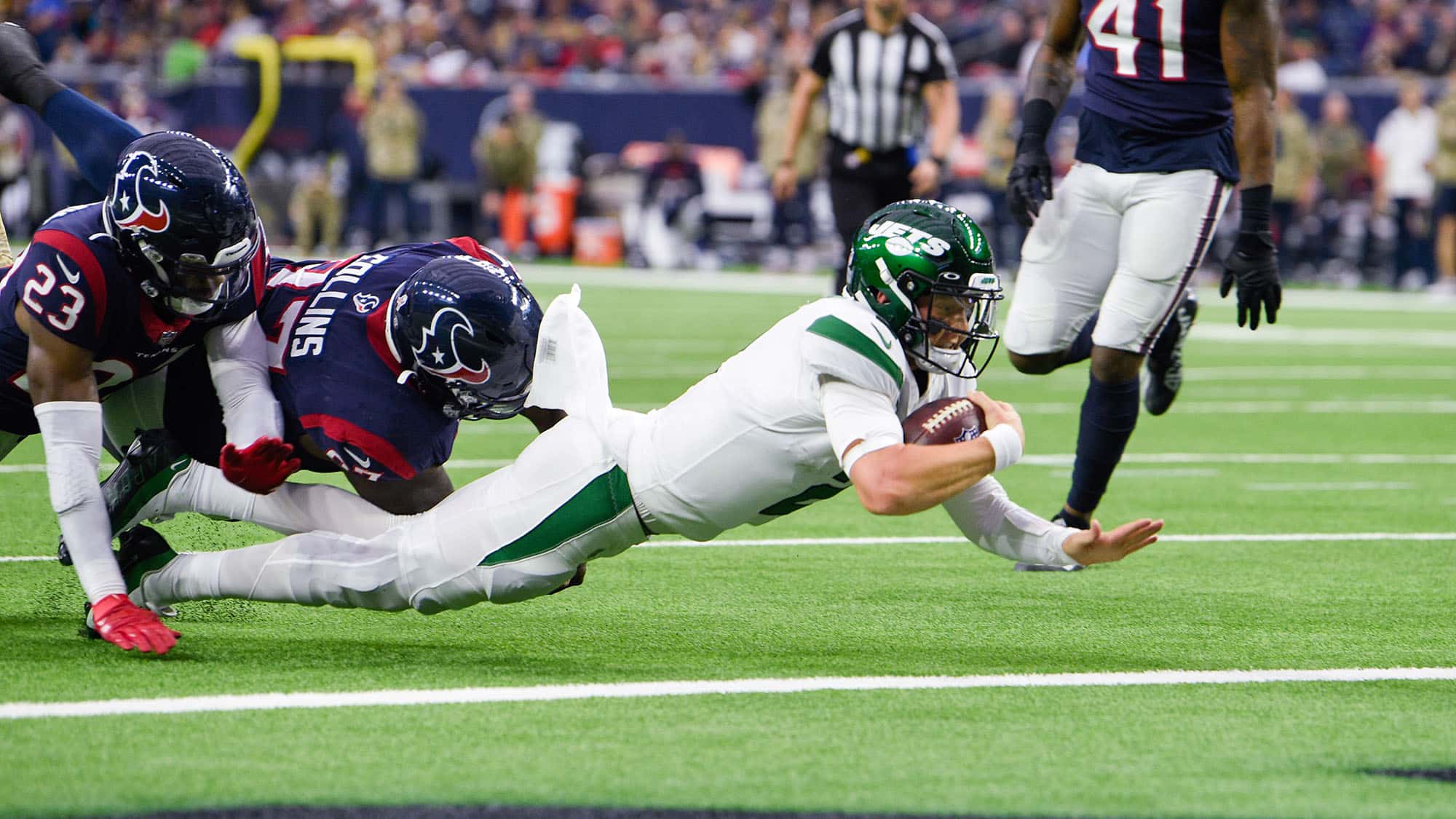 In this decade of barren football as a fan, its always nice to get a NY Jets win.  So I don't care if it came at the expense of 2-9 HOU team, a win is a win.  After trailing 14-3 the Jets outscored HOU 18-0 to gain their third win of the season 21-14.  I was hoping for 4 wins over the last 8 games of the season, this is the first one.  Let's take a look:
Special Teams
– I love Matt Ammendola's leg strength but he's too unreliable on kicks inside of 45 yards.  And I think the coaching staff feels the same way because they pulled him off the field late in the fourth quarter and went for it instead of attempting a FG.  He'll be fortunate to be on the team for the rest of the season.
Defense
– It didn't start off very promising as they gave up two first-half touchdowns.  But they bounced back and shut out HOU over the final 35 minutes of the game.  Thankfully Tyrod Taylor likes to hold the ball which allowed the DLine to generate 5 sacks.
– Nice to see John Franklin-Myers emerge for the first time since signing his contract.  An excellent game as he had 3 Tackles, 2 Sacks, 2 TFL, Pass Defensed, 2 QB Hits, and an INT.
– Quinnen Williams teamed up with Franklin-Myers to dominate HOU OLine.  Williams almost matched Franklin-Myers stats as he generated 4 Tackles, Sack, TFL and a QB Hit.
– Another productive game by Quincy Williams as he generated 7 Tackles, Sack, TFL and a QB Hit.  He still shows some rawness in his game but I love his speed and violent tackling.  With further refinement he should be a very nice piece going into the future.
– Bryce Hall started off shaky as he gave up a 40 yard TD.  But Hall bounced back and displayed the excellent skills he's shown most of the season after that as he had 3 Tackles, TFL, and a Pass Defensed.
– Solid coverage game by Javelin Guidry as he's been elevated to an outside CB since Brandin Echols went down with an injury.
Offense
– Best run performance of the year by the OLine as they produced 157 yards on 34 rushes.  And I don't think its a coincidence that this has happened with Greg Van-Roten being replaced by Laurent Duvernay-Tardiff.  Duvernay-Tardiff has been an upgrade as he's been able to get to the second level in the run game and anchor the interior pocket better than Van-Roten.
– With excellent run blocking up front all three RB's were able to be productive:
* Tevin Coleman with 16 Rushes for 67 Yards
* Ty Johnson with 6 Rushes for 42 Yards
* Austin Walter with 9 Rushes for 38 Yards and a TD
The fact that Walter was active is such an indictment on LaMical Perine.  Walter was on the practice squad but Perine couldn't beat him out to be on the active roster.
QB
– Zach Wilson was able to lead the team to a win but he wasn't impressive in any sense.  He was 14/24 for 145 yards with a rushing TD and an awful INT.  Over the past 4 games we've seen Mike White, Josh Johnson and Joe Flacco run the offense efficiently.  Unfortunately we didn't see that same efficiency with Wilson running the show.  Wilson's timing, accuracy and velocity on throws to his receivers was off, this has to improve.  The best part of Wilson's performance was after the game as he acknowledged his poor game and wasn't "giddy" with the win.  I hope this was a "rust game" and he'll be better next week because I wasn't happy.
Draft Thought
– I LOVED the performance of Aidan Hutchinson (3 sacks) yesterday against Ohio St. As prolific as Ohio St. offense was the only was Michigan was going to win was disrupting the QB.  And Hutchinson stepped up to the challenge, I would love to see him on the opposite side of Carl Lawson next year.
Videos
New York Jets OTA Presser Takeaways, Aaron Rodgers' Impact and Summer Delusion