Featured Editorials Game Recap
Zach Wilson Never Had a Chance; Bills Game Notes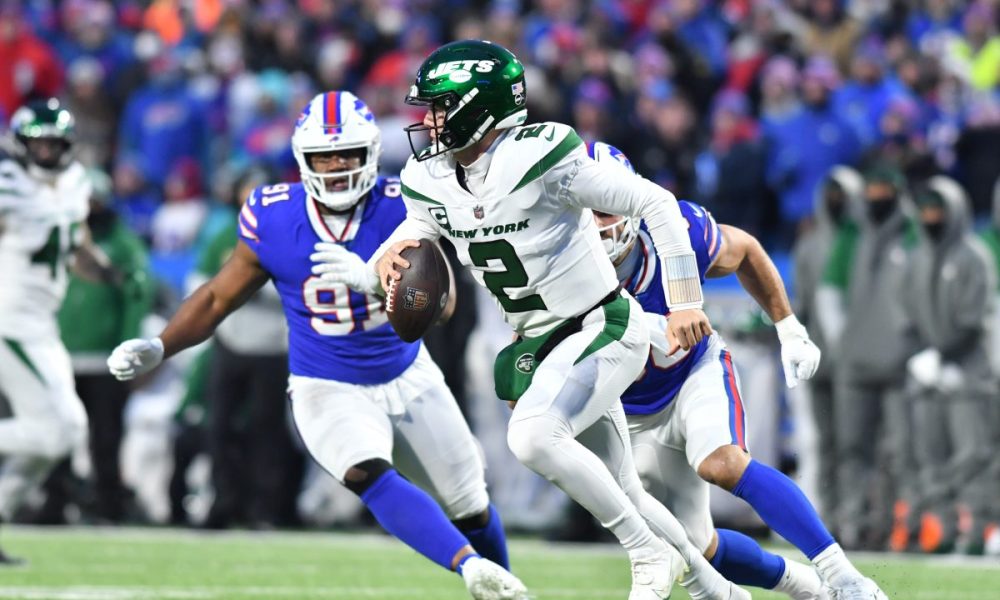 This will be short & sweet and then we can look forward to the off-season:
– An incredible effort by the defense to hold BUF to 13 points for the first 50 minutes of the game, unfortunately, they collapsed from too much time on the field.  BUF bullied them in the first meeting (45 points) and they showed tremendous growth/fight in a "meaningless" game.
– I may owe Eddy Pineiro an apology.  I wasn't impressed by his leg strength, but the 49 yarder he hit yesterday was terrific.  In January BUF weather with the wind whipping around, Pineiro was able to put it through with room to spare.  If he's able to mix the accuracy he's shown with a leg that can hit 50 yarders we may have finally found our kicker.
– Offensively Zach Wilson never had a chance, particularly when the "top" WR on the field is someone named Tarik Black.  It seemed like Jamison Crowder was on the field
for one series before he disappeared.  And even on his TD Keelan Cole seemed to struggle running the final 20 yards.  I'll give credit to Wilson for a couple of things:
* Terrific bullet to Cole on the TD between two defenders
* No INTs for a fifth straight game
* Toughness and fight to keep getting up after 9 sacks
Robert Saleh dodged a huge bullet because he risked injury to Wilson towards the end of the game with some of the play calls.  He/we got lucky and to prove the point Morgan Moses limped off on the final series.
– Awful day by the OLine as Conor McDermott and Dan Feeney struggled all day.  Mix that in with WR's who couldn't get open and you get the mess you saw.
– Braxton Berrios presence was missed in the running game as the "jet sweep" disappeared. In fact the only successful run all day was when Tevin Coleman took Berrios place in the
sweep and he picked up 5+ yards.
– One BUF point, they better figure out what's going on with their punter or they're going to be one and done in the playoffs.  Shank after shank and dropping snaps right into his hands set the Jets up for all their points.  If he pulls that crap in the playoffs a better team will beat them not just stay close.
Videos
NY Jets Phase 3 OTAs, Expectations and a Minor Calf Tweak with Greg Renoff