Featured Editorials Game Previews Jets Preview
Jets vs Ravens; Week 1 Game Info \ Matchups to Watch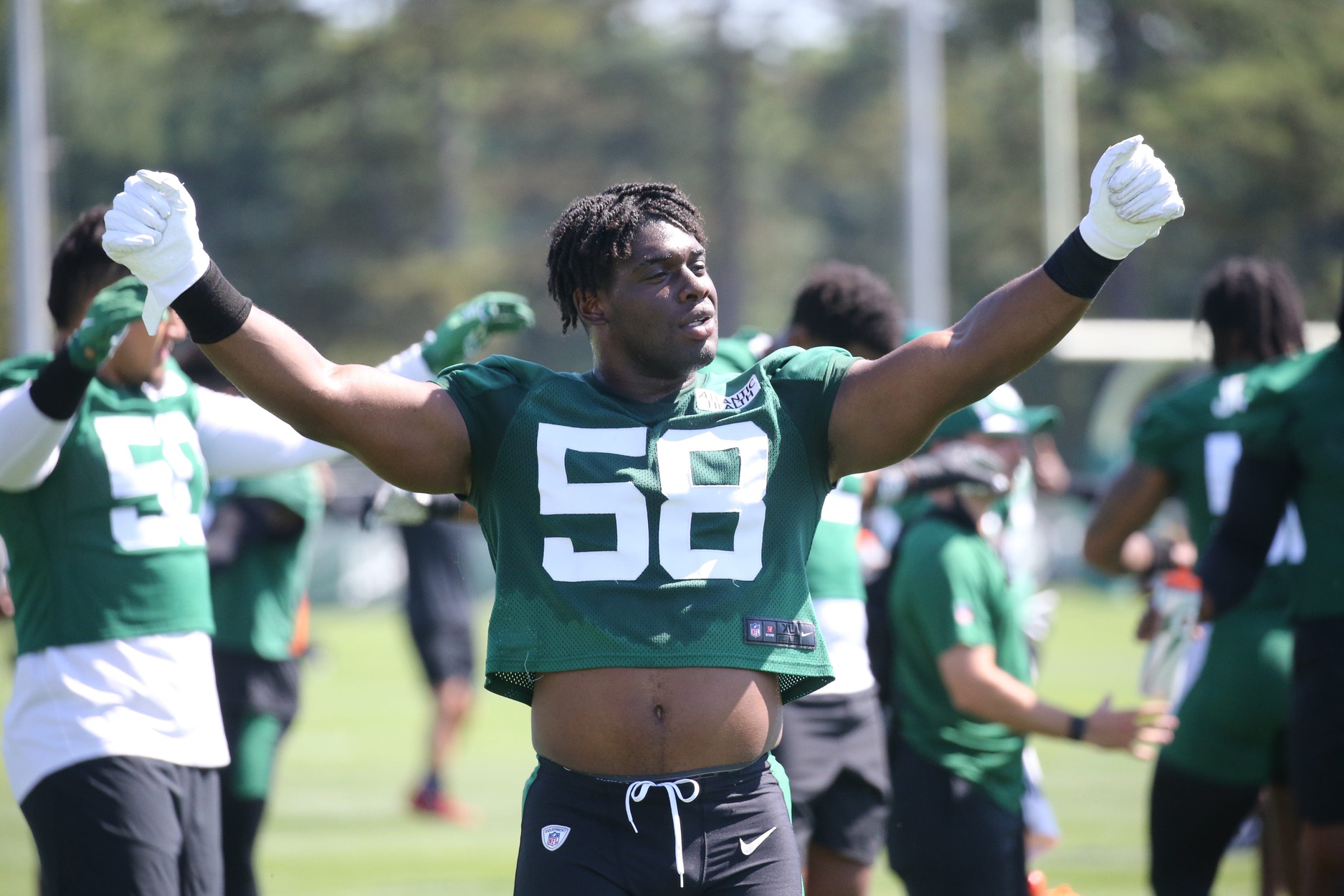 NY Jets Game Preview
Game Information
Baltimore Ravens (-6.5) @ New York Jets (44.5 O/U)
Date/Time: Sunday, September 11th, 2022 – 1:00pm EST, CBS

Announcers: Andrew Catalon and James Lofton

Location/Weather: MetLife Stadium, East Rutherford, New Jersey (81℉, 5-10mph wind, 6% chance of rain)

Referees: Craig Wrolstad
Ravens Season Openers, since 2018
2018: vs Buffalo Bills, W, 47-3 (Flacco start)

2019: vs Miami Dolphins, W 59-10

2020: vs Cleveland Browns, W 38-6

2021: MNF @ Las Vegas Raiders, L/OT 27-33

2022: @ New York Jets, ?

Outscored opponents 171-52

Avg. YPG: 449.7-287.5

Total TDs: 23-6
Ravens/Jets History
All-Time Series: 9-2 Baltimore (outscored Jets 248-156)

NYJ has lost 4 of last 5 since 2010 (won 24-16 in 2016)

Most Recent Matchup: Jets Loss, 42-21 in 2019
Matchups to Watch
OTs George Fant/Max Mitchell vs DEs Calais Campbell/Odafe Oweh
A lot of unknowns surround the Jets offensive line as Fant thought he was moving back to right tackle. Now with the injury to Duane Brown, Fant is going back where he started, left tackle. That means rookie Max Mitchell will be making the start at right tackle. If the Jets can establish the run early, look for both tackles to have an impact. These are the only two pass rusher/DEs on Baltimore's roster (Justin Houston is, however, listed as an OLB), so players with "fresh legs" will not be at the Raven's disposal. This bodes well for the Jets tackle duo, and offensive line as a whole.
CBs Ahmad Gardner/D.J. Reed vs WRs Rashod Bateman/Devin Duvernay
For his rookie debut in the Green & White, Gardner draws a 2nd year wideout primed to take the sophomore leap. Bateman has been mentioned as a "breakout player", so the 4th overall pick in the 2022 NFL Draft will be immediately tested, after a preseason where he saw 0 targets on 24 pass coverage snaps. Devin Duvernay is a proven burner that can make a housecall on any play. If the Jets can take away targets on the outside of the field, it will make for a long afternoon for Lamar Jackson. Veteran D.J. Reed is still a bit of an unknown after limited exposures in the preseason, but he is spoken highly of and should come in right away and be a steady player for the backend of the defense.
Keys to Victory
–  Eye discipline! Don't get caught peeking the zone read/RPO plays, stay on your keys and force Jackson into bad decisions in the run game. Kwon Alexander should be a big help in this area. Head coach Robert Saleh said Tuesday ".. it's just a matter of making sure you are fundamentally sound and in a mental state where you can execute at the highest level.."
– Control the line of scrimmage, particularly on offense. Force the Ravens LB to come up and make plays. If Baltimore's front 4 gets home, it will be a long game. Keep Flacco in the pocket and upright, only rolling out on designed plays. Take advantage of the Raven's front 7 by running the ball efficiently and not giving their secondary opportunities to take the ball away.
– Occupy the vertical and seam areas of the field on defense. Perhaps meaning less Cover 3 and more Quarters to try and take the TEs out of the game. Force Lamar Jackson to make check downs underneath and rally to the ball carrier. More man coverage is also an option, and looked to be their best chance to get a stop throughout the preseason.
Predictions
WR Elijah Moore will lead all offensive skill players in snaps.

DE Carl Lawson and John Franklin-Myers will each get a sack.

QB Joe Flacco will throw for 225 yards and 1 touchdown.

S Jordan Whitehead will lead the defense in tackles.

Jets fans show up and rock MetLife and the players match the energy and start fast.
This game is a perfect "litmus test" for a young Jets team that needs to see as much adversity as possible. Baltimore's unique offense will push the defense to their limits, making sure they are disciplined. Offensively, the Jets should be able to move the ball well, with the key being redzone execution. If the Jets can convert drives into touchdowns and not field goals, New York will be able to stay in this game.
Lamar Jackson is entering a contract year, so he will have added motivation to perform at a high level. The Ravens had all summer to prepare for this game, and history shows they start their seasons off hot. While this is a game that could be within reach late for the Jets, especially being in MetLife on September 11th, I'm still not comfortable giving New York a win against one of the league's most prolific and consistent teams.
Videos
Aaron Rodgers Injury Fallout & Jets/Bills Recap