JetNation 2023 Seven-Round Mock Minus Trades With Three Potential Undrafted Free Agents Worth Knowing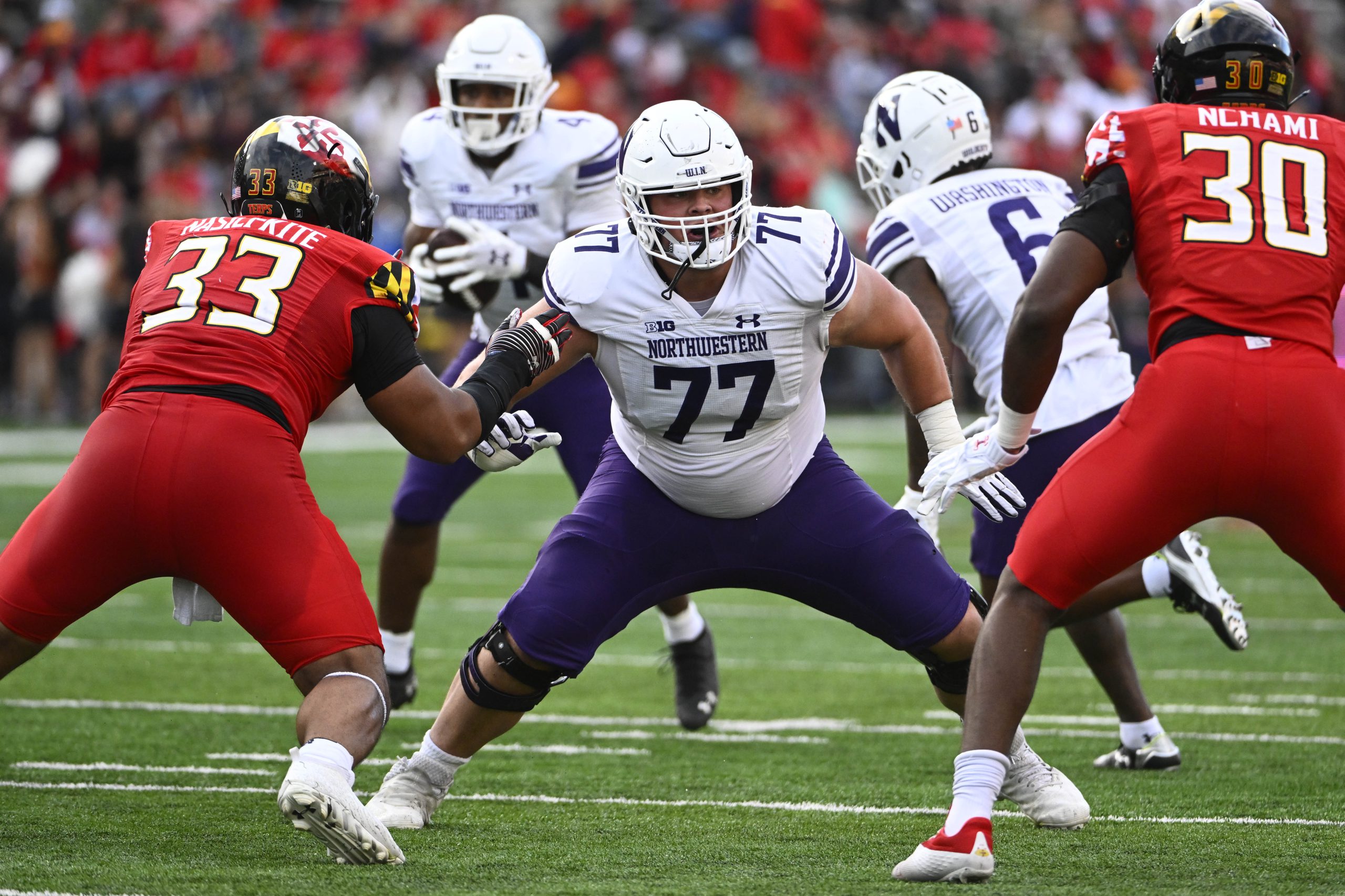 The NFL draft is just under two weeks away so we're going to roll out a mock draft and take our best guess at how Gang Green will proceed with their current crop of picks.  We'll also list three players who are projected to go undrafted but could be of interest to Joe Douglas and company.
Round  1 (Pick 13):  OT Peter Skoronski, Northwestern: There have been some rumblings about Skoronski being better suited to play guard at the pro level but the team that picks him will surely give him a look at tackle.  As possibly the best tackle in this class, we think he would get that audition in Green and White and do enough to keep the job.
How long does @NUFBFamily OT Peter Skoronski stay on the board come draft time? Top ten pick? Top fifteen? pic.twitter.com/aNQ7pd0OMa

— Glenn Naughton (@JetsPicks) January 9, 2023
Round 2 (pick 42): C Joe Tippman, Wisconsin: John Michael-Schmitz appears to be the consensus top center in this class but Tippman has also garnered praise as the top center in this year's group.  Either one could be a home run and after going back and forth a few times, we settled on Tippman.  His ability to pull outside and take defenders off their feet should bode well for the Jets running game.
@BadgerFootball center Joe Tippman gets two for the price of one as he pulls and picks up oncoming MLB and OLB to ensure a clear path around the left side.

Viewed by some as the top center in this class or no worse than second behind John Michael Schmitz. pic.twitter.com/hanCk152l9

— Glenn Naughton (@JetsPicks) April 10, 2023
Round 2 (pick 43): DL Adetomiwa Adebawore, Northwestern: We expect Adebawore to be gone before the close of round 1 so this was a pick we made knowing that in all reality, it's likely a player like Washington State's Daiyan Henley who is far more likely to be the board here.  If Adebawore were to be thre at 43, the Jets can't hesitate to snag the athletic freak who looked so dominant at Northwestern.  The 283 lb versatile defender ran a 4.49 at the combine and showed on Saturdays that he can excel against some of the best blockers in the country.  We first took notice after watching Ohio State's offensive line get beaten time and again by Adebawore this past season.   Over his final two college seasons he racked up 74 tackles, 9.5 sacks and 17.5 tackles for loss.
Incredible strength here from @NUFBFamily DL Adetomiwa Adebawore (99 @tomiwabawore). Keeps one arm free and uses the other to drive his man into the backfield. No tackle but he's the first man there to disrupt the play the leads to a TFL. Underrated player in this class. pic.twitter.com/1ZUCDRvkOW

— Glenn Naughton (@JetsPicks) December 24, 2022
Round 4 (112th overall) WR Bryce Ford-Wheaton, West Virginia: The Jets added Allen Lazard and Mecole Hardman to their wide receiver room but Corey Davis could be included in a deal to land Aaron Rodgers and Denzel Mims is hanging on by a thread.  Ford-Wheaton gives the Jets an outside receiver who can take the top off of opposing defenses.  His 675 yards and 7 touchdowns were both career bests for Wheaton last season.
Oklahoma DB Woodi Wilson won a 1v1 rep on a deep ball earlier in the drive but @WVUfootball WR Bryce Ford-Wheaton gets the score on a great grab and keeps control of the ball throughout. pic.twitter.com/hjGESQlrOn

— Glenn Naughton (@JetsPicks) January 25, 2023
Round 5 (143rd Overall): LB Dorian Williams, Tulane: The Jets have very little established talent on the roster and should be looking to get younger and faster at the position.  His off-the-charts athleticism would be a welcome addition to the Jets huddle in a player who picked up a whopping 132 tackles for Tulane last season.
Round 6 (207th overall) RB Keaton Mitchell, East Carolina University: One of the most dynamic backs in this class, Mitchell gives the Jets a bit more insurance should Breece Hall miss more time this season.  His sub 4.4 speed showed up regularly on game day and was a major factor in his 6.5 ypc average during his time in college.  Also able to make plays after the catch, Mitchell will be a welcome addition for Nathaniel Hackett and company.
The @nyjets were one of several teams to have @ECUPiratesFB RB Keaton Mitchell on their top 30 visits list. Mitchell's explosiveness makes him a threat to make a play every time he touches the ball. Averaged 7.2 YPC in 2022 and 6.5 for his college career. pic.twitter.com/7SvfRR6FXA

— Glenn Naughton (@JetsPicks) April 10, 2023
Because projecting who will go where in the draft isn't difficult enough, we thought we'd try to guess three names of players who won't be drafted at all but could be solid NFL players.  Actually, we didn't guess at all.  We used multiple mock draft machines and chose from players who were not drafted an any of the six mocks we simulated.
LB Isaiah Moore, North Carolina State: Injuries robbed Moore of playing time in 2021 but he bounced back in 2022 to play in all 13 games for the Wolfpack, picking up 82 tackles, 15 tackles for loss and 3 sacks.  Moore is the type of player who could go undrafted but still end up playing a significant role on defense.
Wake Forest has 1st and Goal from the 2 yd line vs NC State. Results of the next 3 plays are:

Isaiah Moore TFL
Isaiah Moore TFL
Isaiah Moore sack (-9 yards)

This, after Moore broke up a pass over the middle earlier in the drive.

The @PackFootball LB is a monster.

Play 1 pic.twitter.com/j9m2vpPsX9

— Glenn Naughton (@JetsPicks) April 10, 2023
WR Nikko Remigio, Fresno State: Offenses such as Nathaniel Hackett's love to find receivers who can make defenders miss and turn short completions into big plays.  Remigio is a likely UDFA who has the elusiveness to pick up yards after the catch while also offering plenty as a return specialist.
Teams in search of a dynamic return man with some serious run after catch ability might want to take a look at @FresnoStateFB WR Nikko Remigio. Sudden in and out of his breaks, not afraid to go over the middle and a big time threat as a return man. pic.twitter.com/TW8dZ7zosw

— Glenn Naughton (@JetsPicks) April 17, 2023
FS Jason Taylor, Ok St: It feels odd putting Taylor on our UDFA list because we believe he will be drafted on day three.  However, assuming the six mocks we used are correct, Taylor will not hear his name called.  If that the case, expect the Jets to pounce if they didn't already use a day 3 pick on Taylor.  He has already been in for a visit with Gang Green and his penchant for making big plays is a huge plus.
@CowboyFB S Jason Taylor II covering some ground to get the PBU vs Oklahoma. Now aded to Senior Bowl roster. https://t.co/kqmTA48R2p pic.twitter.com/EbMdzir7jP

— Glenn Naughton (@JetsPicks) February 2, 2023
Videos
NY Jets Phase 3 OTAs, Expectations and a Minor Calf Tweak with Greg Renoff