Could Jets Really be Considering Moving Mekhi Becton?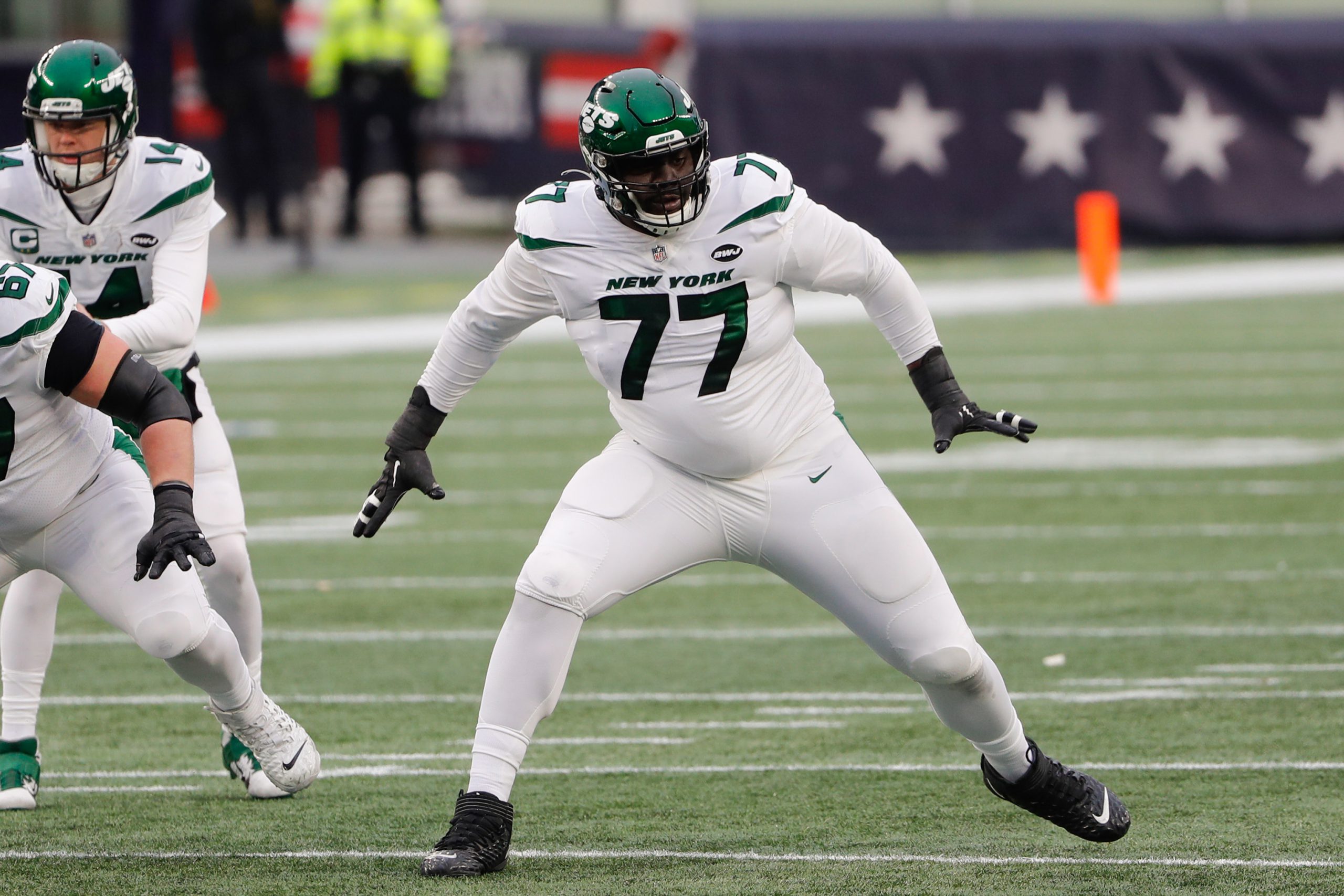 Could the New York Jets really be considering moving Mekhi Becton?  Well, if you've been listening to the musings of a pair of Jets beat writers, it sounds like something that shouldn't be ruled out.
On a recent episode of his flight deck podcast, long time Jets scribe Rich Cimini offered what he called a "bold prediction" and said Becton could be traded before the season kicks off on September 11th.  A few days later, New York Post writer Brian Costello suggested the team's starting right tackle to start the season could be Packers import Billy Turner.
If Turner were to start, one would have to imagine that would make Becton that much more likely to be sent packing.  The big man already ripped the team once this offseason.  Just imagine the fallout of the highly talented tackle were to be benched for, lets be honest, an inferior player in Turner.
In what ways would a deal be justified and in what ways could it be rightly criticized?
A deal would make sense because…
Earlier this off-season, Becton absolutely skewered the Jets over the injury he suffered last season.  At the time we mentioned how Becton's comments could not have gone over well at 1 Jets Drive.  Claiming he told the team he was hurting just before re-injuring his knee and knocking him out for the season sounded more like the start of a lawsuit than a sit-down interview to wipe the slate clean and move forward.
Answering "it is what it is" when asked about his relationship with the coaching staff couldn't have helped all that much either.
We saw what happened to highly talented yet disgruntled wide receiver Elijah Moore after he showed little interest in winning and wanted the team to instead focus on his fantasy production.  Despite being a premium pick with huge upside, the Jets moved Moore for pennies on the dollar.  Now with another possibly unhappy talented player for whom they used pick number 11…could it be more of the same?
A deal would not make sense because…
Becton's value will never be lower than it is right now.  Even though he's in the best shape of his life, he hasn't done enough to warrant a return for the player he'll become if he manages to stay on the field.
Cool moment at Jets camp. Fan yelled out praise for how good Mekhi Becton looked, and he acknowledged the fan's compliment. pic.twitter.com/pdA1a9JTRs

— Dan Leberfeld (@jetswhispers) July 21, 2023
While his detractors will treat such a scenario as an impossibility, the fact of the matter is that Becton had no significant injury history prior to turning pro.  It was a poor play from a teammate that led to his initial injury that was then re-injured and let to two missed seasons.  If you stick with Becton and he manages to avoid missing any significant time, he's an all-pro caliber player at a premium position.
There's also the lack of depth up front if you were to move Becton.  Having him start opposite Duane Brown gives you a vet backup in Billy Turner and some younger guys behind him in Max Mitchell and rookie Carter Warren.  If everyone moves up a spot on the depth chart, you're that much closer to starting a guy who may not be ready in what's supposed to be a season with Super Bowl aspirations.
Will it happen?
We'd love to say that these are clickbait takes in the early days of camp, but having said weeks ago that Becton's comments were highly inflammatory, there's definitely a far greater than zero chance of a deal despite Becton's immense potential.  Should Becton impress early on in the pre-season and have another club call to inquire, the Jets may be more than willing to listen.
Videos
Aaron Rodgers Injury Fallout & Jets/Bills Recap