NY Jets Injury Report; Greg Zuerlein Misses Practice on Wednesday
Greg Zuerlein was inactive for the week two matchup against the Dallas Cowboys, and on Wednesday, he missed practice with the same injury. Head coach Robert Saleh gave this NY Jets injury update to the media on Wednesday morning.
Good morning. Injuries real quick, Greg Zuerlein won't practice today, Tony Adams won't practice today, Duane Brown, normal, he won't practice today, Mekhi Becton, the same. John Franklin-Myers won't practice today, and then Michael Carter, Quincy Williams and Breece Hall are limited.
JFM (John Franklin-Myers)
He's dealing with a hip, but he should be good to go for the game. When you look at all the defensive guys with having played almost 90 plays, we're just trying to take it easy on that side of the ball a little bit.
Quincy Williams 
He should be fine. He should be fine.
Mekhi Becton
It's the same thing, so he's on a program, so he's always going to show up as limited, but it's the same program.
For the Patriots they had several players limited, but only Marcus Jones did not practice because of an injury.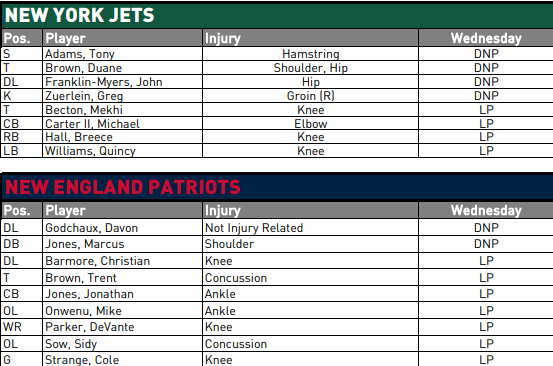 As the Jets gear up for their next matchup, these injury updates will be crucial in shaping the team's strategy. Stay tuned to JetNation.com for all the latest news, analysis, and updates as we continue to cover the Jets' journey through the season. Your go-to source for everything New York Jets.
Videos
JetNation
4.6K
Subscribe
Zach is Back as Jets Starter While Rodgers Comments on Jets Being Swayed by Public Opinion