Jets Lose Heartbreaker Despite Zach Wilson Solid Performance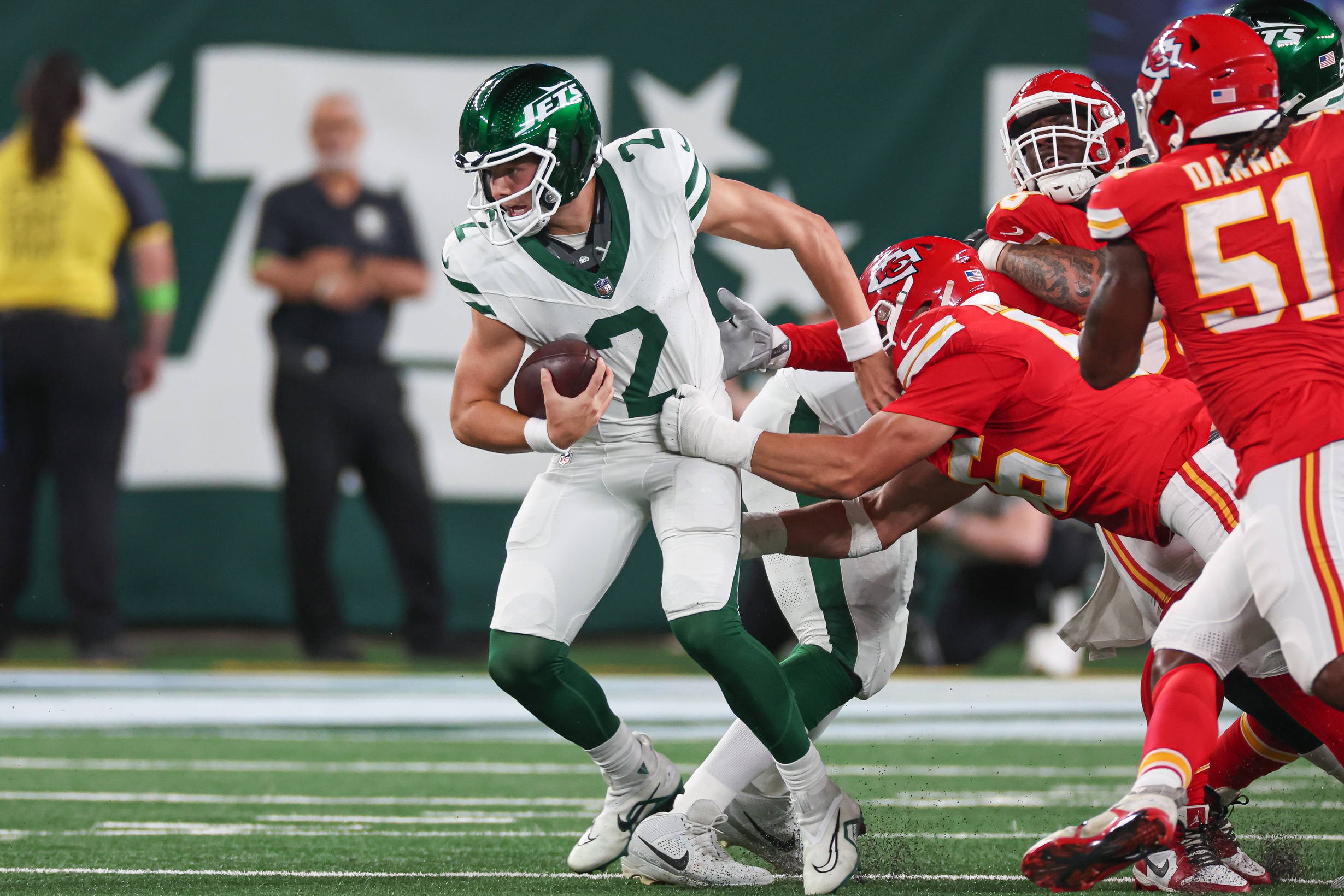 The Jets may have dropped a heartbreaking 23-20 decision to the defending Super Bowl champion Kansas City Chiefs, but quarterback Zach Wilson turned in what was his best games as a pro.  Of course it's only one game, but it was a big one for the much maligned Wilson that should have Jets fans buzzing.
With his back to the wall and Trevor Siemian waiting in the wings, all Wilson did was fight back from a 17-0 deficit to make it a ballgame by completing 28 of 39 passes for 245 yards with a pair touchdowns.  Wilson would lead touchdown drives of 75 and 41 yards, capping one with a two point conversion.  But it was a late Wilson fumble that gave the ball back to Kansas City, allowing them to run out the clock and seal the win.
From the outset, Jets fans saw offensive coordinator Nathaniel Hackett do many of the things they'd been calling for since Wilson began to struggle as a pro.  There was plenty of play-action passes, pre snap motion, several rollouts and the use of tight end Jeremy Ruckert in the team's run game.
It wasn't long after the half when Zach Wilson had already completed passes to nine different receivers, including touchdowns to CJ Uzomah and Allen Lazard.  A clearly inspired defense that was flat early on started taking the ball away as the Jets clawed their way back from the 17-point deficit.  Interceptions from safety Ashtyn Davis and linebacker CJ Mosley helped keep the Chiefs offense in check.
The Jets would eventually tie the game at twenty before Kansas City got a field goal from Harrison Butker late in the third quarter to take the lead for good.
It looked as if the Jets would have one last shot at a score when Michael Carter II picked off Mahomes for what would have been a third interception but a questionable holding call on Sauce Gardner overturned the pick.  Head coach Robert Saleh was flagged just before the final whistle as he laid into the trigger happy ref who made the game changing call.
It's a brutal loss for Gang Green, but one in which Zach Wilson showed he just might belong, and the Jets season could still have some life.
Videos
JetNation
4.6K
Subscribe
Rodgers 21-day Practice Window Opens and Should QB be an Option With top 10 Pick?