New York Jets Report Card: Week 6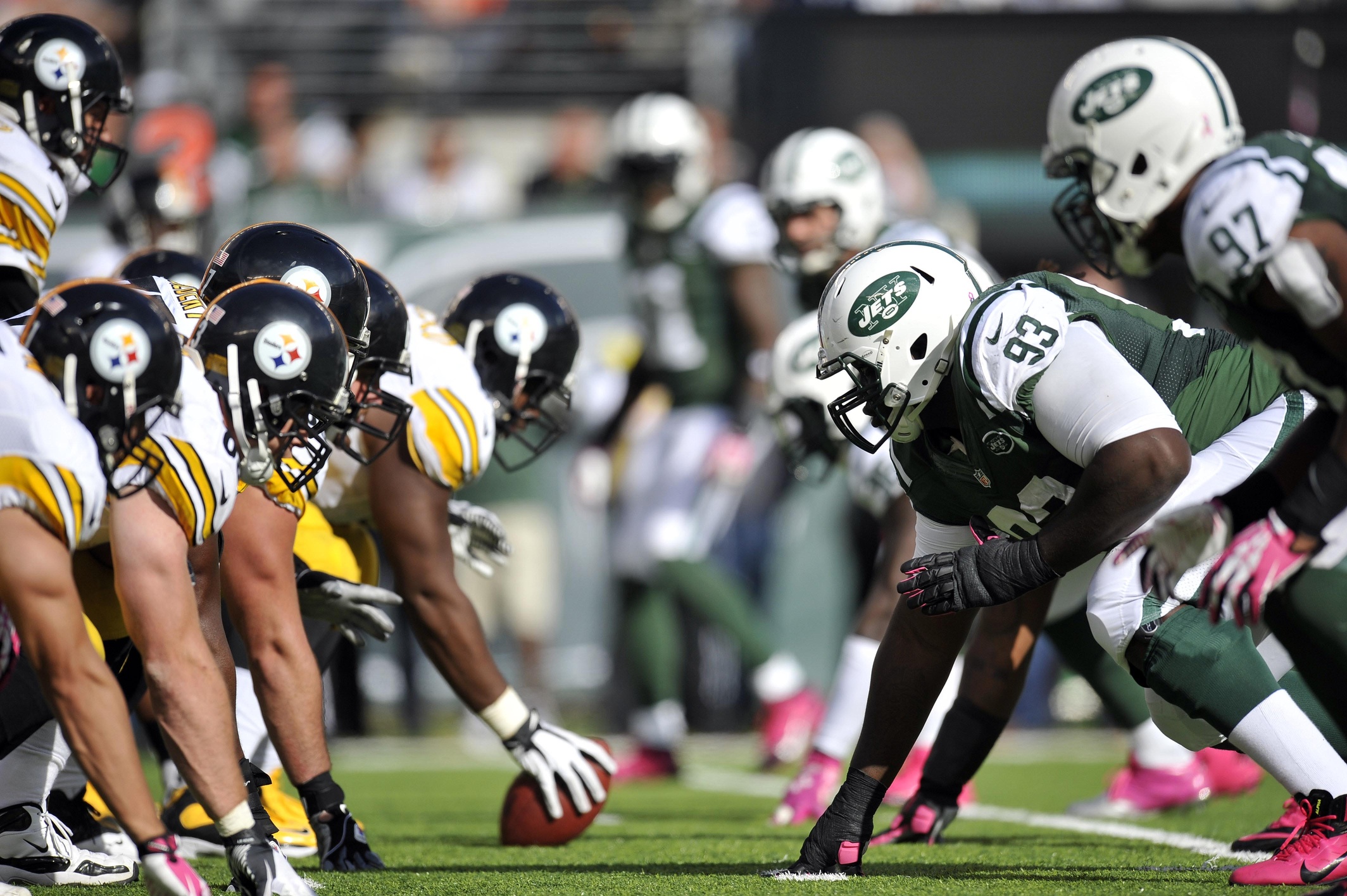 Miami Dolphins @ New York Jets
Week 6: 10/17/11
Quarterback: C-
Sanchez: 14/25, 201 yards, 1 TD, 0 INT, 1 TD (rushing)
It's been a C- kind of year for Sanchez, and that didn't change Monday night, as Sanchez was brutal during the first half but picked it up during the second half. It took the Jets nearly 2 full quarters to pick up a first down. Sanchez was high with his throws most of the night, but was plagued by drops on a few catchable passes. Once the offense began to click, they put together 3 long drives – that's the kind of consistency that they will need to defeat San Diego next week. On the plus side, Sanchez accounted for 2 touchdowns (1 pass, 1 rush) and was once again turnover free.
Running backs: C-
Greene: 21/74/0
Tomlinson: 7/25/0, 3 receptions, 21 yards
McKnight: 2 receptions, 29 yards
Greene's 3.5 yards per carry is respectable, but the running game once again started slow. Failure to record a first down until the end of the 2nd quarter left the team in a heavy time of possession defecit. Though the defense didn't break, it likely will against better offenses. The Jets need to begin establishing the run earlier and with more authority.
Wide Receivers/Tight Ends: C
Holmes: 3/63/1
Keller: 2/51/0
Burress: 1/16/0
Kerley: 2/18/0
Wide receivers missed catch-able passes, though Sanchez' inaccuracy certainly didn't help. Holmes flashed brilliance on a late touchdown pass, making several defenders miss.
Offensive Line: C+
A much improved effort in pass protection, and the line opened up the defense for a touchdown run by Sanchez.
Defensive Line: C+
Though thrashed on the ground, the line successfully occupied blockers, helping the pass rush got to Moore on numerous occasions.
Linebackers: B-
A tough day against the run, as Bush averaged 7 yards per carry. Still, they accounted for 4 sacks and forced 4 fumbles. Maybin is beginning to shine in his roll as a designated pass rusher.
Secondary: B
Cromartie had another lackluster game. Revis broke up several passes and recorded two interceptions, one of which was returned 100+ yards for a touchdown. Leonhard forced a fumble.
Special Teams: D
Nick Folk remains perfect on field goals, but a turnover on special teams could have been costly.
Coaching: B-
The defense showed up to play, but the offense needs to hit the ground running. Third down conversions and first half starts remain a major concern.
Videos
Aaron Rodgers Injury Fallout & Jets/Bills Recap