New York Jets Report Card: Week 7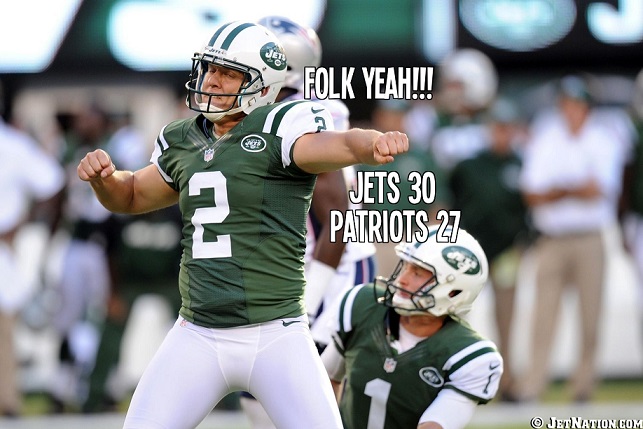 San Diego Chargers @ New York Jets
Week 7: 10/23/11
Quarterback: B+
Sanchez: 18/33, 173 yards, 3 TD, 1 INT. 3 rushes, 25 yards.
Despite a turnover, limited yardage and a mediocre completion percentage, this was probably Sanchez' best game of the year. A few early mistakes, like Keller's fumble, Mangold's holding call and a Sanchez interception prevented what would have otherwise been an offensive explosion. It goes without saying, but when the Jets are able to run the ball and the focus is lifted from him, Sanchez can make all the plays he needs to in the passing game.
Running Backs: A-
Greene: 20/112/0
Tomlinson: 5/14/0, 3 receptions, 37 yards.
McKnight: 3/11/0
Not perfect, but the Jets are really getting back to that power running game we know and love so much. Greene finally passed the century mark in a single game this season, Tomlinson was a weapon in the receiving game yet again and McKnight had a few touches of his own.
Wide Receivers/Tight Ends: B
Keller: 4/53/0, 1 fumble
Kerley: 4/29/0
Burress: 4/25/3
Holmes: 2/24/0
A tremendous game for Burress, who notches himself three touchdown grabs. The rest of the corps was relatively inffective. Keller let a catch get away from him, and it cost the Jets 7 points the other way. Kerley is stepping up in the slot, making crucial catches to move the chains.
Offensive Line: B+
The penalties were sloppy, but the line may be returning to form. They had consistent success throughout the game in blocking for both the run and the pass.
Defensive Line: B-
You would still like to see that defensive line taking on more blockers, but they held up well enough in the absence of Mike DeVito, who sat out the game with a knee injury.
Linebackers: B
It's safe to say that Aaron Maybin is no longer the Buffalo Bills version of Vernon Gholston, as he added yet another sack in what is quickly becoming an impressive year. The Chargers potent rushing attack of Tolbert and Matthews was quieted today. The Jets still need to generate more pass rush from the linebacker position, but this was a quality outing.
Secondary: A-
Rivers was held under 200 yards and put up only one touchdown pass. Revis returned an interception for a huge gain once again. Wilson also added an interception at a crucial moment in the game, and made a number of impressive tackles. He may be coming along.
Special Teams: C+
Little of note. Folk hit two field goals and remains perfect on the season. T.J. Conley remains out of the spotlight, meaning he must be doing alright.
Coadching: B+
A nice performance by the defense, and the offense finally got rolling. Considering that we're headed into the bye week, that could be a blessing or a curse.
Videos
NY Jets OTA Recap; Robert Saleh Cancels Minicamp