Breaking News Home Slider Jet News
Just Like Old Times, Jets Pair Cromartie With Revis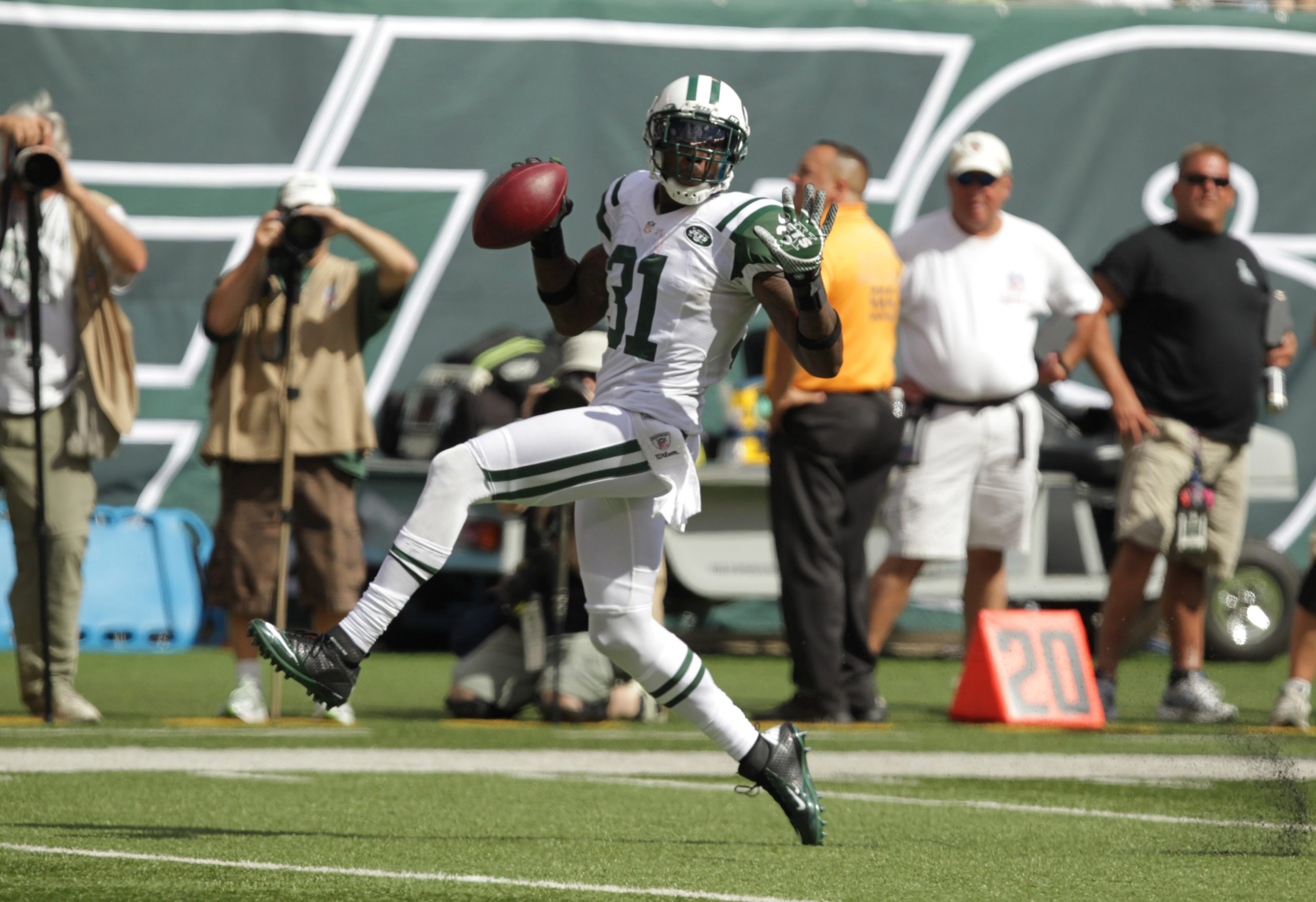 By Glenn Naughton
Well, that didn't take long.
In a much anticipated move, the New York Jets agreed to terms with free agent cornerback Antonio Cromartie less than 24 hours after officially re-signing former Jet Darrelle Revis.  The move reunites a tandem that was considered to be among the best in the NFL when the Jets were knocking on the door of a super bowl appearance in 2010.  Cromartie's tenure with the Jets ran from 2010-2013 when he departed less than a year ago.  Exact figures on the deal were not immediately available.
Likely scared off by Cromartie's poor showing in 2013 due to a nagging hip injury, former Jets general manager John Idzik opted to let him walk following the Jets' 8-8 season in 2013, but failed to find an adequate replacement as Cromartie went to the Arizona Cardinals one season after Idzik dealt Revis to the Tampa Bay Buccaneers.
As a member of the Cardinals, Cromartie appeared to be fully recovered and played at a  high level for one of the top defenses in the NFL under current Jets head coach Todd Bowles who served as the Cardinals defensive coordinator.  As part of Bowles' defensive backfield, the Cardinals ranked 29th in the NFL in passing yards allowed, but more important was their 22 touchdowns surrendered through the air, tying them for sixth in the NFL with four other teams.  By comparison, the Jets allowed 31 scores through the air despite finishing 14th in yards allowed via the pass.
The return of the speedy 6′ 2" Florida State product is bound to bring smiles to the faces of Jets fans everywhere.  After suffering through a 4-12 season in which the Jets utilized safety Antonio Allen and a parade of others at the position, Cromartie and Revis aim to re-establish themselves as an elite tandem for a Jets defense that ranked 24th in the NFL in points allowed.
Even after leaving the Jets, Cromartie and  his family kept their home in New Jersey and he made no attempt to hide his desire to return to New York.  At one point, teammate Patrick Peterson spoke publicly about Cromartie regularly discussing New York as he awaited the start of free agency.
At 31 years old, Cromartie is a short-term fix, but GM Mike Maccagnan is hoping to have a surplus at the position in the event former first round pick Dee Milliner and last season's third round pick Dexter McDougle are able to bounce back and contribute sooner rather than later.
In the meantime, the two familiar faces patrolling the Jets secondary are one huge step toward making the Jets legitimate contenders following a four year playoff drought.
Videos
JetNation
4.6K
Subscribe
Broken Brains; Critics of Jets Quarterback Aaron Rodgers Begin Stirring up Conspiracy Theories