Breaking News Home Slider QB Film Review
Jets Passing Offense Film Review- Week 3 (Chiefs) Magician's Assistant Failures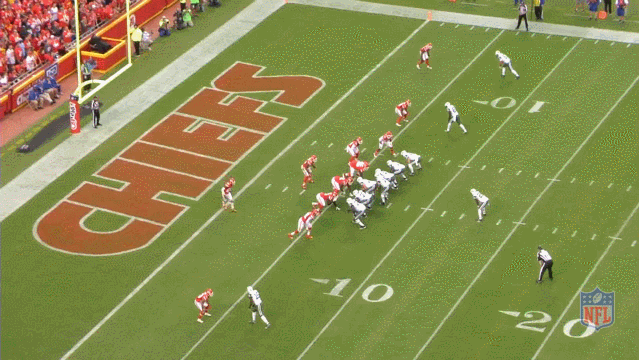 The second part of our film breakdown for Week 3 against the Kansas City Chiefs.  Let's see how some players let down the QB this week:
Assistant's Failure:
1)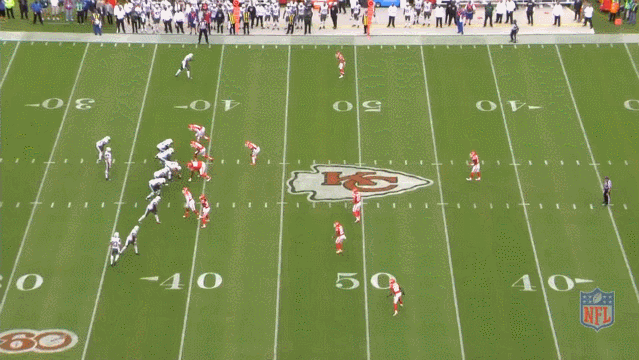 This is a 3rd and 12 play in the second quarter and the Chiefs are playing it safe by having one deep safety, but all their corner backs are playing about 10 yards off the line of scrimmage.  They are playing prevent defense on this one because they want to run downhill towards the receiver, rather than backpedal in a critical spot.  The Chiefs are giving up about seven yards on this play willingly, saying they are better equipped at tackling the receiver than he is at getting those extra five yards.  This is one of the limitations of having a QB that doesn't have a particularly strong arm, because the defense is betting their line of corner backs beyond the first down could close in on any pass, so they have now dictated the type of pass that is going to be thrown.  A strong armed (and accurate) QB would stand a better chance against this defense, because there isn't much help over the top, so a deep curl route or out route could be dangerous.  As we know, Ryan Fitzpatrick is no such QB, so he takes the safer option to Powell, who would have been short anyway of the first down.  However, Powell further muddles the situation by fumbling the ball here, giving the Chiefs great field position.  Powell has to hold onto this ball.
2)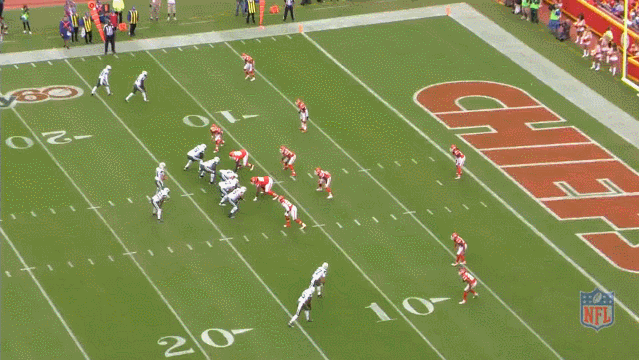 The play is a failure on a couple of levels.  On the most basic level, Brandon Marshall drops an easy pass on first down here and the pass almost gets intercepted.  The Jets are lined up in a stack formation with the receivers on both sides.  Marshall is open for a quick pass, and should have gained some yardage, but just flat out drops the ball.  The more complex failure on this play is on the pre-snap read.  If you look at the defense before the snap, they have two guys lined over Decker/Marshall.  They are about 5 or 6 yards behind, so this gives a good opportunity for some yards after the catch.  The safety is also shading over to this side, which indicates that there would have to be multiple broken tackles for a TD on this play.  However, look on the other side pre-snap, and you see the same stack principle, but only one defender in the area.  The LB assigned to Enunwa is playing well inside, a good 5 yards inside of the WR he is responsible for.  Chan Gailey has a tendency to call mirror plays, so it looks like they have the same exact quick WR screen pass set up, but on this end, Jalin Marshall would only have to beat one guy to the end zone, and he's well inside of the play to begin with.  If Quincy Enunwa could make a good block, this is pretty much an easy TD.  While Marshall failed with the drop, and that's the biggest negative factor on this play, Ryan Fitzpatrick makes a bad read at the line as well.
3)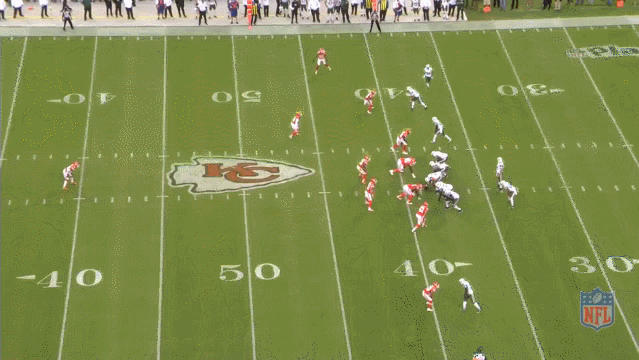 This is first down play in the 4th quarter, and Jalin Marshall again comes into play here.  The Jets have three wide receivers to the right of the formation, as the Chiefs are again in single high safety look.  The defensive backs are relatively close to their men, in what seems to be man coverage.  When Jalin Marshall moves, the defensive back moves with him, but hands him off to the inside CB, a method used frequently by the Bengals in Week 1.  However, Marshall is still open for this pass, but Fitzpatrick hesitates on this play for an extra second, and leads this pass outside.  It's not a great pass by any means, but a NFL WR should hang onto this one.  Marshall, however, makes a bad drop, and it's ruled an incomplete pass.
4) 
Another situation that is very similar to a situation from the Bengals game.  In Week 1, the Jets had a similar scenario where Fitzpatrick didn't look at Enunwa, and instead threw an incomplete pass towards Marshall.  In this case, Fitzpatrick realizes the coverage, and makes the correct read to Enunwa, but he drops the ball.  This is actually a great throw by Fitzpatrick, but Enunwa just loses the ball coming out of a crowd and doesn't catch it.  For a team that needed their No. 3 WR to step up in this game, this is a horrible drop.
5)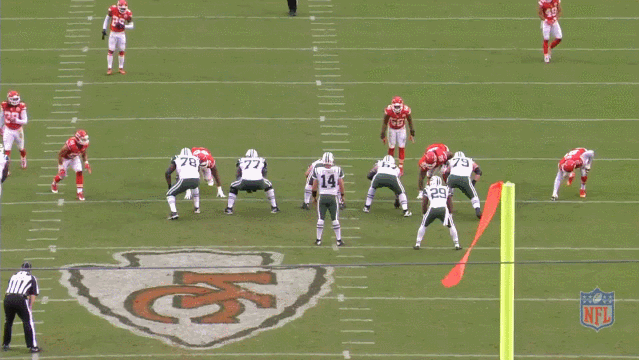 Another great pass, another drop by Enunwa.  The Jets were desperate by this point, and this is a huge drop by Enunwa.  Fitzpatrick throws a beautiful pass here that is slightly ahead of Enunwa, but one that should have absolutely been caught.
Conclusion:
Ryan Fitzpatrick was far from perfect this past Sunday, but there were others that failed to help him out during this game.  The biggest culprit seems to be Quincy Enunwa this week, right after having his breakout game last week against the Bills.  If he wants to become more than a No. 3 WR in the league, he needs to reduce the drops and be more consistent.
Please read Part 3 of our Film Breakdown, Sidekick Power, which will be posted soon.
Videos
Aaron Rodgers Injury Fallout & Jets/Bills Recap