Breaking News Home Slider QB Film Review
Jets Passing Offense Film Review – Week 4 (Seahawks) Assistant's Failures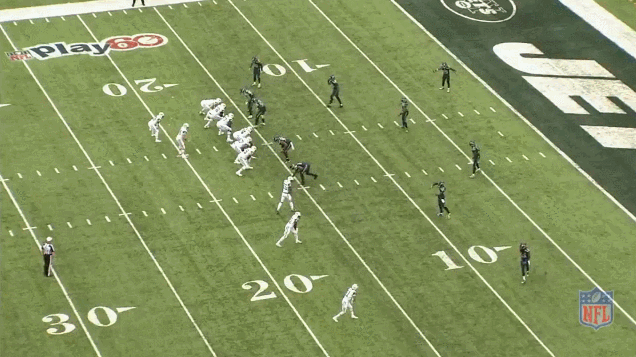 The Jets played a bad game overall against the Seahawks, losing in various aspects of the game.  While Ryan Fitzpatrick did not have a good game, he also didn't have quite the help as usual.  Eric Decker's and Jalin Marshall's injuries hurt the Jets in this game, as their replacements had some mishaps in the game (as well as good plays) which cost the Jets dearly.  Let's see how Ryan Fitzpatrick was let down in this game:
Assistant's Failure:
1)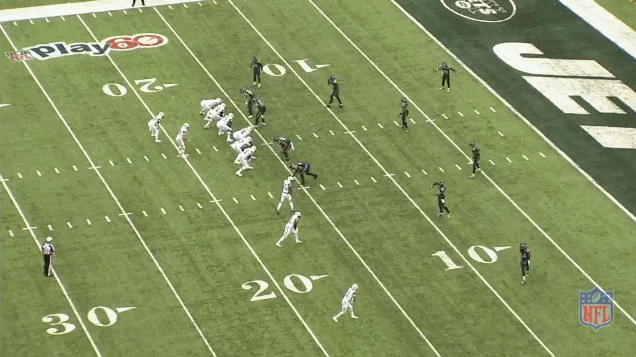 This play occurs on third and eleven with the Jets in the red zone looking to score.  The Seahawks mold their coverage to have the Jets pass it short and then tackle the ball carrier, which the Jets fall right into.  Fitzpatrick makes a good throw on this pass, but Bilal Powell just doesn't catch it, and plays around with it enough that it almost turns into a turnover.  Powell has to catch this pass in traffic if he wants to be counted on as a reliable pass catcher, as this pass hits him right in the hands.  It's not sure if he would have gotten the first down, as that probably requires a missed tackle, but he gave up any chance by dropping the pass.  The other interesting aspect of this play is something Fitzpatrick missed from the pre-snap reads.  The Jets have three receivers lined up to the right of the formation.  The defense has lined about seven yards off the line, showing zone coverage.  If zone coverage comes into play, the read could have been the defender facing Quincy Enunwa.  With Sherman far away from Robby Anderson, the defender facing Enunwa has to pick between one or the other, allowing the receiver he let's go to have some open space.  This would also require a read of Sherman, because if Sherman comes forward to defend the pass, then the throw to Brandon Marshall is wide open.  However, that is nitpicking at this point, because this is still a good pass and should have come close to a first down.  The spread system relies on reading weaknesses in the defense, and in this case, the Jets seemed to miss a good opportunity in more ways than one.
2)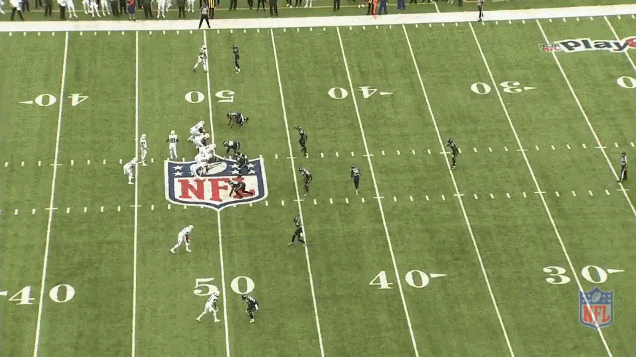 This is a 2nd and 13 play from near midfield in the first quarter, and the Jets come out with four receivers (Enunwa is in at the H-back) and a running back.  The pre-snap movement indicates man coverage with the defense in single high safety coverage, and Ryan Fitzpatrick recognizes it, and attacks a one on one coverage to the right side of the field.  Robby Anderson is the target, but he flat out misses the pass and drops it.  He runs a good route to gain separation, but this pass hits him right in the hands and he just flat out drops it.  While this is Fitzpatrick locking onto a WR, he can't be blamed because it's a quick pass set up, and he correctly discerns that Anderson is open.  Robby Anderson didn't have a good game, and this was a big drop in the game.
3)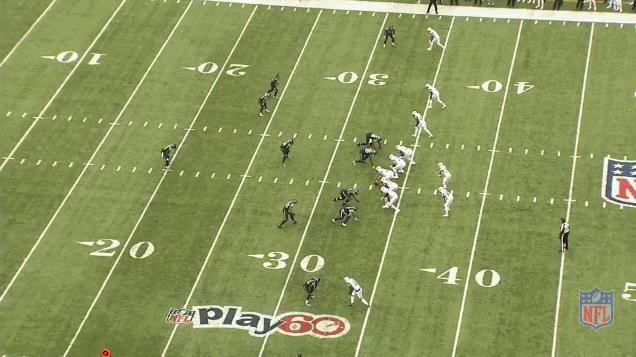 This is a second down play late in the second quarter, with the Jets driving down the field trying to score.  The defense is in a single high safety, but the defender on Enunwa is far back enough to play safety if he needs to.  Fitzpatrick is locked in on Marshall from the start, and he makes a good move on Richard Sherman, but falls down.  Unfortunately, Ryan Fitzpatrick had already thrown this ball so it almost ends up as an interception.   Brandon Marshall is a great receiver, and possibly a Hall of Fame type talent, but he just simply falls down here.  Fitzpatrick correctly predicts that Marshall would be open, and makes a good throw.  The only other aspect of this play worth noting is the safety in the middle and Enunwa.  They didn't respect the deep speed again, as Enunwa is going to blow by his defender soon.  The Jets have to take more deep shots because teams are giving them no respect in terms of throwing the ball deep.
4)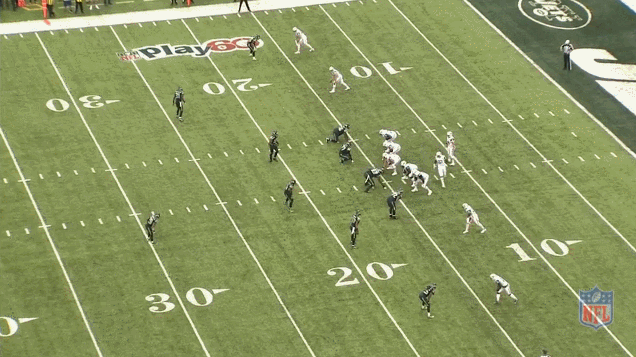 This is a second and fourteen play, deep in Jets' territory, and they come out with an empty set with five receivers.  Braedon Bowman was added to the 53 man roster, and he makes an unfortunate appearance here with this drop.  Seattle is again in a single high safety and as you can see they are playing a good eight yards off Bowman.  The Jets failed to take advantage of this earlier in the game when the defense didn't respect the deep speed of the Jets, so they take a shot here.  The defender is beat here, and if this is even close to big named receiver, there would have been a penalty for holding or pass interference.  Ryan Fitzpatrick makes a good throw right to Bowman, but he flat out drops the ball.  While he does have a case for holding on this play, this ball hit him right in the hands, and that is a pass that has to be caught.   Enunwa on the other end runs a good route and has a similar opportunity on the other end, but this is a pass that should have been complete.
5)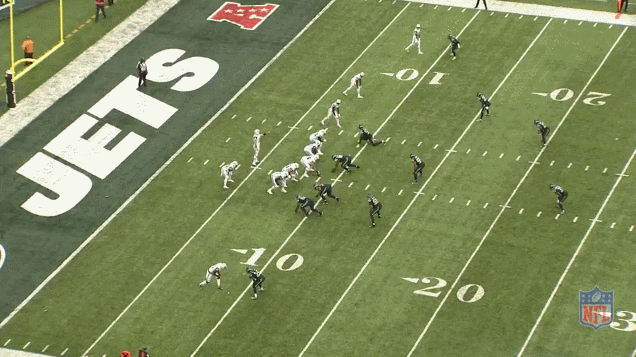 Robby Anderson makes a repeat appearance in this one, this time with disastrous results.   The defense is again showing high safety but this is a good route design and Anderson is open for the pass.  While the pass is a bit high, this has to be caught by a receiver, especially in a situation where the Jets are desperate to move down the field.  Anderson does a great job in creating separation from his defender, but makes a terrible drop, which results in an interception.  While Ryan Fitzpatrick threw many passes that were bad, this interception is not his fault at all.  He makes a great read and a decent throw, but Anderson drops it.    This is also a great reaction by Earl Thomas on this play, as he was tasked with covering Enunwa, but peeled off of him and went after the ball as soon as it was thrown.
Conclusion:
While the Jets offense seemed out of sync for the whole game, Ryan Fitzpatrick wasn't alone when it came to failures on Sunday.  Robby Anderson played a major role in two critical drops, and fresh off the practice squad Bowman made a terrible drop as well.  If these bad plays didn't happen, the offense would have looked better against Seattle, which might not be saying much.
Please read the next part of our series, Sidekick Power, which will be posted in half an hour.
Forum Questions:
A.  When Austin Seferian-Jenkins is ready with the playbook, which TE would you cut?
B.  Which drop had the biggest impact on the game?
Videos
NY Jets OTA Recap; Robert Saleh Cancels Minicamp