This past Sunday saw Ryan Fitzpatrick continue his bad season so far against the Seattle Seahawks.  The offense looked powerless for the most part, and if not for a fluke TD, would have been held to ten points.   Let's see what went wrong with Fitzpatrick:
Bad Magic:
1)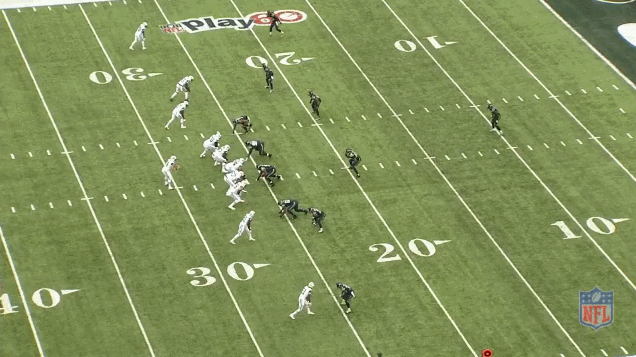 This is a second and five play in the first quarter that has a successful completion to Enunwa.  So why is this bad?  The pre-snap by Fitzpatrick is horrible on this play, and misses a wide open TD pass to Brandon Marshall.   The pre-snap movement indicated that the defense was in zone coverage, with a single high safety.  The Jets have Powell, Marshall, and Peake to the left of the formation, with a single high safety.  The read on this play should have been the safety in the middle because he can't cover Marshall and Peake going deep on this pass in zone coverage.  This is an absolute mistake by the Seattle defense, and the Jets didn't capitalize because Fitzpatrick is locked into Enunwa from the start of this play.  While this is a completion, the Jets really had a chance to set the tone in this game, and they missed it.  The Jets eventually settled for a field goal on this drive, but it should have been more because good defenses rarely make mistakes like this, and it's imperative that the offense took advantage.
2)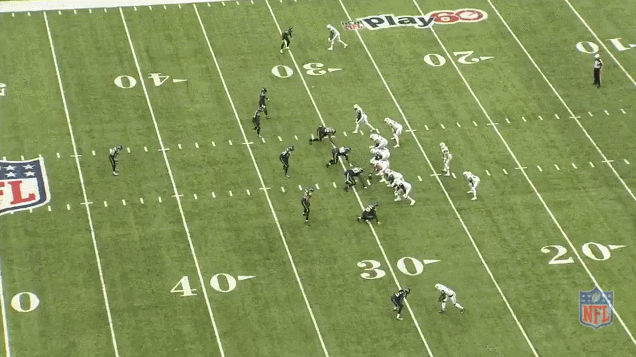 This is a first and twenty play in the second quarter with the Jets in their own territory.  The Seahawks are in single high safety coverage with man coverage on the receivers.  Brandon Marshall makes a good move on Richard Sherman, and gains separation on him but Fitzpatrick just misses the throw.  There is a case to be made that Sherman might be holding Marshall on this play, but this is a pass that Fitzpatrick has to hit, and he's not even close.  This is another pass where he was locked into Marshall from the start, and he misses badly on this pass.  For an elite corner, Brandon Marshall abused Sherman this week, but bad QB play made the Pro-Bowl CB have decent stats.
3)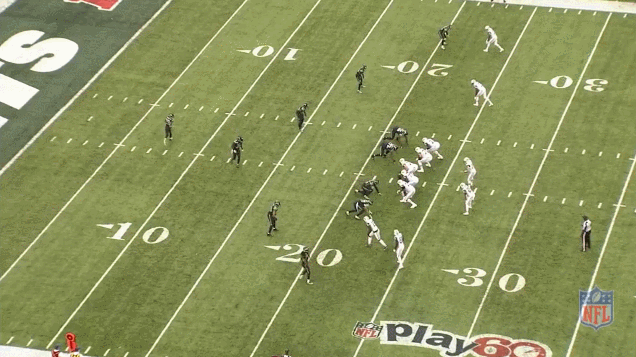 The pre-snap read on this play clearly indicates that this is going to be zone coverage with single high safety again.  Brandon Marshall has a very good route on this play, and there is the possibility of a TD on this play if Fitzpatrick makes the right throw.  However, the lack of arm strength shows here because it's too risky of a throw for him, so he pulls down the ball, and moves up in the pocket.  Fitzpatrick tries to pass to Robby Anderson, but it's a wide throw that the young receiver can't bring in.  This is a horrible example of playing QB, because Fitzpatrick is staring down Brandon Marshall from the start, and when there is a chance that he could be open, decides not to take it, and turns it into an incomplete pass.  This is a great route concept with only a deep safety because Sherman was going to be running the wrong way when Marshall cut outside, which should have made for a TD throw.  Furthermore, because Fitzpatrick was locked in on Marshall to begin with, he missed Robby Anderson open for about a seven yard pass to the right side.
4)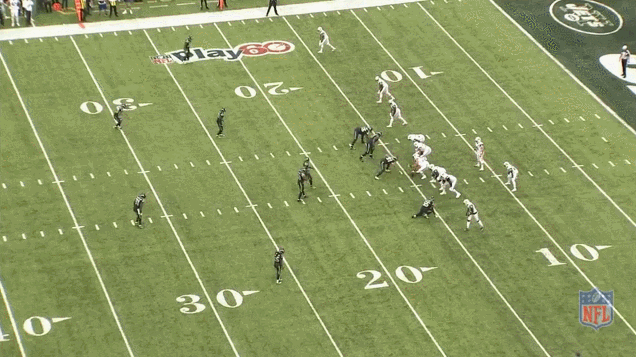 When the Jets drafted Christian Hackenberg, it was presumed that he would learn under the veterans in his first year.  One of his biggest weakness is the inability to throw good screen passes to RBs and WRs, so he probably should be excused from the room before reviewing this play.  This is a 3rd and 15 play deep in their own territory, so the Jets call for a screen as a safe option to get some yards.  You can see that it's a screen the whole way, as everyone else goes to block for running lanes instead of running routes.  However, Fitzpatrick makes a horrible throw here because a defensive lineman decides to get in middle of the passing lane.  This is the type of interceptions we saw from Mark Sanchez and Geno Smith in the past, and Fitzpatrick almost makes a monumental mistake near his own goal line.  Fitzpatrick isn't even facing much pressure on this play, and has an option to run towards where the pass needs to go, but hops sideways to the left and throws this pass while running backwards.  Fortunately for the Jets, it falls as an incomplete pass, but this is just a horrible execution of what should have been a safe play to get a few yards for a punt.  While Powell may not have gotten a first down, he should have at least turned up field for a few yards here.  This is the type of mistakes made by Fitzpatrick, that lead to his high interception totals.
5)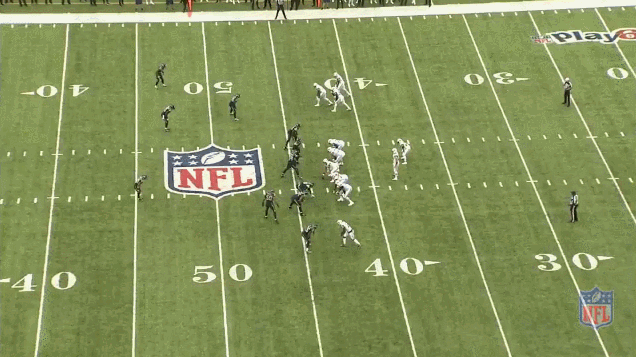 From one almost interception to another one.  This is the Seattle defense absolutely screwing with Ryan Fitzpatrick's head.   There is absolutely no reason for Fitzpatrick to make this throw, even though it's a blitz and he needs a quick throw.  The Jets line up in a three receiver stack on the right, with Marshall on the left side.  However, the safety is shading over to Marshall's side, meaning he is all but double covered on this play.  The Jets have a bubble screen called to the other side of the field, which seems like the perfect call for a blitz, but Fitzpatrick ignored that side completely and lobs a pass to Brandon Marshall.  The screen pass should be the hot read to a blitz in this situation, so this seems like a throw Fitzpatrick decided to make on his own.  Robby Anderson on the other side is set up to run down the field for a few yards at worst.   Earl Thomas has a great chance at picking this pass, but he drops the ball, otherwise it would have been a pick six.  The defense baited Fitzpatrick into a throw they knew he was going to make, as you can see the safety breaking on the passing route well before Fitzpatrick has begun his throwing motion.  In a blitz situation, you have to turn to your hot routes and they failed here.
6)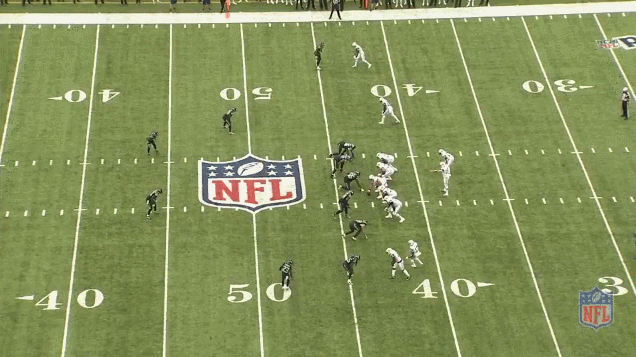 This is the very next play after the almost interception, as it's 3rd and 8 now, with the defense showing a single high safety.  They show a second safety for a bit, to try and bait a quick throw to the RB, but the second player quickly attacks the line of scrimmage, returning to a single high safety look.  Ryan Fitzpatrick isn't fooled this time and makes a great read.  However, he makes a horrible throw that ends up being an incomplete pass.  Robby Anderson runs a great route here, and is open for a TD pass if Fitzpatrick can lead him.  Notice the double move by Anderson on the CB, because he gets off the line with a stutter step, and then repeats it about 4 yards down the field, because the defense is concerned about the intermediate routes.  This secondary move allows him to blow right past the CB as he gains separation, but the throw hangs up in the air, forcing Anderson to slow down and try to make a contested catch, which he can't accomplish.  While Anderson does get his hands on the ball, it would have been a highlight catch if he did bring it in.  The failure of this play falls upon the QB, as Anderson has created separation, but Fitzpatrick can't throw the deep pass without the ball hanging up in the air.  Another big missed opportunity for the Jets in this game.
7)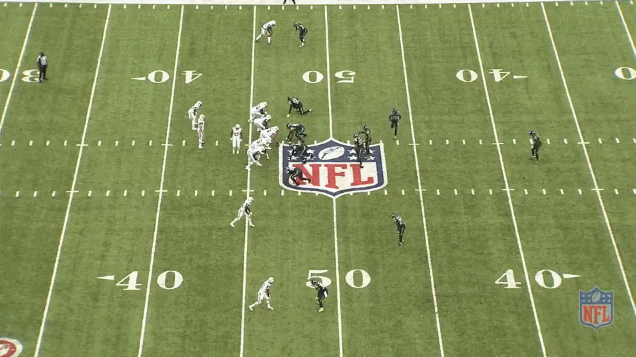 The interception by Richard Sherman, early in the 4th quarter.  The Jets were driving trying to get back in the game when Fitzpatrick makes a horrible throw.  Sherman is slightly behind Marshall on this play, but he knew this pass was coming.  He turns around for the ball faster than Brandon Marshall because this is the big weapon in Fitzpatrick's arsenal.  His rock to slay Goliath's defense, and they knew it was coming.  Marshall is perfectly covered on this play, so Fitzpatrick should have gone elsewhere, but he stared down the receiver again, and makes a horrible decision.  There is no excuse for this poor pass.
8)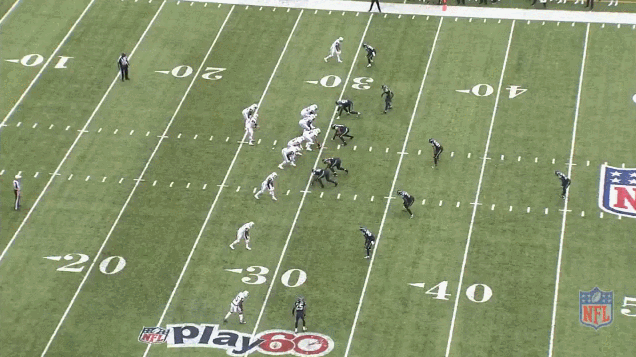 This is a 3rd and 5 play, in the 4th quarter with the Jets in desperate need for points.  One of the biggest examples of Fitzpatrick not scanning the field, nor having confidence in his arm.  The Jets need points badly, and he misses on a quick pass to a covered Forte, because he's staring him down the entire way.  Notice the defense is in single high safety again, and they are playing zone coverage.  The Jets have two deep routes going down the middle, so the safety has to choose one or the other.  It's a perfect opportunity to take a shot deep and try to get some points because the single safety can not cover both guys running down the field.  However, Fitzpatrick doesn't even look their way, decides at the line that this pass goes to Forte no matter what, and it ends up being an incomplete pass.
9)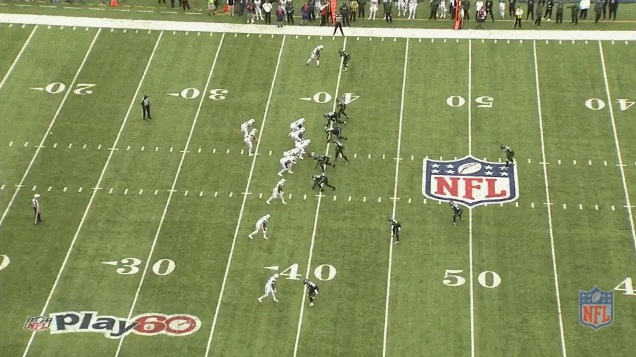 Remember the interception by Richard Sherman?  He goes to the well again on the back shoulder pass, but Brandon Marshall is running a go route.  Marshall gains separation on this play and if Fitzpatrick can lead him on this throw, this should be a long completion.  The Jets need to take more shots down the field because these defenses are not respecting the deep passes at all.  Fitzpatrick just makes a horrible throw on this one.  During the broadcast, it looked like there might have been some miscommunication, but it's pretty clear that if this was a back shoulder pass, then it would have been intercepted again by Sherman.  Another example of Fitzpatrick staring down the receiver.
10) 
More deep pass failure from Ryan Fitzpatrick.  Another pass that should have gone for a TD, which ended up being incomplete.  On this play, the defense is again in single high safety man coverage, and Fitzpatrick correctly recognizes the one on one coverage with Robby Anderson on the outside.  Anderson leaves Richard Sherman in his dust as he races down field for an easy TD, but Fitzpatrick throws the ball too far, just out of the reach of Anderson.  This would have been a spectacular catch if Anderson could bring it in, but it hit him on the tip of his fingerprint during broadcast replays.  You can see why Seattle defense didn't respect deep passing threat from the Jets because when given the opportunity for big plays, we failed consistently.
11)  
On this play, late in the 4th quarter, the defense is in a two safety look to prevent long passes since the game is all but over.  There seems to be some miscommunication on this play, but Fitzpatrick is throwing this pass into triple coverage.  Marshall looks like he gives up on the play when he sees the guys around him and seems surprised the ball was thrown his way.   This is actually a play where Fitzpatrick went through his reads, even looking towards Charone Peake, who is open for a decent gain on this play, before deciding to throw the pass to Marshall.  Even in desperate situations, it's never prudent to throw the ball into triple coverage, and he's lucky to have this pass fall incomplete instead of another interception.  Just a horrible read from Fitzpatrick, and a terrible throw.
12)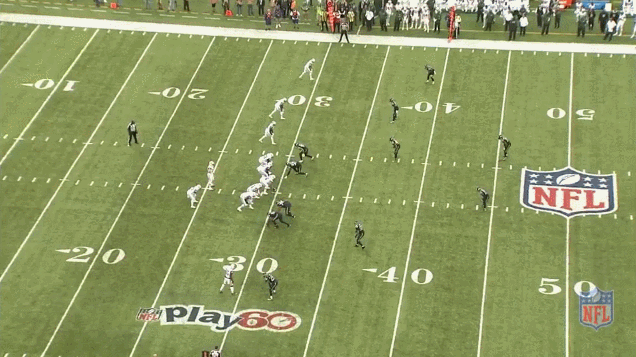 Christian Hackenberg, please leave again.  Another screen pass that Fitzpatrick makes a mistake on, and throws it into the ground.  It's probably a good thing because the defense knew that he was going to throw this screen pass, as you can see the LB running towards the ball to pick off the pass if it reached Powell's vicinity.  This is not a great play call to begin with, but just poor execution again with Fitzpatrick.
13)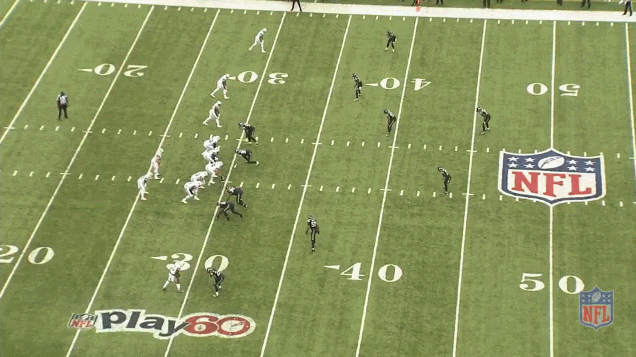 The final pass of the night and another interception.  On broadcast, this also looks like miscommunication, but Brandon Marshall is wide open for this pass.  An accurate deep pass very well could result in a TD on this play as the safety is too far away to catch this pass and Marshall has a chance to run for the TD.  Instead, throws it at his back hip, which means that in the best case scenario Marshall has to stop, spin around, and make a diving catch.  What is the thinking behind this throw?  It absolutely makes sense to throw the ball deep because it's wide open, but Fitzpatrick goes with a horrible decision that leads to another interception.  Another instance where Marshall got the better of Richard Sherman, only to have the latter get the reception.
Conclusion:
This was just a horrible game from Ryan Fitzpatrick, missing countless opportunities to pass the ball deep.  The Seattle defense dared the Jets to beat them deep, and they failed over and over again.   Seattle is a good defense, but it isn't without flaws, but Fitzpatrick is not talented enough to take advantage because he's limited on deep passes.   Fitzpatrick improved from last week, but he looked horrible again this week.  He had some bad drops during this game, while also making a few good throws, but this was a bad game for the Jets QB.
Thank you for reading our Film Breakdown Series for Week 4.  Please check back next week for our article, where hopefully the "Bad Magic" one will be a lot shorter.
Fitzpatrick Grade:  D+
Forum Questions:
A.  On the last interception (Bad Magic 13), can someone explain the logic behind the throw?
B.  Who won the match up between Marshall and Sherman?  
C.  Fitzpatrick has a bad habit of staring down receivers on passes, willing to take suggestions on a term for this, instead of writing "Fitzpatrick stares down another WR".  Snake eyes?