While the offense struggled with some drops during the loss to the Steelers, there were also example of offensive stars bailing out the QB.   Let's examine these situations:
Sidekick Power:
1)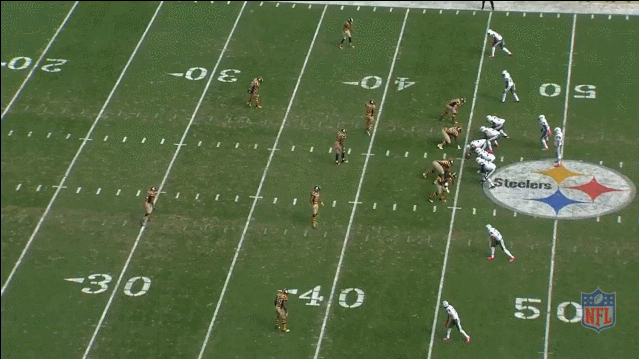 This is a second and seventeen play in the second quarter.  The Steelers are in a two deep safety look, and the Jets initially come out with a five receiver look.  However, Enunwa comes across the formation, and the defender follows him to that side indicating man coverage.  This is a very good call because the Steelers aren't ready for this pass at all and Enunwa makes up about nine yard after the catch.   This is just a great design for a screen pass because the defender matched up with Enunwa is on the other side of this play effectively taking him out of the play.  While Fitzpatrick gets stats for this pass, it's really the exquisite play call from Chan Gailey, and subsequent run after catch from Enunwa that make this play.
2)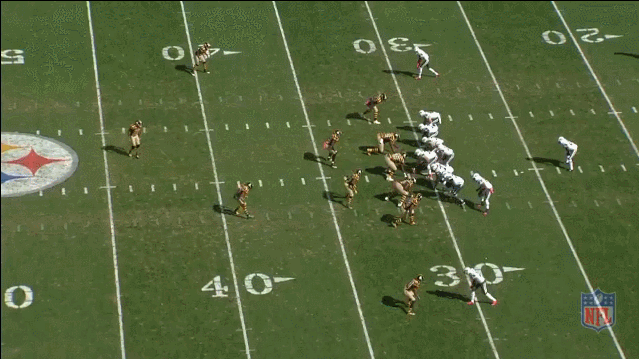 Another play, and another screen pass.  The defense is again in a single high safety look, and the Jets go with a simple screen pass, which Powell runs for about thirteen yards.   This is a very good run from Powell, showing impressive speed.  The second aspect of this play is Austin Seferian-Jenkins on this play, because he executes it perfectly.  He runs through the first wave of players as if he's running a route, before engaging in a block down the field, taking him out of the play.  It's a great fake route wise, as well as a good job accomplishing his goal by blocking his man.  This is a pretty sophisticated play from Jenkins here, especially considering he's been with the team for such a short period of time.
3)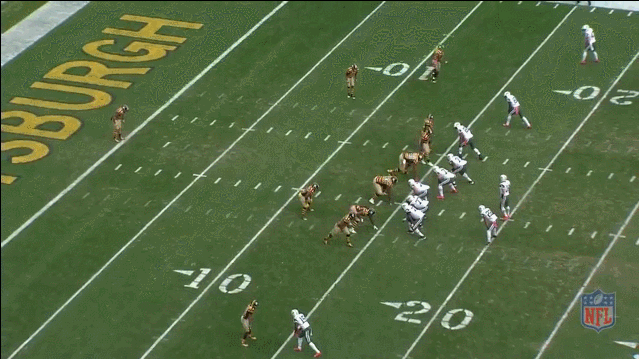 Quite possibly the quintessential example of a Jet receiver bailing out Ryan Fitzpatrick.  This ball is thrown right to the defender for what should have been an easy touch back interception, which was rampant in the Chiefs game.  This is just a horrible drop by the defender.  It's an even worse throw by Ryan Fitzpatrick, and reminiscent of the play from last year against the Browns where Marshall ripped away the ball from a defender.   Fitzpatrick is locked into Marshall from the start, and fails to scan the field where Seferian-Jenkins had a decent shot at a completion on this play across the middle.  There are no wide open receivers on this play, but a big bodied TE with inside positioning on a crossing route should be somewhat safe.  This throw however is the direct opposite of safe, and almost intercepted.  The defender just flat out misses the ball, and Marshall shows excellent concentration to come down with the TD.   For the type of route run by Marshall, this had to be a fade throw at best, but Fitzpatrick throws a straight pass to him for some unknown reason.
4)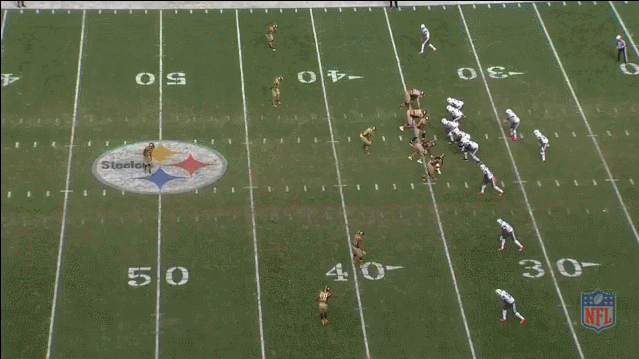 A screen pass again, and it's pretty simple.  Bilal Powell runs after the catch to get some good yards while the Steelers are in prevent mode.  There is some good blocking down the field on this play, and Powell even hurdles a defender (albeit he's pretty much on the ground) for good measure and completes this impressive run.
Conclusion:
The Jets had some success with screen passes, although the Jets seemed to go to a screen pass a bit too often as they refused to take shots down the field.  Powell has really impressed with his speed on these screen passes, and showing good vision as he's running down the field.  The biggest assist of course belongs to Brandon Marshall who makes a great catch for the only TD in this game.
Please check out "Fitzmagic" and "Assistant Failures" as part of this week's breakdown, and "Bad Magic" will be posted shortly.
Forum Questions:
How would you grade Powell's year?
How has Powell improved from 2014, and why do you think he improved?
If you had to pick between this TD or the play from last year's Browns game with Brandon Marshall ripping an intercepted pass, which would you pick?