Breaking News Home Slider QB Film Review
Jets Passing Offense Film Review – Week 9 (Dolphins) Assistant's Failure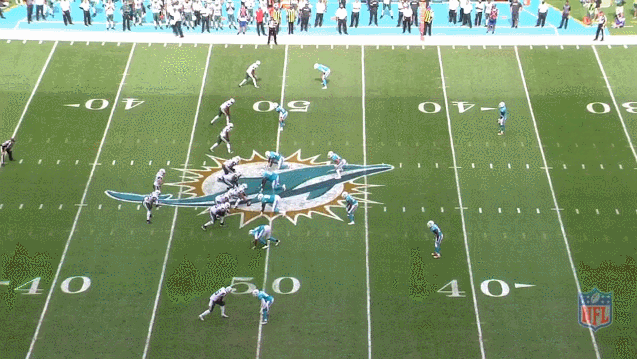 While the Jets lost to the Dolphins, and Ryan Fitzpatrick played badly, he wasn't alone in making mistakes this past Sunday.  Let's see who else joined him in blunders.
Assistant's Failure:
1) 
The Dolphins are in a 2 safety look, while playing press coverage.  However, if you look at the pre-snap read, you will notice that the defender on Enunwa is the middle line backer, plus the deep safety, so he has the best chance to become open on this play.  Fitzpatrick makes the correct read, and Enunwa does become open down the field.  This is a good throw, albeit not a great one, that should have been caught.  Enunwa tends to show up on this article on a weekly basis, and this is a bad drop.  The throw could have been better, especially leading him further inside, but as an NFL WR, you have to catch this pass.
Conclusion:
Quincy Enunwa's drop was pretty much the only play where a receiver blatantly dropped a pass.  While Enunwa is an exciting player with his potential, he still needs to work on his arms, as he tends to have his fair share of drops.
Forum Question:
A)  If you could offer an extension to Enunwa, what would you offer?  Why should he accept?
Videos
Aaron Rodgers Injury Fallout & Jets/Bills Recap