Another week, and another showcase of bad plays from QB Ryan Fitzpatrick.  Let's examine:
Bad Magic:
1)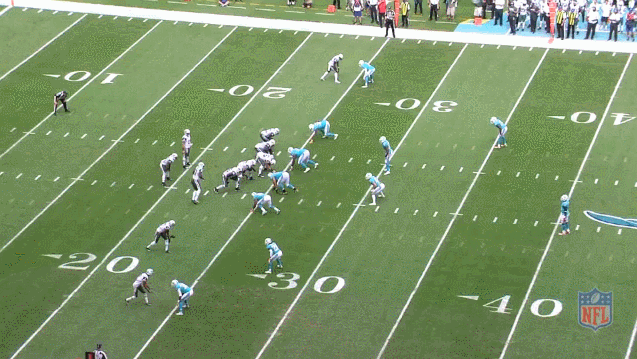 The Dolphins start off with a 2 safety look, but when Quincy Enunwa goes in motion, the second safety is moving up towards the line of scrimmage to cover him.  However, at the snap of the football, he is still a few yards away from the line of scrimmage, so Enunwa is open for the pass here.  However, Fitzpatrick start off the afternoon with a pass aimed directly at the 30 yard line marker.  Quincy Enunwa has no chance at this play, and it falls for an incomplete pass.  This is a good read by Fitzpatrick, because the pre-snap read did indicate that Enunwa had the best chance to be open, but it's a ridiculous throw.
2)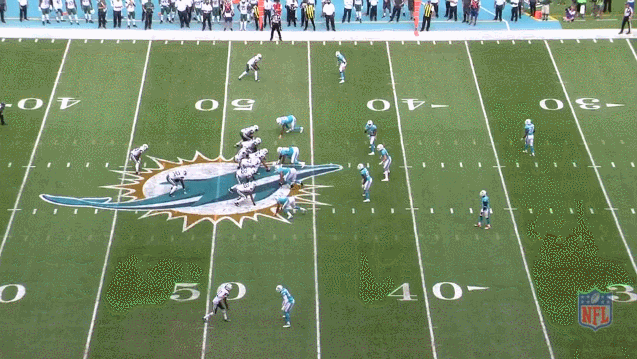 Robby Anderson is wide open for this TD pass.  There are QB in high school that could complete this pass for a TD.  Fitzpatrick absolutely misses this pass and it's not even close.  The ball is thrown over the wrong shoulder and doesn't land close to Anderson.  One of the worst deep passes you will see from an NFL QB, who actually has a wide open receiver.  This should be seven points on the board, but it goes for naught.  There is nothing else that needs to be said about this pass, it's just flat out horrible.  Robby Anderson shows a good move at the line and notice the slight move to the outside when the CB turns around before Anderson heads inside.  This slight move throws off the defender even more, allowing the free release downfield.  It's a shame this wasn't completed.
3)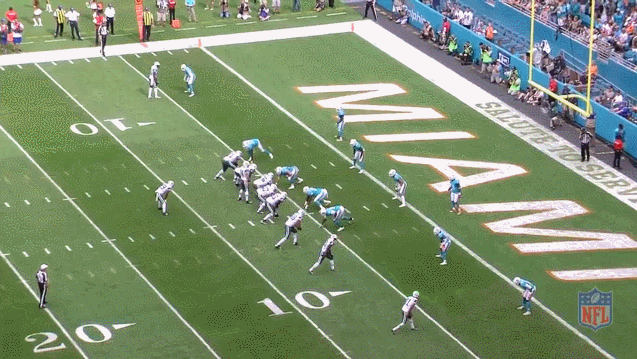 Brandon Marshall is open for the TD, but Ryan Fitzpatrick gets distracted by the cameramen in the background.  Another horrible throw in what should have been a TD.  The Dolphins are double teaming Marshall on this play, with the LB covering the inside and the CB covering the outside.  However, it's a bad coverage situation by the LB, leaving a wide open lane for Fitzpatrick to throw to Marshall, but it's just a horrible throw.   While no one accuses Ryan Fitzpatrick of being a franchise QB, failures on these types of plays really set him back.
4)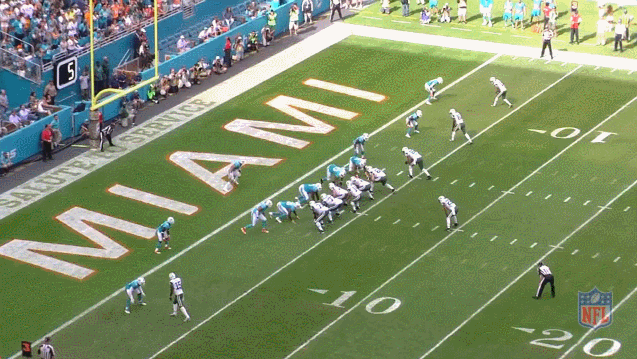 The Jets have three receivers to the right of the formation on this play, and the Dolphins bring pressure.  Fitzpatrick has three choices to pick from on his play, and he goes for the absolute worst option.  Austin Seferian-Jenkins and Robby Anderson have better positions on their defender, but Fitzpatrick is locked into Quincy Enunwa on this play.  The Jets have called this play before in the red zone this year, but Fitzpatrick has to do a better job of reading the defense and going through his progressions.  He failed to move on from his initial read, and it ends up in another incomplete pass.  This is the type of situations for Seferian-Jenkins because he has inside position on his defender and he can use his body to prevent them from swatting the ball.   Just another failure by Fitzpatrick.
5)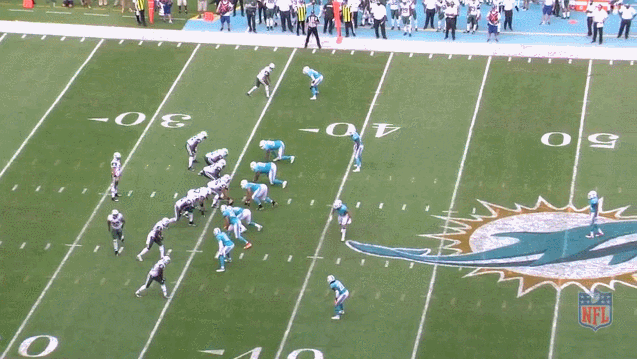 This is the classic example of Fitzpatrick failing to move from his first read.  This is a 3rd and 1 play where they motion out for an empty set.   The Dolphins are playing press coverage with a single high safety.  They bring a blitz, but the pocket is well protected on this play, and Matt Forte is well covered on this play.  The chances of this pass being completed is about 5% from the time Fitzpatrick decides to throw this pass.  This is just a horrible decision when he had much more time to scan the field.  Had he scanned the field, he would have noticed that Brandon Bostick was wide open for an easy conversion on the other side of the formation.   There is no reason to throw this low percentage throw to Forte when he's this well covered.  If you don't advocate Fitz turning towards the other side, Quincy Enunwa is wide open behind Forte for a pass as well, but is ignored by Fitzpatrick.  This is a crucial third down, and Fitzpatrick goes for a horrible pass option, when two other options were open to him with a clean pocket.
6)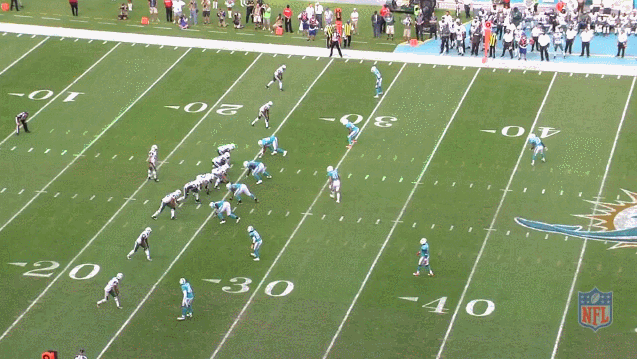 The Jets are in an empty set, with the Dolphins in a 2 deep safety look.   Considering the short pass situation, there are 5 options on the field for Fitzpatrick.  He picks the absolute worst option and gets picked off by a defensive tackle.  This play is akin to the interception thrown by Geno Smith against the Bills a couple of years ago (to Kiko Alonso) where he just didn't see the guy.  It is unusual for a DT to drop back into coverage (unless you are coached by Todd Bowles) but this is just a brutal interception.  Fitzpatrick is a game manager, with the management skills of Enron.  There is nothing else that can be said about this play other than that the Jets are lucky Robby Anderson didn't get trampled on this play.
7)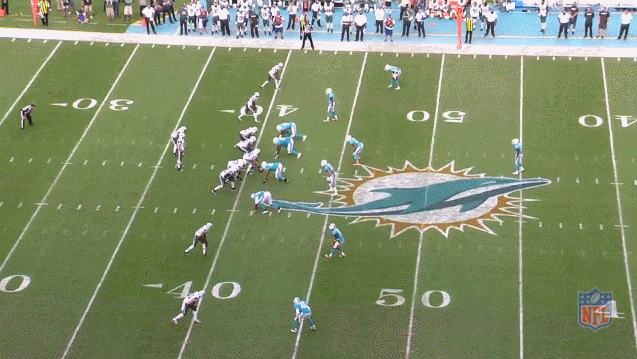 Another example of Fitzpatrick being locked into a receiver.  Prior to this play, Brandon Marshall had made a play, thus Ryan Fitzpatrick had his mind made up that he was going back to the well.  Marshall is open for the pass initially, but Fitzpatrick can't pull the trigger and ends up throwing it at the ground again.  He ends up making a jumping bounce pass, but unfortunately this isn't basketball.  Robby Anderson and Charone Peake are more open on this play, but it doesn't matter to Fitzpatrick.
8)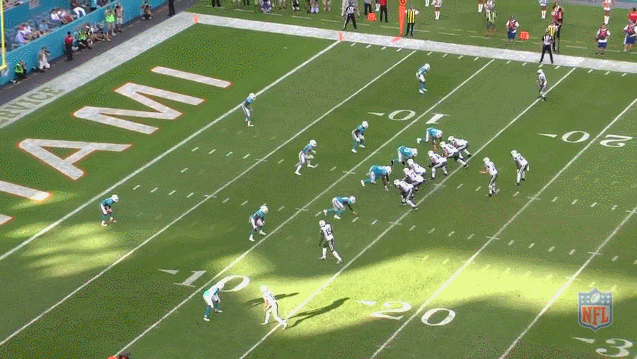 Brandon Marshall wide open for the TD, Ryan Fitzpatrick staring down his star WR, but his eyes are writing checks his arm can't cash.  If you notice, Seferian- Jenkins is also open for a TD as well on this play.   However, Marshall indicates at the line that he wants the ball and Fitzpatrick does his best to stare him down.  Once, he makes the move to the outside, he is wide open for a TD.  All Fitzpatrick has to do is make a good throw and it's seven points.  The Dolphins screwed up the assignments on this play with the outside defender playing man coverage, while the slot defender thought it was zone.  Normally, this time of mix up leads to big gains, but not in this case.
9)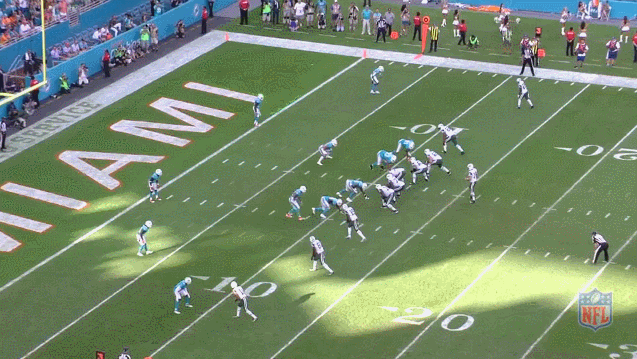 The Jets have five receivers on this play, three of them are wide open on this play, with Robby Anderson and Quincy Enunwa to the left of the formation, and Bilal Powell to the right of the formation.  The Dolphins are playing off the line of scrimmage, and backing up at the snap, so any kind of underneath route is almost impossible to defend.  The only route that isn't hard to defend in that scenario?  A lob to the back of the end zone.  Fitzpatrick has absolutely no reason to throw this pass to the back of the end zone.  He has three options on this play that are all but guaranteed first downs.  This is just inexcusable to carelessly turn over the ball in the red zone.  It's one thing to have a rifle arm, and getting intercepted while trying to squeeze the football into a tight space.  It's a whole different conundrum to figure out why a QB would float a football to an area exclusively populated by the defense.
10)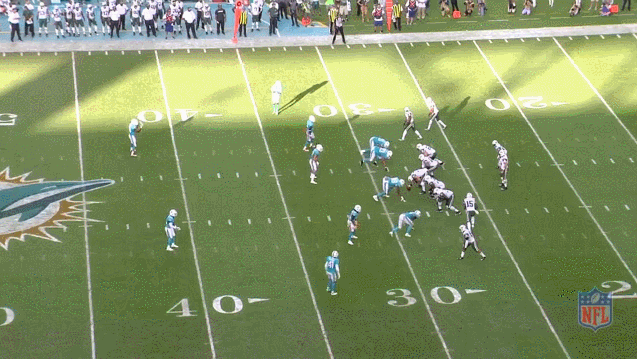 This last play is infuriating because Fitzpatrick tends to do this about twice every game.  When he faces pressure, he develops this intense desire to actually run right into the face of pressure like it's a wall in Sonic the Hedgehog game.  On this play, Charone Peake and Quincy Enunwa become open, but Fitzpatrick is already sacked because he decided to run right into the line.   This is just another terrible option when the Jets are down in the game late.  A sack is the absolute worst possible outcome, short of a fumble, in this situation and Fitzpatrick decides to run right into the line.  Even a incomplete pass is better because it preserves time for the defense.
Conclusion:
There is no way the Jets can go on with Ryan Fitzpatrick.  He played one of his worst games and lost a game that was there for the taking.  He failed to convert on instances where they had guaranteed TDs, and made horrible mistakes with turn-overs.  He had a couple of fumbles, which the Jets were lucky to recover during the game.   For QB ratings among qualified QBs, Fitzpatrick is ranked dead last at No. 32.  Even Case Keenum, the subject of national articles calling for his benching, has a healthy 10 point lead on Fitzpatrick.  While there are plenty of examples of a team sticking by struggling QBs, it's extremely rare to see them stick by a journeyman QB with no financial ties to the team for future years this long.  Fitzpatrick is one of, if not the, worst QBs in the league.  The Jets have to move on at some point because he is not helping them at all.  This was one game where the receivers had minimal drops, and made some spectacular catches, but it wasn't enough.
Fitzpatrick Grade:  D
Forum Questions:
A) What possible upside does Bowles have in keeping Fitzpatrick as starter?  
B) What possible downside does Bowles having in naming Petty as a starter?
C)  At this point, do you want the young QBs to be learning from Ryan Fitzpatrick?