Breaking News Home Slider QB Film Review
Jets Passing Offense Film Review – Week 9 (Dolphins) Sidekick Power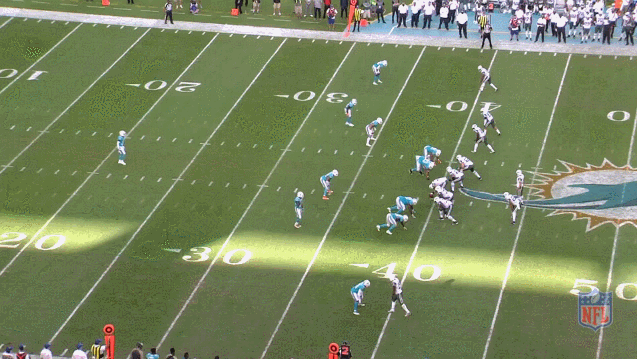 Ryan Fitzpatrick has one of the most talented collection of weapons in the game, and they definitely showed off their skills this past Sunday, albeit it was in vain.  Let's see some of these plays:
Sidekick Power:
1)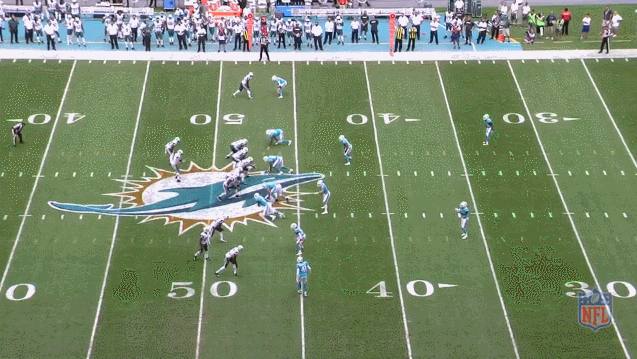 This is a 3rd down play where the Dolphins come out with press coverage and a 2 deep safety look.  The only person not covered at the line is Enunwa, and he is open down the field.  However, Fitzpatrick is flushed out of the pocket by then, and makes a run for the first down.  If he had just slid to the ground, this would have been on of the plays in the "Fitzmagic" article, but he decides to get wild and emulate Brandon Marshall from last year's Eagles game.  This is just a great catch by Bilal Powell on this play, as he had no reason to expect a lateral as he was running down the field.  Not only is Powell not expecting a lateral, this one is behind him, and he makes a great one handed stab to catch the ball.  This play is extremely close to being a boneheaded decision by Fitzpatrick, but Bilal Powell is there to clean up the mess.
2)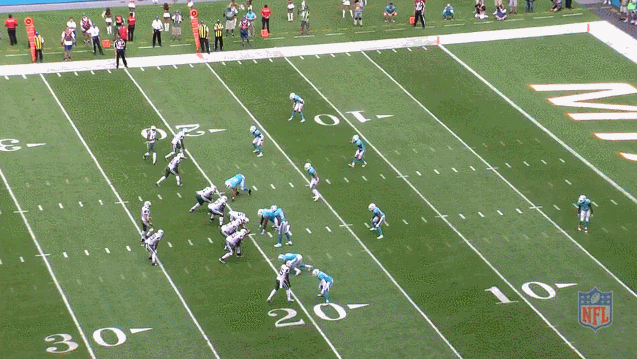 The Dolphins are again in a 2 safety look on another third down play.  However, it's not press coverage across the board as the Jets have a stack of three receivers to the left of the formation.  Pre-snap read should have indicated that there is a chance that one of them becomes open.  However, Fitzpatrick is absolutely locked into Powell for this play, and it almost ends badly.   First, Charone Peake emerges to be open down the middle for a surefire first down, and possible TD, but since Fitzpatrick is locked on Powell, he misses him completely.   Second, the throw to Powell is high, and doesn't lead him, which robs him of his momentum.  Powell ends up making a very good move to go under the tackle and pick up the first down, but this is a bad read to begin with, and a mediocre throw to compound the problem.  If Fitzpatrick leads Powell with this pass, he most likely runs to the sideline for the first down, but the bad throw forces Powell to try and escape from two defenders.
3)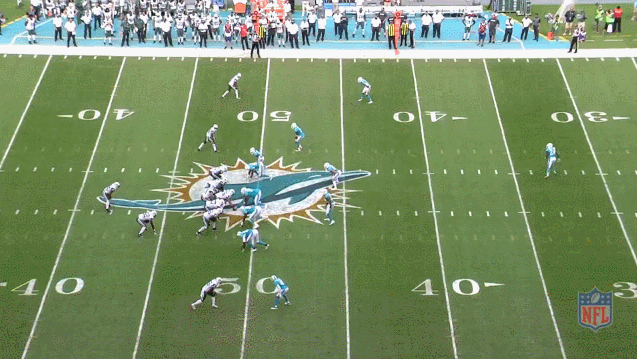 The Dolphins comes out in a single high safety look with press coverage, although the defender on Jalin Marshall comes with a blitz.  This causes the defense to dedicate two guys for Marshall initially with the LB and the deep safety.  However, the route from Brandon Marshall causes the LB to peel off, which leaves Jalin Marshall wide open.  However, Fitzpatrick makes another bad throw, this time throwing behind his receiver. Marshall has no shot at yards after the catch, and makes a nice grab turning around to get the ball.  This is another pass where if the receiver was led with the throw, it could have been a much bigger play.  It's a nice catch, and Fitzpatrick is facing pressure on this play, but the placement of the ball ruins any chance of a bigger play.
4)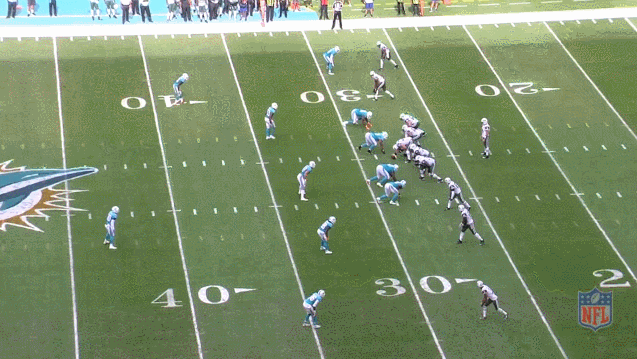 The Dolphins are in a single high safety look, and the per-snap read indicates that Robby Anderson, Charone Peake, Jalin Marshall, or Quincy Enunwa could be open on this play.  All four of them are eventually open on this play, especially if Peake is going to run down the field more.  However, Fitzpatrick is locked in on Jalin Marshall on this play, which isn't terrible because he does become open.  However, Fitzpatrick hesitates with the throw, causing the pass to be late.  Jalin Marshall makes this catch while essentially being sandwiched by two Dolphin defenders, and then escapes the tackle to run down the field.  This is just a lucky break for the Jets, especially because a perfectly timed throw probably gets stopped shorter, but this is a bad decision by Fitzpatrick.  He has to get this ball to Marshall earlier, or find other receivers, instead of trying to squeeze the ball into double coverage.
5)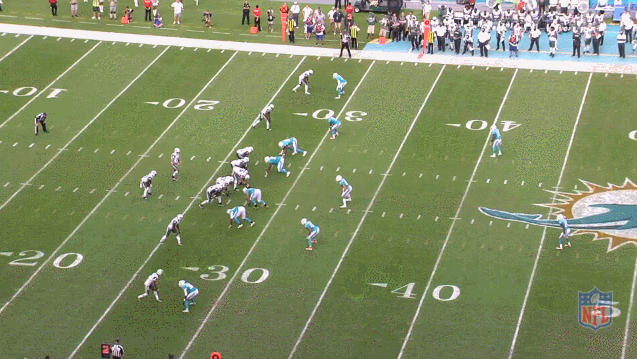 The Dolphins are in a press coverage defense with two deep safeties.  Brandon Marshall runs a great route here, and Fitzpatrick finds him for a pass with a good passing lane.  However, this is a horrible throw from the QB, and the only reason this was completed for a catch was because Brandon Marshall makes a great one handed stab at the ball.  He had no chance to get two hands on the ball on this play.  It's a terrible throw by Fitzpatrick, especially given the route and how open Marshall is for what should be a simple throw.
6)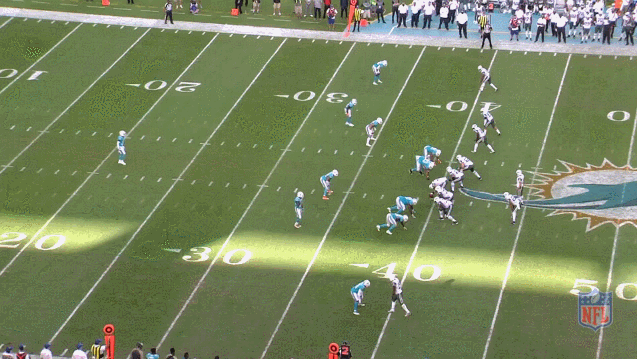 The Dolphins are in a single safety look, and the defender is playing off coverage from Robby Anderson.  The pre-snap read shows that there is more of a likelihood that a receiver from the right side of the formation becomes open because the defenders are playing off the line of scrimmage.  Anderson shows off his speed by running right by his defender, and is wide open for a TD.   A decent throw by the QB, and this is an absolute TD.  However, Fitzpatrick badly under throws this pass, which causes Anderson to all but stop in his tracks to jump for the ball.  It also bring back his defender into the play, the same one he had beat by about four yards, causing contact as he went to the ground.  This was initially ruled a TD, but replays showed that Anderson was touched as he went to the ground.  This is just an atrocious throw by Fitzpatrick, taking a TD off the board.  It's another great catch by Robby Anderson, and a shame that he hasn't scored a TD yet.
Conclusion:
The Jet receivers went out of their way to help Fitzpatrick in this game, as they made great play after great play.  However, it wasn't enough because Fitzpatrick still found ways to lose, although special teams were also partially to blame.  It's a shame to waste a game like this, because the Jets had ample opportunities to score more points, but wasted them.
Forum Questions:
A)  How bad is that Robby Anderson doesn't have a TD?  If he had Geno Smith, Bryce Petty or Christian Hackenberg all year, how many do you think he would have now?  
B)  What player comparison do you have for Jalin Marshall?
Videos
Aaron Rodgers Injury Fallout & Jets/Bills Recap