While Fitzpatrick had one of his better games this season, it wasn't without faults.  Let's examine some of his bad throws and/or decisions.
Bad Magic:
1)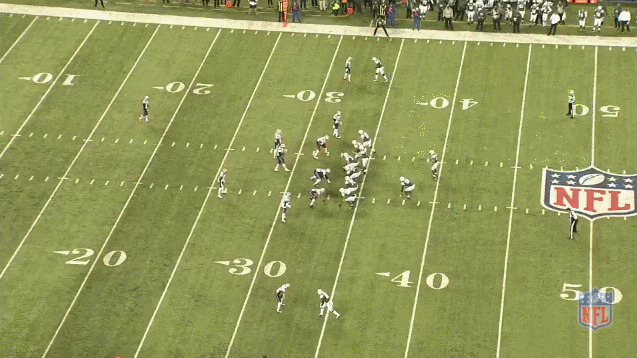 The Patriots are in press coverage on this play, and they do a good job of taking care of their assignments, but Ryan Fitzpatrick makes a horrible throw.  It's essentially aimed at the ground because he is locked into Sefarian-Jenkins from the start, but makes a bad throw.  There aren't glaring options on this play, but the safe option was the RB coming out of the backfield, for a short gain, or a deep pass to Enunwa down the sideline.  Quincy Enunwa has a step on his defender, with the safety too far away, but Fitzpatrick shies away from that pass.  This is just a bad throw from Fitzpatrick, because he doesn't give his big receiver a shot at the ball.
2)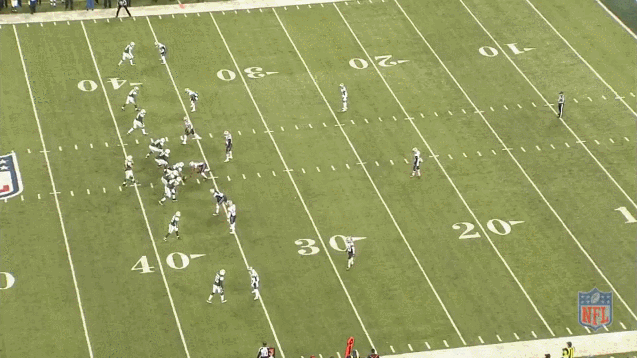 This is a borderline call as "Bad Magic" because there are bigger culprits on the play.  This is a 3rd and 4 play in the second quarter, and Robby Anderson is open on the left side for a first down.  The Patriots are rushing three on this play, which gave Fitzpatrick a bit more time, and he didn't have to take the more risky option.  There is Bilal Powell open as well, but that might be too tall of a task for Fitzpatrick to work across the field since this is a 3rd down.  However, he is looking at Anderson on the same side of the field, so that should have been an easy completion.  The throw to Jalin Marshall isn't horrible, but it doesn't lead him towards the middle.  The ball is slightly behind him, which causes Marshall to slow up.  If the ball leads Marshall, there is a chance that this is a big play.  This is one of Fitzpatrick's weaknesses, in that he rarely leads wide receivers in open areas.  Almost always, they have to slow down for the ball, which limits big play opportunity.  The biggest culprits on this play are the referees.  Replays clearly showed that the defender hit Jalin Marshall before the ball arrived, yet there were no flags thrown.  They have to do a better job at calling the game equally for the stars, as well as the rookies.
3)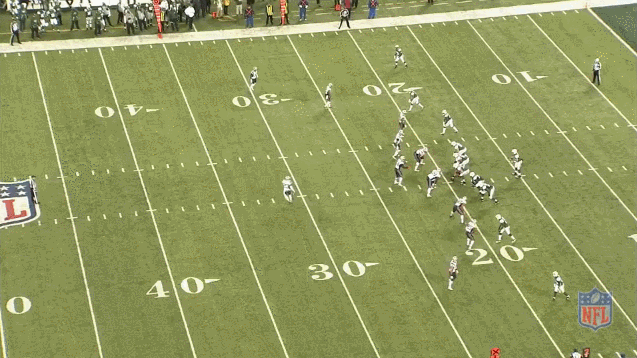 This is one of the rare situations where the Patriots did not play press coverage, and on cue, Ryan Fitzpatrick makes a bad pre-snap read.  At the line of scrimmage, it's clear that there is a better chance of someone being open towards the right side of the formation because they are playing back, but Fitzpatrick ignores that side.  Eventually, there are two guys that are open on that side for a pass, but go unnoticed.  Instead, Fitzpatrick is locked in Brandon Marshall on this play from the start and sails a throw over his head.  It's just a bad play all around from Fitzpatrick, as he makes the wrong read and well as a terrible throw.   This attempt is one of those throws that can really only be made consistently by accurate passers on an elite level.  Tom Brady or Peyton Manning from yesteryear, make this throw consistently.  Ryan Fitzpatrick or Geno Smith attempting this throw, and you are probably happy that it's not an interception.  Fitzpatrick just doesn't have the arm strength or touch to make this throw consistently.
4)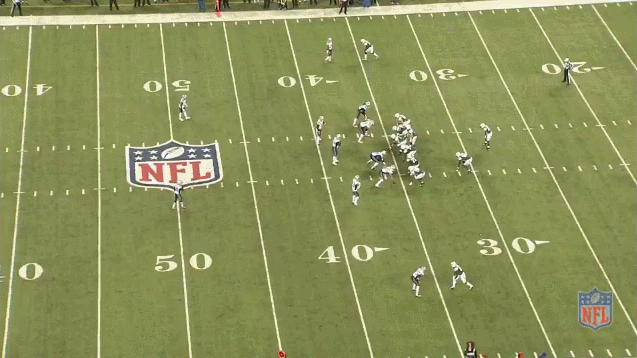 This is a short yard completion to Brandon Bostick, but it's here in "Bad Magic" because Fitzpatrick absolutely ignores a wide open Seferian-Jenkins in his line of sight for a much bigger play.  Again, there is a lot of chatter about Chan Gailey ignoring the tight end position, even with the talented Seferian-Jenkins, but this is an example where it should have been a big play.  However, Fitzpatrick checks down into a much smaller play.  Jenkins is wide open in the second tier of the defense for a pass that most college quarterbacks can make, and Fitzpatrick looks towards him, and checks down to Bostick.  The throw to Bostick was a bit late as well (mainly because Fitzpatrick is looking towards Seferian-Jenkins area first), who then channels his inner Shonn Greene and runs horizontally until he's tackled.   This should have been a much bigger play, but Fitzpatrick misses the wide open pass.
5)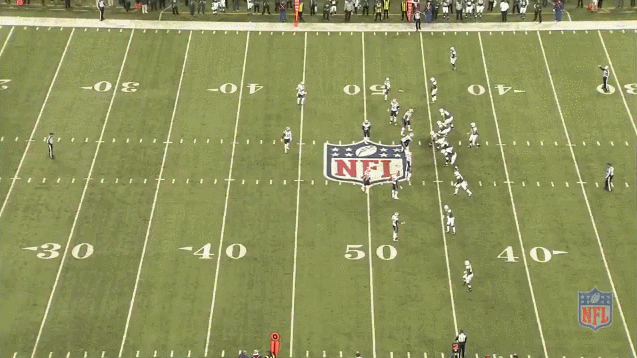 The Patriots are in single high safety, but they are only playing press coverage on the inside, with both outside receivers getting ample room.  This suggests that the safety is responsible for the middle of the field, since they are protecting the deep route with space.   CJ Spiller is lined up on the outside to the left of the formation, and he uses his speed to run by his defender.  He has at least a couple of steps on his defender by Fitzpatrick under throws the ball, which allows the defender to get back in the play and knock it away.  It's just a horrible throw by Fitzpatrick, as he shows again that he can't lead receivers well on deep passes.  It's almost always under-thrown and they have to make the adjustments.  The other infuriating aspect of this play is the timing of the snap.   When Spiller moves to the outside, his defender is a good five yards away from him to his inside, as he's jogging to get lined up.  Instead of snapping it faster to catch the Patriots in a bad alignment, Fitzpatrick all but waits until the Patriots are well set before snapping the ball.  For a QB praised for his IQ, Fitzpatrick rarely takes advantage of situations like this.  All across the league, you see QBs take advantage when the defense is lagging behind on a receiver, yet the Jets wait until the defenders give the thumbs up before snapping the ball on plays like this consistently.
6)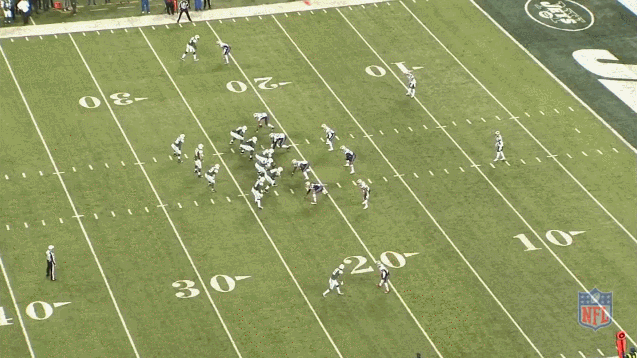 The Patriots are again in press coverage, and Fitzpatrick, fed up with criticisms over his under-thrown balls, decides to over throw one here.  Brandon Marshall has a bit of an opening on this play, but it's just out of his reach as Fitzpatrick leads him a bit too much.  This is about a foot away from being a great throw, although it's about two feet away from being an interception, but that's the life of an NFL QB.  On the other side, notice the move that Robby Anderson makes on his defender to get open for the pass with inside position.  He runs a great route, forcing the defender outside, before cutting in, creating the space needed for him to get open.  It doesn't matter, because this throw is essentially going to Marshall as soon as they broke the huddle.  It's not a horrific throw, but it is a bad throw and a missed opportunity.
7)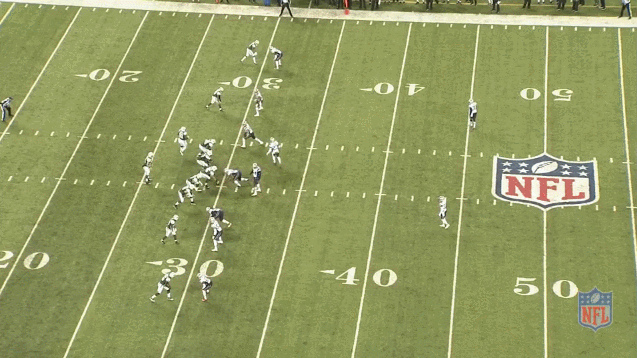 The last offensive play for the Jets, and it results in a fumble.  The Patriots are again in press coverage, and Fitzpatrick fails to take advantage.  In this case, Fitzpatrick does not lock onto Marshall from the start, because his first read is actually Enunwa.  However, he is well covered, so Fitzpatrick moves onto his second choice, which was Brandon Marshall.  However, before he makes the throw, he is hit by the defender and fumbles the ball.  It's a shame because the Patriots only sent three guys, yet still got the strip sack on this play.  It's more of a failure on the right tackle, but Fitzpatrick has to step up in the pocket here because he has ample space and he looked towards the rusher with his first read.  He has to sense the pressure, but fails to do so, which results in the turnover.  This type of coverage is going to be typical against the Jets, especially if teams don't have great pass rushers.  By dropping back players, the defense is trying to clog the passing lanes and daring Fitzpatrick to find the openings.  They take their chances with him passing up on deep passes, by trying to take away the shorter passes.  It's not a coincidence that the Jets attempted more deep passes than usual today, because it's really the only way to combat this type of defense.  The QB also has to show an ability to move up in the pocket or run for a few yards so teams don't employ this type of tactic in the future.  By rushing three guys, they are making two guys on the offensive line useless to this play, creating a superiority in numbers for them.  The QB has to take advantage of this by running every now and then to keep them honest.
Conclusion:
This was probably the best game for Fitzpatrick, after the Bills game this year.  It also helped that he was facing one of the worst pass defenses in the league.  Fitzpatrick made some excellent throws in this game, and he didn't make the jarring mistakes he made in the past.  The Pats defense did not play a good game, because their scheme made it easier for Fitzpatrick.  Playing press coverage puts the pressure on the receivers to get open, and the Jets have talent in that area.  Playing back on the receivers makes it imperative that the QB makes the right pre-snap read, and Ryan Fitzpatrick demonstrated more often than not, that he is not capable of that.  Both the Bills and Pats made the same mistake of staying with press coverage throughout the game, and Fitzpatrick did well.
Grade:  B
This is a strong B, and a couple of throws away from a B+/A-.  While the offense didn't generate a lot of points, Fitzpatrick made good throws, and good reads.  The Anderson fumble really hurt the momentum in this game.  It hurts Fitzpatrick that he was facing a weak passing team.  After looking at the film, I think Todd Bowles intended to bench Fitzpatrick after the Patriots game, which was why he was non-committal at the press conference.  However, he didn't make enough mistakes to warrant a change in QB, without admitting that the season was over, thus he stuck with Fitzpatrick for one more game.  The Colts are one of the worst pass defenses in the league, so it'd be surprising to see any QB struggle against them, so Fitzpatrick might be the starter for a couple more games.
Forum Questions:
A)  Why didn't Fitzpatrick run more?
B)  Why did Bowles stick with Fitzpatrick?
On a personal note, sorry for the delay in posting.  Aside from the apathy of watching another Fitzpatrick led loss, I was moving this week, and I had a dental procedure this week, which left me little time to write these articles.