Jets Passing Offense Film Review – Week 12 (Patriots) Sidekick Power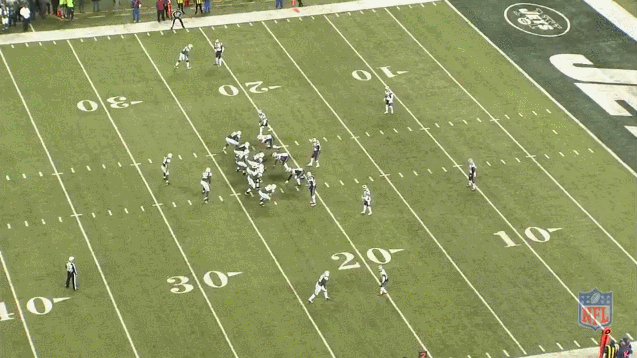 Let's look at the plays from last week, where receivers helped out their QB, Ryan Fitzpatrick.
Sidekick Power:
1)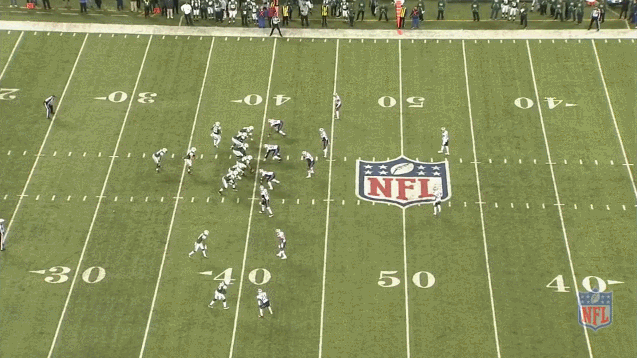 This is the type of play that a QB love because there are so many right options on this one.  The defense is in zone coverage on this play, and they aren't quite playing press coverage, which gives free release to all the receivers.  Ryan Fitzpatrick takes the safe throw, on what is essentially a screen pass to Matt Forte, who takes it fifteen yards.  Most of the work is done by Forte, so he gets most of the credit.  However, the real credit should go to Chan Gailey, because look at the option.  Quincy Enunwa goes in motion on this play, creates a match up positioning issue, and is wide open for the crossing route.  As usual, Robby Anderson is running around in the middle wide open without a foe to keep him company, and a strong armed QB can hit him for a big play.  Brandon Marshall is getting open as well in the zone coverage, with a similar route as one of his catches from earlier in this game.  The Jets have a legitimate four options that are open on this play, showing the great strength in the design of this play.  It is actually good that Fitzpatrick took the safest route here because it's the one with the highest chance of a positive play.  The Jets were trying to come back at this point, and Forte has plenty of space in front of him to run.  However, the design of this play is marvelous.
2)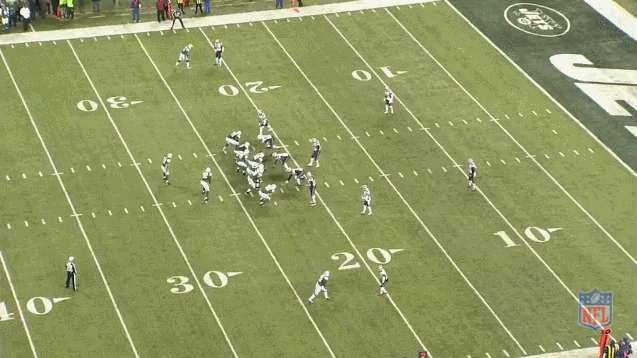 There was much internal debate (within myself) about where to put this play.  It can be in the "Fitzmagic" article, or this one.  Since there was already one great catch from Enunwa in the other article, I decided to put this one here.  However, let it be noted that it's interchangeable and this is a great play by Fitzpatrick as well as Enunwa.   The safe play on this is to target one of the tight ends on this play, because they are more open than Enunwa.  There is much hoopla about Chan Gailey not using tight ends enough, but there are opportunities for them, but the QB ignores them, or spots a better situation.  In this case, the Patriots are in perfect coverage for this pass, yet it still didn't matter.  The defender playing Enunwa doesn't have safety help over the top, but rather LB help underneath.  They are willing to give up the short route, and bank on the LB making the tackle, instead of the deep route.  One of those, bend but don't break models on this play.  On the pre-snap, Fitzpatrick reads press coverage, with a possibility for zone coverage since there is a safety over the top, and a LB positioned in the middle.  However, the Pats bait Fitzpatrick here because it's man coverage on Enunwa, and the defender is in perfect position for this pass.  He is well ahead of Enunwa, and he's first in the end zone for this pass.   However, Enunwa times his jump perfectly, and Fitzpatrick places the ball perfectly as well.  It's an absolute beauty of a play from the QB and WR.  If Fitzpatrick ran into the end zone, there might not be a better position that he could have placed the ball.  Famously, Enunwa is called out of bounds first, but upon review it is noted that his backside landed in bounds, leading to a TD.  This is a situation, where the defense played it perfectly and it still worked out for the Jets.  In the "Fitzmagic" article, there is a situation where the Jets played it perfectly (again to Enunwa) and it didn't work out.  If you are the Patriots, you just have to tip your hat to Fitzpatrick and Enunwa on this play.
Conclusion:
If someone makes a highlight reel of this season for unknown reasons, the Enunwa catch will be featured prominently.  It's just a great catch by him, showing off his speed, timing, and at least in this case, landing ability.
Forum Questions:
A)  Why does Enunwa thrive against Bills/Pats?
Videos
New York Jets OTA Presser Takeaways, Aaron Rodgers' Impact and Summer Delusion