Breaking News Home Slider QB Film Review
Jets Passing Offense Film Review – Week 13 (Colts) Bad Magic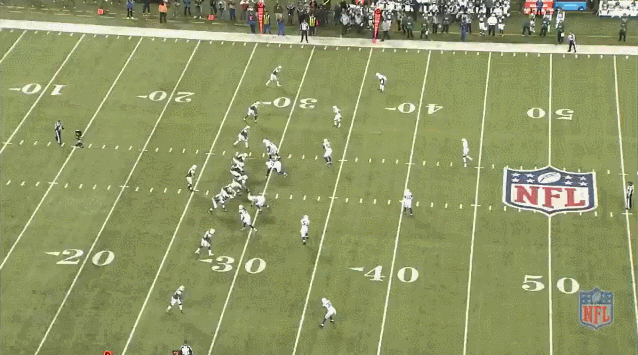 Hopefully this is the final "Bad Magic" article for the Jets, as a new era begins with Bryce Petty.  Fitzpatrick made plenty of mistakes against the Colts, so let's break down his bad throws.
Bad Magic:
1)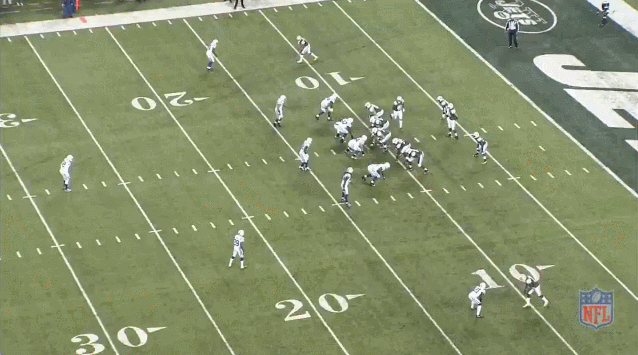 This is a bad play all around from the team.  The Jets have three receivers against a single high safety look from the Colts.  The first break down of this play is on the offensive line, where the LT or the LG guard completely misses their assignment, allowing a defensive lineman to run right by him.  It looks as if the tackle thought he handed over the defender to the guard in lieu of a blitzing LB on the outside, and the guard thought it would be much safer for him if he didn't make contact with anyone.  For a four man rush, this is horrible offensive line play to have a defensive end run right to the QB.  Once, Fitzpatrick sees the pressure, he handles the other part of this horrible play by throwing this pass well behind Anderson.  The receiver has no chance on this play, and it's an incomplete pass.  Quincy Enunwa eventually becomes open in the middle against zone coverage, but the blown assignment on the offensive line causes a bad throw.  The reason why this is in "Bad Magic" is because Fitzpatrick misses the pre-snap read where Enunwa's defender is playing well off the line, indicating that he would have the best chance of being open.
2)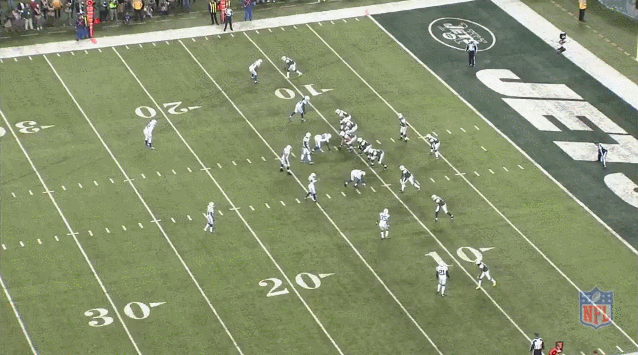 The Colts are in a two deep safety look, while playing press man coverage across the board.   Fitzpatrick has Enunwa open for the short route (although it wouldn't be ideal, because this is on a 3rd and 10 play), but locks into Brandon Marshall on this play.  Since the Colts are playing man coverage on this play, it is important to figure out where the one on one coverage on this play occurs.  Robby Anderson, Quincy Enunwa, and the RB all have one on one coverage, but only one of them is running past the first down marker.  Since Anderson, also has about two steps on his defender, the throw should have gone to him.  It's probably a good thing that this throw was errant, because there is a good possibility this is intercepted and returned for a TD if it's anywhere near on target.  Just a terrible decision and throw by Fitzpatrick.
3)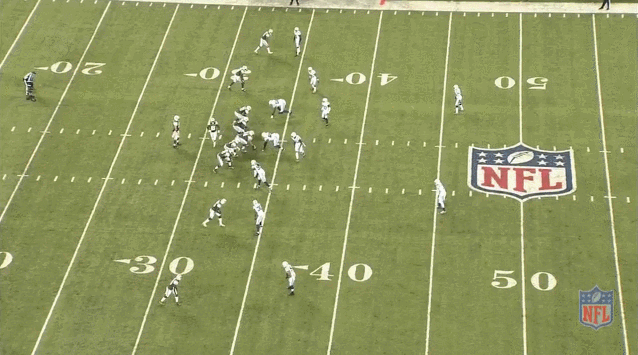 Another play, another case of bad offensive line play.  On this play, the Colts are only rushing three players, yet they get pressure on the QB.  It's a similar strategy first used by the Eagles last year against the Jets.  They line three defensive lineman about as far away from each other as possible, then show possible blitz from linebackers in the middle.  The defensive tackle gets blocked, but the wide ends are going on a speed rush around the edge.  Both guards have absolutely no one to block, so the defense gains an advantage by taking out two players on offense from having any assignments.  The Jets might as well be playing nine on eleven.  This is where a QB has to step up, or run for a few yards so defenses can't employ such a tactic.  On this play, Fitzpatrick is absolutely locked into Charone Peake from the start, even though he has tight man coverage on him, along with a safety on top towards that side.  On the other side of the field, both Enunwa and Anderson have defenders playing off the line of scrimmage, and they are both open for the pass.  Enunwa is a bit short of the first down marker, but it would be close.  Anderson has a step on his defender, but Fitzpatrick isn't even looking to that side.  This is a horrible read by Fitzpatrick, and a bad throw.
4)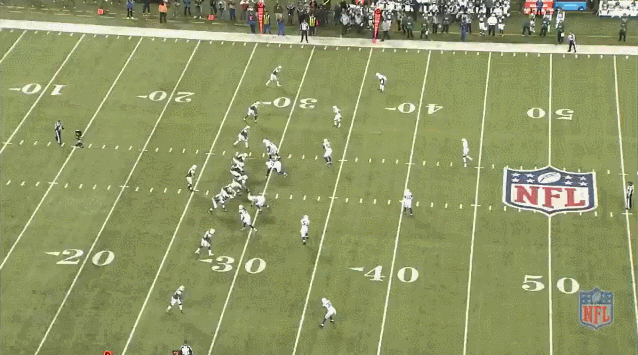 Quite possibly the final pass of Fitzpatrick's Jets career, and it ends with an interception.  The Jets are in a five wide look against a two deep safety look for the Colts, and Fitzpatrick picks the absolute worst situation on the field to throw into, double coverage.   On the other side of the field, Quincy Enunwa is open for a pass on the out route, while Robby Anderson is briefly open on the comeback route.  If Fitzpatrick wanted to take a shot down the field, Charone Peake had one on one coverage in zone, and looked like he had a chance to run down the field.  However, Fitzpatrick showcased one of his everlasting worst traits, locked in syndrome.  Fitzpatrick is locked in on Marshall on this play, and throws it up to him, even though he is double covered.   It's a horrible throw, under-thrown as usual, but even worse decision.
Conclusion:
Fitzpatrick didn't make the same amount of mistakes as he did against the Chiefs or Seahawks, but this was a brutal game.  Against a weak defense, Fitzpatrick got burned when he took a chance, and then had other bad throws accompany bad decisions.  The offensive line play is definitely a concern, and something that needs to be watched next week.  Chip Kelly employed the wide defensive line strategy last year against the Jets, so it'll be interesting to see if he does it again.  Bryce Petty might be forced to run a couple of times in the next game.  Ryan Fitzpatrick concludes one of the worst free agent signings this off season with a dud of a game.
Grade: D
Forum Questions:
A) Where does Fitzpatrick rank on off season busts across the league this year?
B) Which was worse?  Fitzpatrick's contract with Buffalo or NYJ? Please consider age, alternatives, and team situation
Videos
Aaron Rodgers Injury Fallout & Jets/Bills Recap