Breaking News Home Slider QB Film Review
Jets Passing Offense Film Review – Week 13 (Colts) Fitzmagic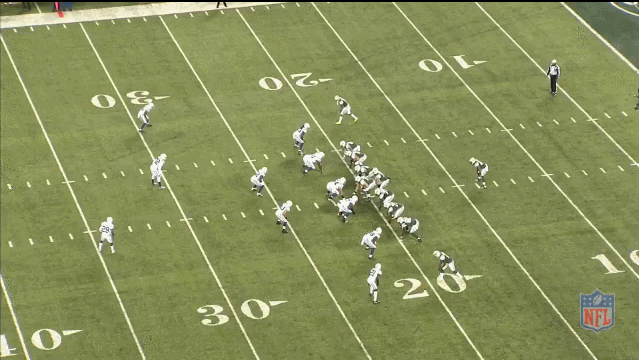 To the dismay of everyone in the Fitzpatrick family, and possibly Brandon Marshall, the Jets have moved on from Ryan Fitzpatrick…..for now.   We've seen this movie before, so it bears to watch how it all plays out.  The Jets were thoroughly embarrassed by the Indianapolis Colts on Monday Night Football this week, and Fitzpatrick registered one of the most lackluster efforts from a QB this season.  Lets break down the film, and see the throws:
Fitzmagic:
1)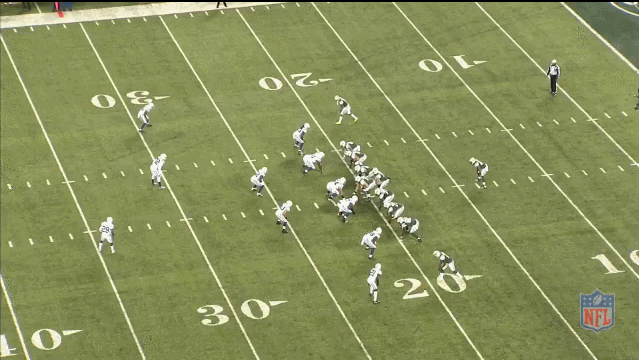 This is a first down play in the first quarter,  and the Jets line up with two receivers and a tight end.   The Colts defense is in zone coverage on this play, and Fitzpatrick rightfully discerns that Marshall should be open in the middle.   Brandon Marshall also runs a great route here, getting past the first line, and settling down in the zone before the LB can run across.  The play action also helps the Jets here because of the direction in which Fitzpatrick is forced to turn.  He is turning to his left (as he goes backwards), thus when he spins around, his head is towards the right side of the formation.  This holds the linebacker for an extra second, as he's tasked with the underneath middle area near Robby Anderson as well, which creates extra space for the throw to Brandon Marshall.  The other notable event on this play is the amount of respect given to Robby Anderson here.  They are essentially triple teaming him, with a deep safety dedicated to him, a deep linebacker, and an underneath linebacker.   Marshall makes a good catch, and as he's wont to do from time to time decides to run backwards, although it works out in this particular case.  This is an excellent play action play, with a good throw and catch.
Conclusion:
Yes, that is the sum of Fitzpatrick's good throws that can be credited to him, and went for a completion.  In a whole half of a game against one of the worst pass defenses in the league, he has one throw in this column.  While Fitzpatrick had worse games (names Seattle, Chiefs), this is a horrible game almost on par with those performances because there just isn't many good throws at all.  The interceptions aren't there, but against a mediocre defense, he has to take more chances.
Forum Questions:
A) On a scale on 1 to 10, how happy are you with Fitzpatrick being benched?
B) Who will readily admit that they campaigned for resigning Fitzpatrick?
Videos
Aaron Rodgers Injury Fallout & Jets/Bills Recap