Breaking News Home Slider QB Film Review
Jets Passing Offense Film Review – Week 14 (49ers) Petty Help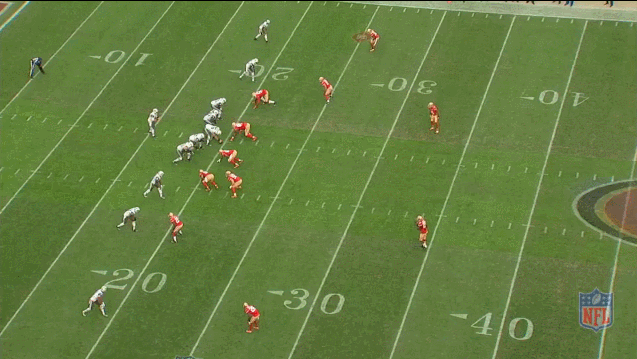 Bryce Petty made his second career start (both against NFC West teams) this past Sunday, and came away with a victory.  While Petty had his good moments, there were plenty of receivers that helped him along the way.  Let's look at the plays in which Petty was helped out:
Petty Help:
1)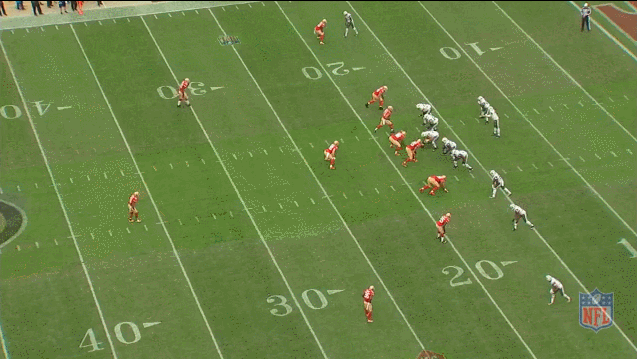 This is not a good play, because it's 3rd and 16 in the first quarter.  However, the defense is in a two tiered safety look, but they are dropping all but three defenders into coverage.   Petty does a good job of finding Bilal Powell for the screen pass, and Powell runs around to gain eight yards.  This type of defense is very hard to pass against (think of it as zone prevent defense) because they are funneling everything to be in front of them, unless you take a risky throw deep.  The right side receiver is essentially double covered, with a safety playing on the left side as well, which limits options.  If Petty wanted to be a gunslinger, he could wait until one of Peake/Anderson gets past the safety, but that would require a clean pocket.  Notice that the RT is essentially getting bull rushed into the QB on this play, so the option of waiting might not have been too prudent.  The play is here because Powell makes the play by showing determination.  As far as Petty is concerned, this is just a safe check down throw.  It shows a decent amount of risk aversion as Petty realizes that he doesn't have time to wait around in the pocket, and tries to gain as much yardage as possible before punting.  Notice the speed of Charone Peake as well on this play, because he lines up behind Robby Anderson relative to the line, and they maintain that distance crossing the 30 yard line.  Peake is often the forgotten man on this offense, although he was picked before Robby Anderson (who wasn't drafted at all) but he is an explosive player himself.  He isn't quite as fluid as Anderson with his routes, but possesses excellent potential if given the chance.
2)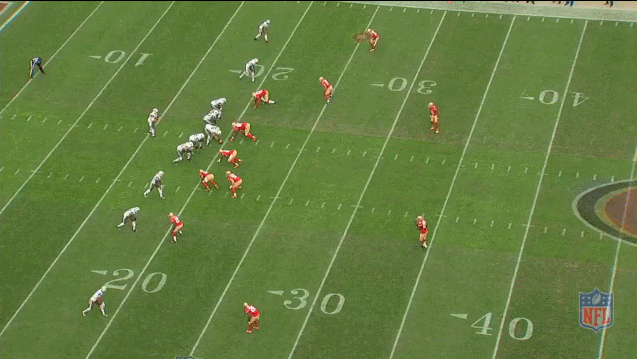 This play has made the highlight films all week so most fans will be familiar with this one.   This is a first down play, right after the two minute warning, and the defense is in a two deep safety look.  There are a couple of things of note here, with the main one being the defense again dropping off everyone into coverage to take away underneath throws.  This linebackers dropping off in coverage causes a tight throwing lane, and as mentioned in the "Petty Nation" article, it causes confusion among receivers.  In zone coverage, receivers tend to find open spaces and slow down to provide a throwing lane.  If they continue to run, there is a chance they will enter another defender's zone area, so they essentially "sit down" in an area with a good throwing lane.  The QB and the receiver have to know the tendencies for this one, and correctly assume where each other expects the play to occur.  While Enunwa makes a great play on this ball, he also causes a bad situation.  Notice that after he clears the initial linebacker, Enunwa slows down on his route, as he is essentially slowing down his zone.  If you watch the other film reviews with Fitzpatrick, you may see a few occasions where this pass is thrown to the other shoulder for Enunwa.   Fitzpatrick does so because he doesn't have the arm strength to get this pass beyond the first linebacker, nor to have it arrive before the safety.  He chooses a different option (which often works in this case) by redirecting the throw to take out the initial linebacker out of the play.  It is actually one of his better qualities, born out of necessity.  Needless to say, Petty has a stronger arm than Fitzpatrick, so he's not concerned with the initial linebacker, and zips the ball in there before the safety can reach the ball.  Quincy Enunwa, however, slowed down on this pass, which causes him to be out of position to where Petty assumed he would be, which causes a dangerous situation with the safety.  Enunwa's hesitation coincides with Petty's windup on the throw, and shows a clear lack of understanding between the receiver and quarterback, since Petty threw this ball as if Enunwa would keep running straight.  Of course, Enunwa makes an amazing one handed catch to redeem himself and frustrate the safety.  The only other aspect of this play that is noteworthy is Charone Peake, who is running by his man, had his route been a go route.  Peake has clear separation on the outside, but the route calls for an out route fade (it's mirrored on both sides), which plays right back into the defense's zone coverage scheme.  Had the route been a go route, he would have been open by a few yards.
3)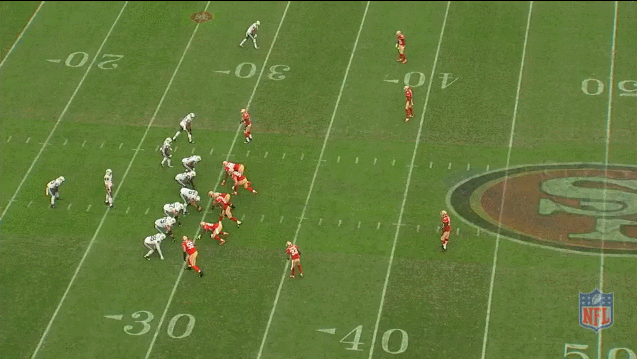 This is first and twenty play, following a deep incomplete pass to Brandon Marshall where the referees missed a pass interference, and rather called the Jets for a holding penalty.  The defense comes out in single high safety look, with other defenders playing back.  There isn't much special about this play, other than Petty finding Powell for a screen pass, and then the RB making the most out of it.  One negative on this play is Robby Anderson, as he runs down the field and becomes a spectator, and the guy that he could have blocked ends up being part of the tackle.  Anderson had a tendency to be aloof on blocks in his college tape as well, and it's one area he needs to improve.  If you notice Charone Peake (I know, again) on this play, he goes right into his block, instead of turning around and looking at the ball carrier like Anderson.
4)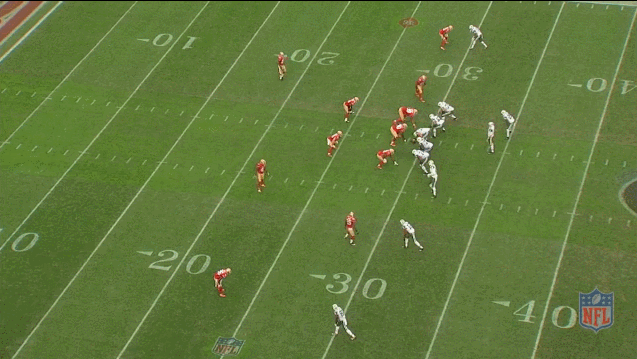 This is a second and twelve play in the fourth quarter, and the defense initially comes out in a two safety look, but converts to a single high safety look.  Usually when a new player comes to a team, the fans are reluctant to embrace them until a signature play.  This play very well may be the one for Austin Seferian-Jenkins because he takes two defenders for a ride towards the first down marker.  The read on this play is simple, if the linebacker blitzes from Jenkins' side, then Jenkins will have an opening.  If the linebacker doesn't blitz, then you move to your second read.  Notice the timing of the play, and where Quincy Enunwa is at the left side of the formation.  Around the same time that Petty throws to Jenkins, Enunwa is open as well, so the second read most likely would have been Enunwa since it's to the same side.  However, Petty doesn't need his second read on this play, because Jenkins is open.  Notice how Jenkins ran to a spot and stopped, because this is the "sitting in" the zone part alluded to earlier for the Enunwa catch.  The only negative on this play is Petty going full Fitzpatrick and locking onto his primary receiver from the start.  He needs to hold the linebacker just enough before throwing this ball in the future.
5)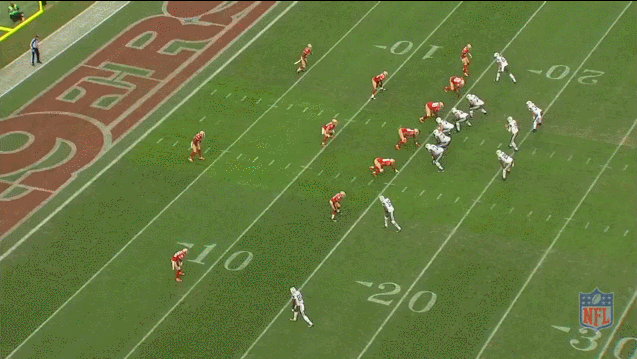 This is pretty much a standard screen pass who does most of the work on this first and ten play.  The defense is in a two safety look, and Petty patiently waits until Powell clears the defensive line before throwing a good screen pass to him.  Powell makes a great run, and again shows very good determination as he fights for yardage, as he spins in the air to spring forward.  The only real praise for Petty here is that, he leads Powell well on this pass, instead of this being behind the receiver and causing him to spin around.  However, that is a throw almost all quarterbacks should be able to make, so it isn't much to write about.  Unfortunately, the Jets have employed some of those few quarterbacks that have struggled with that concept in the past, so noteworthy to point it out.  The negative aspect of this play is the block by Brandon Marshall, which is a complete bush league block.   Earlier in the same drive, Marshall caught a pass and was tackled out of bounds by the 49ers, which caused a stir.  It looks like he was still upset about the hit, because he goes right at the defender's knee on this block away from the ball.  This is very similar to the block against Chris Harris Jr. in the Broncos-Titans game that received national attention, only in this case the defender wasn't hurt.  However, this is a horrible play by Marshall, who didn't control his emotions on the field, and very well could have been grounds for an ejection.
6)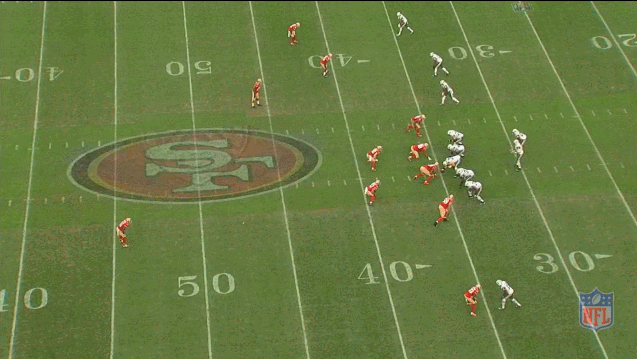 This is a first and ten play late in the fourth quarter, that resulted in the field goal.  The defense comes in a single high safety look, with another safety covering Enunwa.  Petty does a good job of making the read here because the pre snap read indicates that the right side of the formation has a better chance at being open.  Petty notices that Enunwa's defender is playing off, so the quick WR screen is in play.  However, this is a low throw from Petty, but gets bailed out by Quincy Enunwa, who makes a great catch and run to get near the first down.  The other positive on this play is the block from Charone Peake, which allows Enunwa to get around the corner and turn up field.  The two negatives on this play are the failed blocks by Robby Anderson, and the lack of effort from Brandon Marshall on the left side of the formation.  Anderson's slight build has limitations, and one of the biggest issues is his lack of ability to effectively block down the field.  Marshall has to keep running on this play, because he has to engage the safety from getting in this play.  While Enunwa turned up field and went down the sidelines made the safety irrelevant on this play, it would have mattered if Enunwa had turned towards the middle of the field.   While the Jets task Brandon Marshall with tutoring the young wide receivers, he tends to let emotions take over and set bad examples at times on the playing field.
Conclusion:
Bryce Petty got plenty of help from his receivers in this game, and the screen pass game was central to the team's game plan.  The defense had a penchant from dropping their linebackers into coverage, so having the screen pass option forces them to at least respect the short distance game.  Combined with the running ability of Bilal Powell, the Jets started to wear down the defense over the course of the game.
Forum Questions:
A) Why is Bilal Powell underrated?  
B)  Powell looked as explosive as any RB this season, so what do you feel about the Jets playing Forte, and sometimes Spiller over him?
Videos
New York Jets OTA Presser Takeaways, Aaron Rodgers' Impact and Summer Delusion