Breaking News Home Slider QB Film Review
Jets Passing Offense Film Review – Week 15 (Dolphins) Fitzpatrick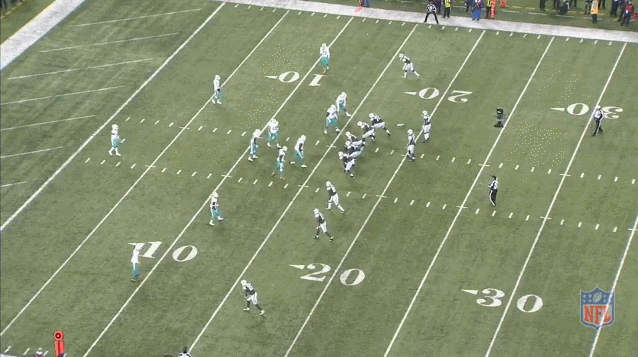 Are you someone that can't turn away from a car crash?  Do you binge watch fail compilations on YouTube? Are you company for misery?  If so, then you have come to the right place.  The off-season savior, Ryan Fitzpatrick, made an appearance in the Dolphins game after an injury to Bryce Petty and endeared himself to the visiting fans who bought cheap tickets.  Let's break down film on Fitzpatrick's adventure:
Fitzmagic:
1)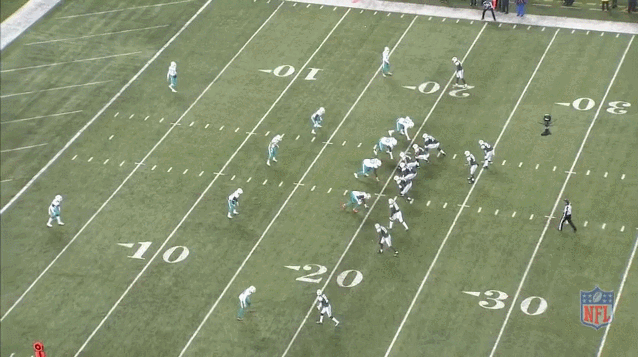 This is a first and ten play in the fourth quarter, and the Dolphins are in a two deep safety look, playing "please don't get hurt" defense.  They only rush three players, something the Jets saw numerous times against the 49ers last week, and Fitzpatrick makes the right read by running forward.  The three man rush affords the Jets extra blockers, so running the ball for good yardage keeps the defense honest.  Fitzpatrick does a good job of crossing the line of scrimmage before being chased down.  He does have another run of longer yards, but it came on a third down situation where he needed to make sure he had the first down before running, which he failed to accomplish.
Well that's it for the Fitzmagic section in this game.
Magician's Assistants:
1)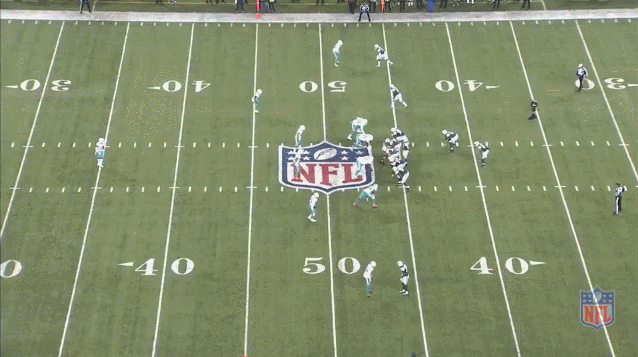 This is a simple drop off pass to Matt Forte, who turns around and gets a couple of yards.  Brandon Marshall is open for a deeper pass on this play, but Fitzpatrick ignores it like Bowles' does logic.  There is nothing special about this one, it's just a dump off pass, as the Dolphins are all but betting that Fitzpatrick can't hit a deep pass.
2)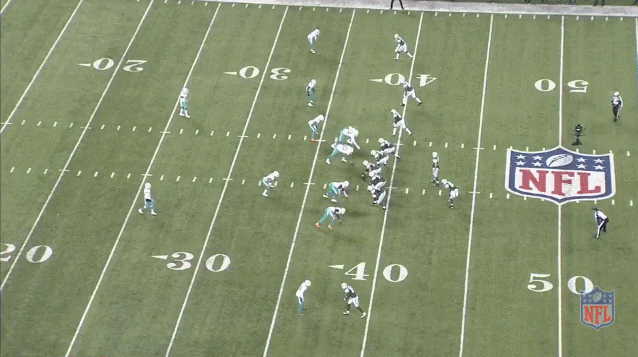 This is actually a good read by Fitzpatrick, but proving you can't have it all, a bad throw by him as well.  Fitzpatrick recognizes the corner back lining up to blitz and sees the safety is too far off the line, so he throws a quick pass to Enunwa.  Unfortunately, it's behind Enunwa, who makes a great adjustment, taps the ball to himself, and makes a juggling catch.  The second safety on this play is backpedaling without a reason, all but taking himself out of the play.
3)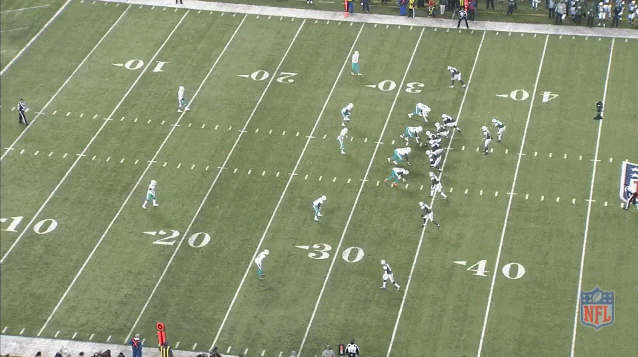 The patented Fitzpatrick sidearm screen pass to Powell, who makes the most of it by running away like a season ticket holder.  The Dolphins secondary is in their clock watching defense, and chase down Powell after he gains the first down.  Notice the low knee block by Marshall on this play, showing animosity towards his former team.  Marshall had a similarly bad block in the last game as well, but wasn't called for a penalty.
That is all the help Fitzpatrick got in this game.
Bad Magic:
1)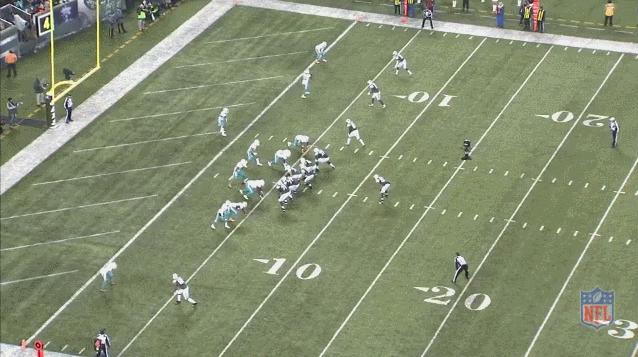 This play has Brandon Marshall open for a TD to the right side of the formation, but Fitzpatrick is locked in on Quincy Enunwa the entire way.  He stares him down like a disappointed parent for the entire route, which predictably ends in an incomplete pass.  Brandon Marshall even shows signs of life by raising his arm, but his pleas for attention go unnoticed.  Robby Anderson with the "screw this" walk to the sideline as well.
2)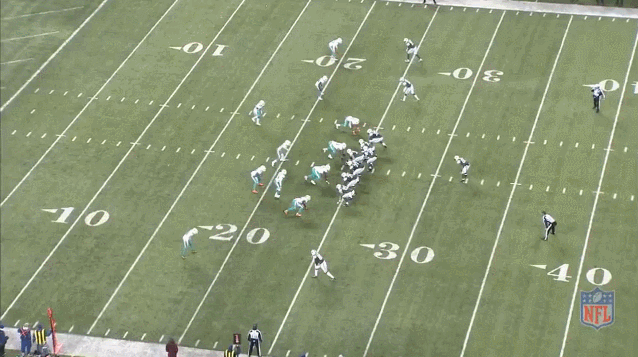 Ryan Fitzpatrick recognizes the blitz, and makes an audible.   The Dolphins realized that Fitzpatrick recognized the blitz and didn't do squat to hide it.  Fitzpatrick makes them pay but hitting the outside corner of the end zone with this throw, but it wasn't a Dude Perfect challenge, thus goes unrewarded.  There is nothing to write about this one, this is a clear case where the Dolphins said Fitzpatrick can't beat us deep, and he proved the hypothesis with flagrant evidence.
3)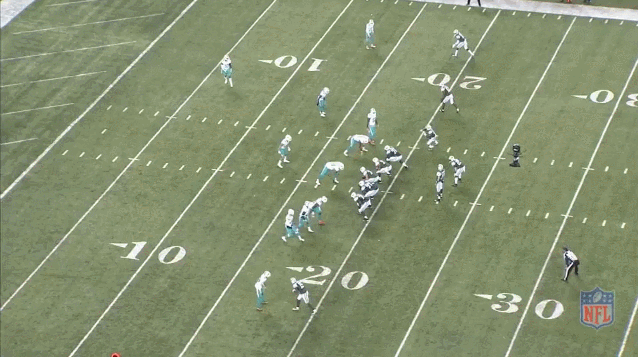 Fitzpatrick locks in on Brandon Marshall on the play, and disregards the defenders in the area.  There is no pre-snap read on this one, as this is one of those "Hey Brandon, I got you bro" plays from Fitzpatrick.  The Dolphins get a hit on Fitzpatrick because he's waiting on Marshall to get open.
4)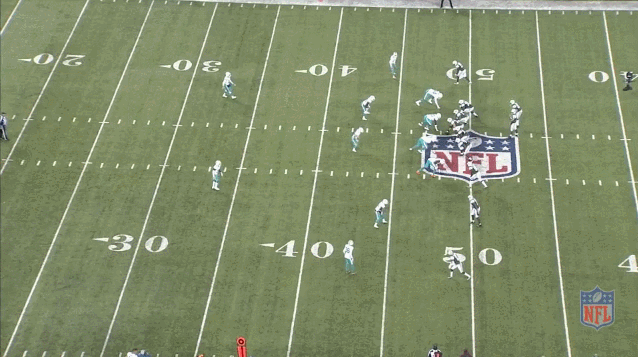 There are open receivers all over for Fitzpatrick on this, but he decides to throw this ball deep to Marshall, and makes a bad throw.  This is just another example of his ineptitude when it comes to passing the ball deep down the field.  Fitzpatrick doesn't give Marshall a chance with this throw.
5)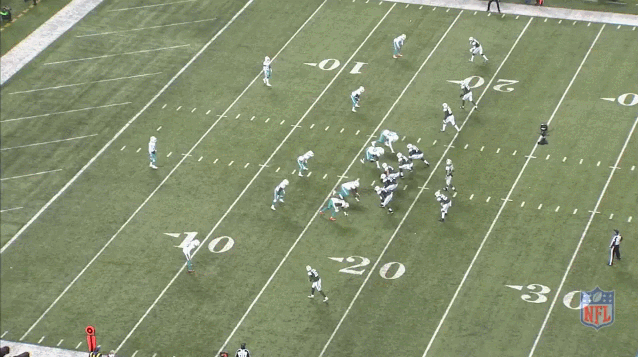 Wide open receivers to one side? Check.  Locked in on one receiver? Check.  Throw a pass at the cameramen? Check.  Fitzpatrick's season in a nutshell.
6)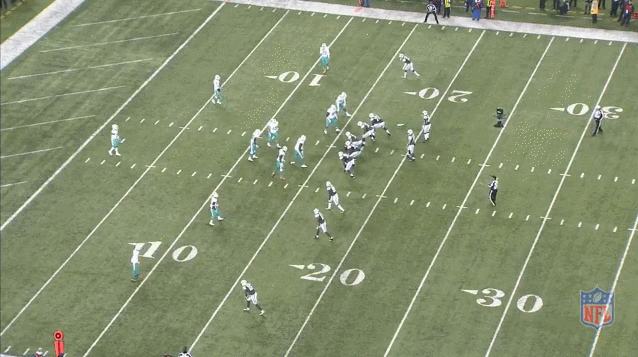 Charone Peake is somewhat open on this play, but Fitzpatrick throws it away to the Dolphins for an interception.  There is nothing else to add on this throw.  The fact that Ryan "best chance to win" Fitzpatrick made $12 million for the pathetic performance this season is embarrassing.
Conclusion:  
Seeing Ryan Fitzpatrick trot in is probably the happiest sight for Dolphins this side of the Sea Shepard.  Fitzpatrick with a very uninspired fourth quarter in this game, as he showed the media why the Jets were wrong to bench him.  There were nine lines in the end zone this Saturday, each representing one of Fitzpatrick's football lives.  There isn't much analysis here because if things break right, this is the last time Fitzpatrick plays for the Jets.
Side note:  There was some confusion as to why Matt Forte was playing with Fitzpatrick instead of Powell, and if there was any animosity there.  It most likely has to do with the fact that Powell is the emergency QB in case Fitz got hurt, so they played Forte more just in case.
Grade: F for Fitz-ing
Forum Questions:
A) Going back through all the film breakdowns, which one play would you pick this year to capture Ryan Fitzpatrick?
B)  What was your favorite play?
Be sure to check in tomorrow, when we get back to the real analysis with the Petty film breakdowns.
Videos
Aaron Rodgers Injury Fallout & Jets/Bills Recap