Breaking News Home Slider QB Film Review
Secondary Aptitude Test- Failure – Week 1 (Bengals)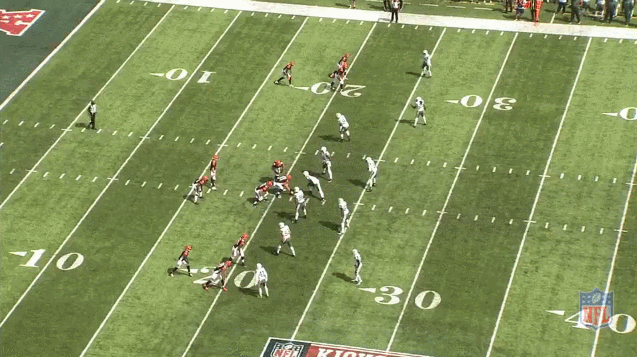 So after viewing the good defensive plays from Week 1, let's look at the bad plays.  The Jets secondary was in shambles all year, and opposing teams repeatedly put up strong numbers against them.  They had quite possibly one of the worst secondaries in the league, and major communication issues.
Failure:
1)
This is essentially pitch and catch for the Bengals.  This defensive alignment shows a major lack of communication and understanding among the players.  When the receiver to the left of the formation goes in motion, both Revis and Marcus Gilchrist take steps backwards.  It should only be one of them, because the only reason Revis should be moving back is to protect the deep route.  Instead, Gilchrist takes himself right out of the play, and Revis allows an easy completion to an elite receiver.  If Gilchrist is moving deeper on the field, Revis has to stay on press man coverage since Gilchrist is his safety net over the top.
2)
A unique formation, which game pass later identifies as a "Barnyard Formation", and the Jets are completely caught off-guard.  The read for Dalton on this play is very easy, as he looks to his right and sees three players on offense with two defenders.  There is no one else nearby to stop this play, so if they can just get decent blocking, this is going for big yards.  The Jets show a clear lack of defensive acumen here by leaving someone as dangerous as AJ Green without a defender, and it comes back to bite them for a first down.  This formation and play will come up later in this article, with very similar results.
3)
 Here is a prime example of why the Jets need better secondary players, especially at safety.  First, notice Marcus Williams going backwards, as Calvin Pryor moves forward.  This was the counter movement we didn't see in example 1 with the Jets.  However, Pryor moves far too much up the field, leaving him trailing on this play.  The play is busted partially because of this, since Williams now can't switch to the TE running down the middle fast enough.  Darron Lee does an OK job trying to stay with the TE, but it's a very good throw by Dalton, which is then followed by a horrible job by Lee to tackle the runner.  If Pryor isn't as far up the field at the start of this play, there is a chance that Williams makes the move towards the center of the field faster.  Notice Revis on the other side of the field in press man coverage, holding his own against AJ Green.
4)
For all the interceptions by Marcus Williams, there are too many plays such as these.  In a crucial third down situation, the secondary has major miscommunication issues.  Brandon LaFell moves prior to the snap, which completely throws off the defense.  Calvin Pryor vacates the middle of the field for a blitz and Marcus Williams is left all alone.  If the call is for a safety blitz, then Williams has to follow LaFell through the movement, because as it plays out, it seems like the Jets have man coverage called.  There is no reason for Williams to stay back in this case and leave LaFell open to run through the middle of the field.  Notice Revis on man coverage, and how AJ Green doesn't have an easy reception available to him.
5)
 Late movement, bad adjustment once more for the defense.  This is a horrible play all around for the Jets.  First, in a single high safety look with no immediate help, where is Marcus Williams moving to with the movement?  He gives inside leverage, as if he's expecting safety help in the intermediate area.  Second, Revis is slow to react to the movement and watches AJ Green fly right by him.  This is a prime example of Revis being a bad zone CB because he's not quick in his reactions.  He wins his match ups by being knowledgeable about routes in man coverage and mimicking them, but doesn't do a good job to reacting for plays in zone coverage or off coverage.  The only reason Revis is even close to the ball on this play is because Dalton hangs the ball in the air for too long.  The safety on this play, Gilchrist is caught in no man's land and makes himself promptly useless by covering absolutely no one.  He sees an open receiver streaking in front of him, while an open receiver streaks right by him and decides to play it safe and stand in the middle.  This is a disaster of a play with Dalton having multiple options of wide open receivers down the field.
6)
 Marcus Williams gets burned again on this play.  Another easy pitch and catch situation where the Jets decide to give up easy yards.  On this play, Calvin Pryor moves up the field, as Williams moves backwards, but Pryor is too far inside to have an impact on the play.   Williams is backing up because he no longer has intermediate help from Pryor so he has to concede the short pass to protect against the deep pass, but a veteran QB can dissect this game plan all day long.  Pryor has to stay neutral on this play, because by moving up, he let Dalton know that he has an easy pass open on the outside.  With Gilchrist on the other end, there is very little chance of Williams being aggressive on this short route.   Once again, notice Revis not getting beat by AJ Green with press coverage.
7)
 Remember this formation?  Remember the match up issue last time with only two players to cover three offensive players?  Well here we go again.  The only reason this doesn't go for more yards is because LaFell has horrible vision on this play and doesn't go up the field when he had a chance to.  Either way, the Jets got fooled by the same exact play twice in one half.
8)
 Coming out of the two minute warning, the Bengals come out with triple receivers wide left.  The Jets counter with two CBs and a deep safety.  There is one in-line TE to the right side of the formation, but the defense assigns three players to defend him (who doesn't even run a route).  This is just a complete failure from an acumen stand point because there is absolutely nothing special about this play.  By the time the safety gets close to the receiver, he would have gained about ten yards as the worst case scenario for the Bengals.   Once again, Calvin Pryor is useless on this play as he's too close to the line in a situation where he should be on the other side of the field or playing deep safety so Gilchrist can get closer to the third receiver.
9)
Did you notice the times where Revis was playing AJ Green on man coverage and doing a good job?  Apparently the coaches didn't, because they move him about eight yards off the line, and the Bengals are back to easy throws and catches.  Again, Dalton is a bit late with this throw and it still doesn't matter.  This is just a terrible play call overall because the Jets give safety help over the top, but refuse to press the receiver, thus taking the safeties out of play.
10)
 Same play, same result, only this time Green runs a bit further down the field to make sure he gets the first down.  With safety help, why is Revis playing so far back?  Green is a great receiver and he schools Revis on this play with this out route.  Revis gets beat like a drum on plays where he isn't in press coverage, but why do they still have him playing back?
11)
 A lucky break for the Jets because AJ Green is gone on this play for a 93 yard TD if inexplicably doesn't step out of bounds by taking a wide turn.  Once again, Revis decides to back up off the line, which makes this play for the Bengals.  It allows the slot receiver to engage the CB first, buying him enough time for other blockers to form behind him, thus enabling him to disengage and go after Revis next.  This entire play is made by Revis backing up from the line.  Once again, we have Calvin Pryor being useless on the other side of the field.   AJ Green knows he should have taken this to the house and there is really no reason for him to run out of bounds here when he was in the clear.
12)
 One of the biggest goals of a defense is to get the opposing offense in third and long situations.  The Jets did just that in this case, and then completely fell apart because the Bengals quick snapped this ball and the entire defense was caught off-guard.  It might be a side product of practicing with Fitzpatrick reciting social security numbers of his receivers, but they acted as if they didn't know the ball could be snapped prior to some finger pointing.  The Bengals took advantage of this situation, because it's 3rd and long, so they are just looking for a one on one match up down the field, and throwing up a prayer.  If it's caught great, if it's not then punt, and if it's intercepted then it acts as a punt.  Since these are the Jets, the receiver caught the ball for a first down.  The two safeties looked like they were skipping backwards holding hands as the ball was snapped.
13)
Have you seen this before?  Revis backing away, quick throw and catch from Dalton to Green?  Once again, why?
14)
This isn't a bad play, in fact it's one of the better coverage schemes in the game.  The Jets are playing with a single high safety with man coverage, and AJ Green simply beats Darrelle Revis.  Sometimes, you just have to tip your cap to the opposition because they made a great play.  This is a great throw and catch by the Bengals, and Revis has excellent coverage on this pass.  Unfortunately, Green just makes a great catch to negate the coverage.
15)
Revis off the line, pitch and catch to Green? Yes.
16)
This play actually happens earlier in the game, but it's another opportunity to show how the Jets were lucky to not give up another TD in this game.  There is late movement by the TE from one side to the other, but the Jets do absolutely nothing to actually adjust for this play.  They are once again caught in a disadvantage with a deep safety and two corners covering three receivers.  David Harris comes from the middle to cover the TE, but he can't stay with the TE with his lack of speed.  Furthermore, Harris engages the TE and then looks towards the backfield, which allows the TE to run freely to the outside.  A decent throw and this is an easy TD.  The Jets once again, show a major lack of adjustment to late movement.   Pryor was injured on the previous play, so Rontez Miles took his spot to be out of position on this play.
Conclusion:
The Jets were lucky to lose as closely as they did.  The Bengals blew two touchdowns in this game, and consistently took advantage of the Jets miscommunication and lack of adjustments.  The Jets defense almost looked as if they just weren't prepared for the late movements from the Bengals, and the coverage choices were certainly befuddling.  Darrelle Revis did a much better job in press coverage, but far too often they allowed him to move away from the line of scrimmage, making life easier for AJ Green and the Bengals.  The safety play was atrocious in this game, and you can clearly see why the Jets invested two picks in the draft to make changes at safety.
Forum Questions:
On a scale of 1 to 10 (with the lowest being 1), how confident are you with Calvin Pryor? 
What is your feeling on Revis?
What is your assessment on Marcus Williams
Videos
NY Jets Phase 3 OTAs, Expectations and a Minor Calf Tweak with Greg Renoff