New York Jets Report Card: Week 1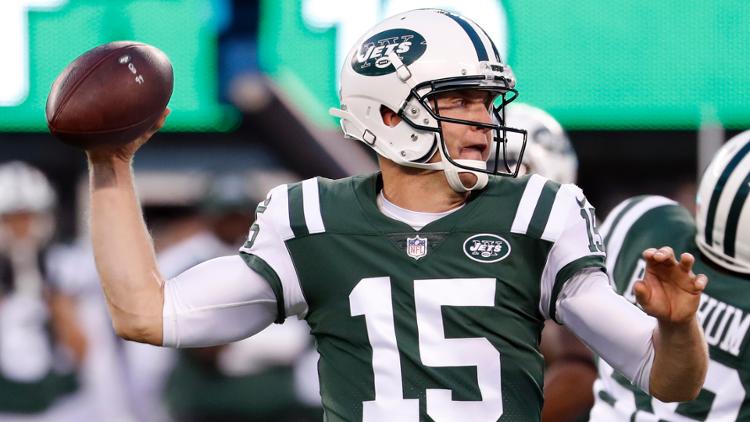 Week 1 Report Card: Jets @ Bills L 21-12
---
Quarterback: C+
Josh McCown: 26/39 187 yards, 0 TD 2 INT, 1 Rush TD
No surprises here, the Jets' offense looked in over their heads. Give McCown credit for taking care of the ball until the fourth quarter when the offense had to take risks. Questionable play calling, and disconnect on the deep ball doomed the offense from the start. McCown was the ultimate game manager, and was efficient at dinking and dunking against the Bills' defense, but threw two interceptions late in the game to seal the Jets' fate.
Running back: D
Bilal Powell: 7 rushes for 22 yards, 5 receptions for 17 yards
Matt Forte: 6 rushes for 16 yards, 3 receptions for 20 yards
The near complete lack of production from the running back position can't be strictly blamed on Powell and Forte. While the Jets should be relying heavily on their running backs, they were nearly phased out of the game by offensive coordinator John Morton. The offensive line struggled to open holes in the run game as well to put it mildly. Forte had two dropped passes, and looked like an aging running back. Powell didn't touch the football until the end of the first half.
Wide Receiver/Tight End: C+
Jermaine Kearse: 7 receptions for 59 yards
Robby Anderson: 4 receptions for 22 yards
Will Tye: 3 receptions for 34 yards
Eric Tomlinson: 2 receptions for 25 yards
Ardarius Stewart: 2 receptions for 10 yards
Newly acquired wide receiver Jermaine Kearse was one of the few bright spots from today's game. Other than Kearse, inexperience and lack of talent was abundant. Curiously, the Jets chose to put Jeremy Kerley on the inactives list. Kerley is arguably their second or third best receiver, and could have made a difference. Tye and Tomlinson each had a big catch, but were shaky at best when it came to blocking. Anderson almost wrestled an interception away from a Bills defender on a crucial drive in the fourth quarter, but the officials weren't impressed.
Offensive Line: D-
The offensive line struggled all game and looked completely out of sync. While Josh McCown was only sacked once, he was constantly under pressure and rarely had time to sit back in the pocket. It's possible John Morton abandoned the running game due to the fact that the line was getting bull rushed almost every play, and couldn't open any holes for the running backs. This unit needs some serious work.
Defensive Line: C-
Other than one batted pass, Muhammad Wilkerson and Leonard Williams were virtually invisible. Williams was taken out of the game multiple times and replaced by Claude Pelon, possibly due to the wrist injury he sustained in the preseason. The defense allowed LeSean McCoy to rush for 110 yards alone, with Mike Tolbert adding 42 yards as well. The defensive line looked suspect, and struggled to contain Tyrod Taylor.
Linebacker: C+
Darron Lee and Josh Martin had decent outings while Demario Davis and Jordan Jenkins struggled. Martin was effective off the edge, generating half a sack and three tackles for a loss. Lee had half a sack, a tackle for a loss, and a pass defense. Davis gave up a big pass play and struggled in coverage, while Jenkins didn't generate any pass rush. The linebacking core was mediocre today.
Secondary: C
Ascending cornerback Juston Burris had an interception in the end zone to prevent the Bills from scoring on their opening drive. The pass was thrown behind the intended receiver, Charles Clay, but Burris did well to make the catch regardless. Jamal Adams had a couple of big tackles, showing that he's improving in that area. Other than that, Skrine and Claiborne were manhandled by the Bills' receivers. The worst moment was Skrine conceding a 47-yard pass to Jordan Matthews.
Special Teams: B
Chandler Catanzaro was 2/2 on field goal attempts nailing both tries from 48-yards and 52-yards. Lachlan Edwards had a solid outing other than one shanked punt. Other than that, he averaged 50 yards a punt with a long of 58 yards. Kick/punt returner Kalif Raymond fumbled twice, but recovered both times. On the positive side, he had a 25-yard punt return that gave the Jets good field position.
Coaching: D-
Head coach Todd Bowles and offensive coordinator John Morton played extremely conservative most of the game, and made some confusing decisions. If it weren't for Bowles electing to go for it on 4th & Goal to get the Jets' lone touchdown, this would have been an F grade. Down 7 to 6 with 30 second left in the half and three timeouts, Bowles decided to take a knee instead of attempting to get into field goal range to take the lead. Then, in the fourth quarter, Bowles elected to punt on fourth down with only a few minutes left on the clock down 21-12. John Morton's play calling was too conservative, and didn't give the offense much of a chance. If the decision making was better, this could have been a closer game despite the Jets being outplayed in most areas.
Overall Grade: D+
Videos
New York Jets OTA Presser Takeaways, Aaron Rodgers' Impact and Summer Delusion