New York Jets Report Card: Week 2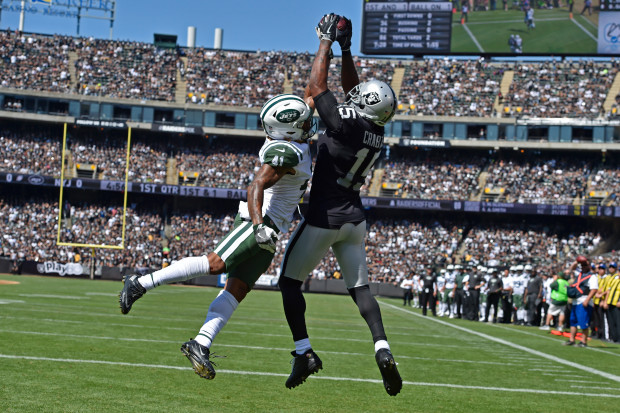 Week 2 Report Card: Jets @ Raiders L 45-20
---
Quarterback: C
Josh McCown: 17/25 166 yards, 2 TD 0 INT, 1 fumble
The offense actually showed some life in the first half, and in particular the 34-yard touchdown pass to Jermaine Kearse gave the Jets a boost in momentum. That was all erased by a muffed punt from Kalif Raymond, setting up the go ahead touchdown for the Raiders at the end of the half. It was all down hill from there. McCown failed to hit a couple of wide open receivers, took too many sacks, and fumbled once on a strip sack. Other than that, he played a decent game.
Running back: C
Matt Forte: 9 rushes for 53 yards, 4 receptions for 38 yards
Elijah McGuire: 6 rushes for 29 yards, 1 reception for 7 yards
Bilal Powell: 6 rushes for 13 yards
Josh McCown: 4 rushes for 31 yards
The Jets actually surpassed the 100-yard rushing mark, although no running back had more than nine touches. It looks like the Jets may begin using a three-man running back committee by including Elijah McGuire in the rotation. All things considered, the run game made strides compared to last week.
Wide Receiver/Tight End: C
Jermaine Kearse: 4 receptions for 64 yards, 2 TD
Robby Anderson: 2 receptions for 28 yards
Jeremy Kerley: 3 receptions for 14 yards
Charone Peake: 1 reception for 3 yards
Neal Sterling: 1 reception for 8 yards
Will Tye: 1 reception for 4 yards
Jermaine Kearse continues to be the only consistent play maker on the Jets' offense. With a pedestrian wide receiver group, this will likely be the case for the season. Robby Anderson has struggled to make an impact so far, putting even more pressure on Kearse to produce.
Offensive Line: B
Considering they were playing the likes of Khalil Mack, Bruce Irvin, etc. the offensive line did a commendable job. They did a better job opening holes for the run game, and a decent job in pass protection. Josh McCown was sacked four times, but at least two of them were due to McCown trying to scramble out of the pocket.
Defensive Line: F
For the second straight week the defensive line was manhandled. The supposed strength of the team has been a glaring weakness so far this season. The run defense has been putrid giving up 370 yards in two games, while the pass rush is nearly nonexistent.
Linebacker: F
The inexperience and lack of talent is obvious in the linebacker department. Blown coverages, missed tackles, and terrible play recognition are abundant so far with this group. Not to mention the absence of a pure pass rusher.
Secondary: F
The only player in the secondary that wasn't terrible today was Jamal Adams, who is showing promise by improving his tackling technique and usually finding himself near the ball. Derek Carr had a field day completing 82% of his passes, while throwing for 230 yards and three touchdowns. The secondary made Michael Crabtree look like Antonio Brown.
Special Teams: D-
This could have easily been a B grade if it weren't for Raymond's muffed punt. Chandler Catanzaro has been a pleasant surprise in the kicking game, he's 4/4 so far this season. Lachlan Edwards has done a decent job punting so far as well.
Coaching: C-
The offensive game plan was more palatable this week, with offensive coordinator John Morton being more aggressive downfield and mixing in more rushing plays. That being said, the decision to put Kalif Raymond back in the game after surrendering the momentum-altering fumble was a head scratcher to say the least. Raymond fumbled twice last week, making it three fumbles in two weeks. He should be cut tomorrow.
Overall Grade: D-
Videos
NY Jets Phase 3 OTAs, Expectations and a Minor Calf Tweak with Greg Renoff