New York Jets Report Card: Week 3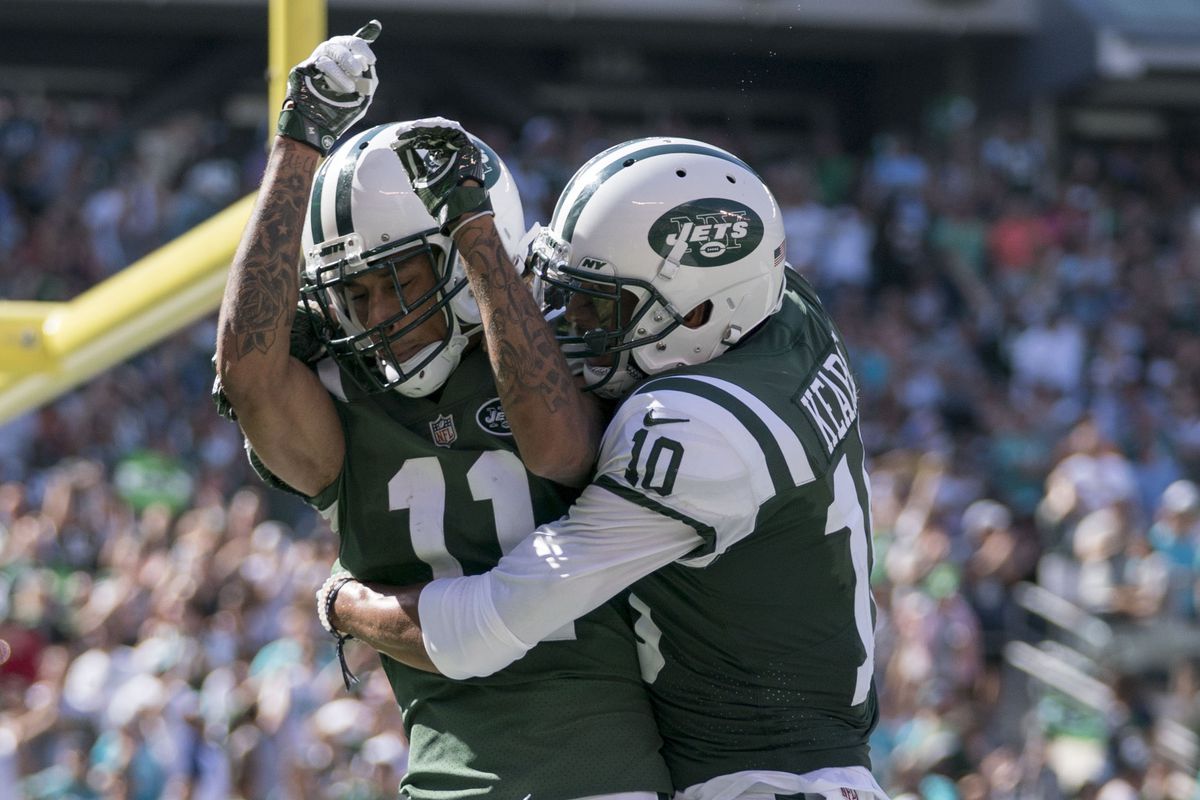 Week 3 Report Card: Jets vs. Dolphins W 20-6
---
Quarterback: A
Josh McCown: 18/23 249 yards, 1 TD 0 INT
38-year old Josh McCown led the Jets' offense to a dominant victory, his first win since 2015. It was a clean and efficient game for McCown. The highlight of the day was McCown dropping it in the bucket for Robby Anderson on a 69-yard touchdown pass. Poise and accuracy were there on every throw, and McCown commanded the offense as a veteran should. The rapport between McCown and the receiving group seems to be growing.
Running back: C+
Bilal Powell: 15 rushes for 37 yards, 1 TD
Elijah McGuire: 7 rushes for 34 yards, 1 fumble
Matt Forte: 8 rushes for 25 yards
Josh McCown: 4 rushes for 7 yards
The Jets continued to employ the Forte-Powell-McGuire troika. The running backs did a serviceable job, but Elijah McGuire did fumble late in the game after Byron Maxwell punched the ball out. Bilal Powell had a huge run play negated by a holding penalty. The Jets need more big plays from their running backs to balance the offense.
Wide Receiver/Tight End: B+
Robby Anderson: 3 receptions for 95 yards, 1 TD
Jermaine Kearse: 3 receptions for 42 yards
Jeremy Kerley: 5 receptions for 42 yards
Austin Seferian-Jenkins: 5 receptions for 31 yards
ArDarius Stewart: 1 reception for 24 yards
Lawrence Thomas: 1 reception for 15 yards
Robby Anderson showed up today, he had a dropped touchdown pass early in the game but made up for it by burning a dolphins defender on his touchdown reception. Kearse, Kerley, and Seferian-Jenkins also made solid contributions. ArDarius Stewart had an impressive one-handed catch, and back up defensive end Lawrence Thomas had a 15-yard reception as a fullback which was fun to watch.
Offensive Line: B
The offensive line, Brandon Shell in particular, had some early struggles. Shell was easily beat by Cameron Wake on the first drive, resulting in a sack. The line gave up two sacks in the first quarter but tightened up for the rest of the game. Penalties were also a problem, there were way too many holding calls. All that said, the protection was good for 3/4 of the game. The run blocking can still use some work, but there has definitely been improvement.
Defensive Line: C+
After surrendering 370 rushing yards over the first two games, the front seven held the Dolphins to 30 yards rushing. The Jets also had three sacks, although none came from the defensive linemen. Leonard Williams and Kony Ealy each had a QB hit, while Steve McLendon had a tackle for a loss. The Jets' star linemen, Wilkerson and Williams are struggling to get in the backfield.
Linebacker: B+
Demario Davis had a great game, recording 12 tackles, three for a loss, and a pass defense. Recently signed David Bass jumped out with two tackles for a loss, and a sack. The linebacking group did a much better job filling gaps and tackling. Darron Lee had another sub par game, and is raising questions of whether or not he should be playing inside linebacker.
Secondary: B+
The secondary played a flawless game until the fourth quarter when they started to play soft coverage. Backup safety Terrence Brooks had three pass defenses and two interceptions, one came on a fake punt play. Jamal Adams also continues to ascend, he had multiple impact plays. Adams came across the field to defend a potential completion after Morris Claiborne lost his man. On the following play he sacked Jay Cutler to bring up 4th down.
Special Teams: B+
The special teams unit was great other than a blocked field goal. Other than the miss, Catanzaro was 2/2 and is 6/7 on the season. Kerley was solid as a punt returner, and Lachlan Edwards has been reliable. This game in particular was impressive for Edwards who had 3 punts inside the 20, and a long of 61 yards.
Coaching: B
Todd Bowles challenged a catch by Miami early in the game and lost. To be fair, it was a questionable call. The offense was effective today, but they need to do a better job incorporating the running game early on. The defensive play call was great, forcing Cutler to throw nearly 50 times by shutting out the run game. The defense did play off towards the end of the game to give up the late touchdown though.
Overall Grade: B+
Videos
Was Boomer Right to Blast Becton? Former Jets QB Sounds off Against Jets Tackle.