New York Jets Report Card: Week 6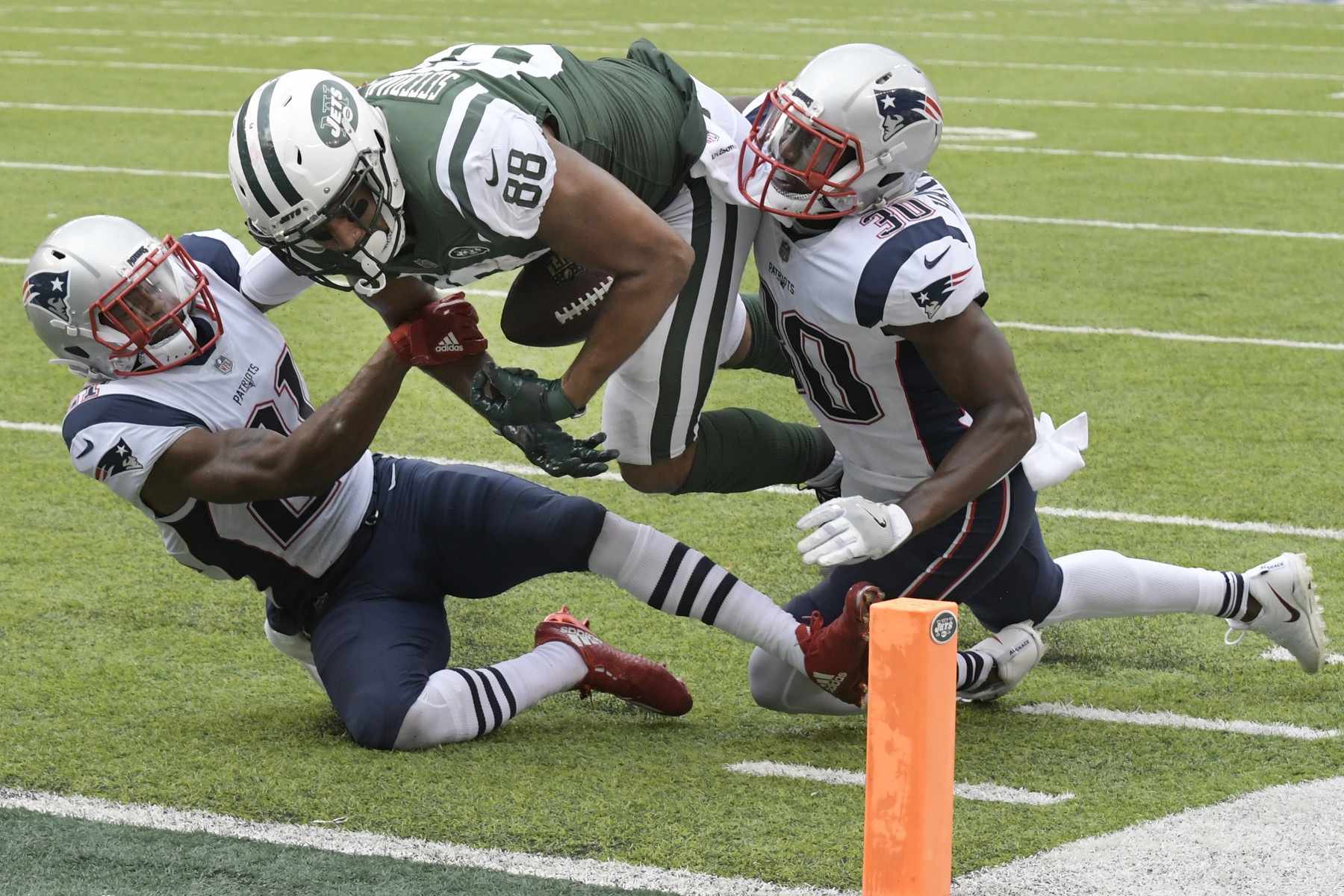 Week 6 Report Card: Jets vs. Patriots L 24-17
---
Quarterback: C+
Josh McCown: 31/47 354 yards, 2 TDs 2 INTs, 3 rushes for 21 yards
If it weren't for two costly turnovers, McCown's grade would be significantly higher. McCown was on point out of the gate, shredding the Patriots secondary. He was able to hit Jeremy Kerley on a pass setting up a touchdown early, and another pass for a touchdown giving the Jets a 14-0 lead. Then things slowed down in the second quarter, and McCown threw an interception with 39 seconds left on the clock, leading to a New England touchdown to tie the game. It was a bad throw as Robby Anderson was being tightly covered by Malcolm Butler. His second interception also came at a terrible time. After the Patriots put points on the board to start the second half, the Jets drove into field goal range but McCown, who was under pressure, threw an errant pass behind tight end Eric Tomlinson that was intercepted by Devin McCourty. The Patriots turn the interception into three points. Both passes were costly mistakes that a veteran like McCown shouldn't have made.
Running back: D
Matt Forte: 9 rushes for 22 yards, 8 receptions for 59 yards
Elijah McGuire: 10 rushes for 22 yards
Travaris Cadet: 1 rush for 3 yards, 3 receptions for 26 yards
Lawrence Thomas: 1 reception for 5 yards
All of the blame for the complete lack of rushing attack for the last five of six games can't be placed on the running backs, but they certainly aren't innocent either. The offense line has struggled mightily to open holes for the running backs, most of the time the running backs are either bouncing to the outside or running right into a cluster of defensive and offensive linemen. Although the offensive line is just as much, if not more to blame, the running backs aren't exactly taking advantage of when they do get decent blocks and have space. Matt Forte is looking old, and slow and Elijah McGuire has been inconsistent. The absence of Bilal Powell has been noticeable as well the past two weeks.
Wide Receiver/Tight End: B+
Jermaine Kearse: 4 receptions 79 yards
Robby Anderson: 4 receptions for 76 yards
Jeremy Kerley: 2 receptions for 61 yards, 1 TD
Austin Seferian-Jenkins: 8 receptions for 46 yards, 1 (really 2) TDs
ArDarius Stewart: 1 reception for 2 yards, 1 rush for 6 yards
The wide receiver group played outstanding against the Patriots. The only real blemish was the fact that Robby Anderson was targeted 12 times, and only had four receptions. He has been targeted 41 times this season, and only has 18 receptions. That's eight more targets than any other receiver on the roster. Jeremy Kerley who has been targeted 20 times has more receptions with 19. Some of the targets can be attributed to bad throws, but more than half of the targets that weren't caught were either drops or bad route running on Anderson's part. Anderson has undeniable speed, and play making ability, but he needs to work on his catching and consistency.
Offensive Line: C-
The offensive line was once again inconsistent in pass protection, they had some great moments and some not so great moments. McCown was sacked four times, and was instantly under pressure on the second interception. The run blocking was consistently bad again. In order for the Jets to have a balanced offense, the run blocking needs to improve significantly. Against the Patriots Josh McCown threw 47 times, and all three running backs had a combined 20 rushes for 47 yards. A consistent theme this season has been the abandonment of the running game, offensive coordinator John Morton tends to lean heavily on Josh McCown if the running game isn't effective after the first couple of drives.
Defensive Line: D
The defensive line's zero sack streak continues. There were multiple occasions where Tom Brady was able to sit in the pocket for what seemed like minutes. The defensive line is generating very little pressure, and having a very hard time getting in the backfield. The defense didn't exactly get shredded in the run game (118 yards, 1 TD) but they're still allowing runs that should be little to no gain go for five or six yards. The defensive line that was supposed to be a strength for the Jets this season has been a weakness.
Linebacker: C
Darron Lee had some decent moments, but also showed he's a liability in coverage. It still isn't working at inside linebacker for him, he should be playing outside. The linebackers have five of the seven sacks generated this season, but that's still a very low number, averaging 1.16 sacks per game. The defense only generated one tackle for a loss, and zero sacks. There was virtually no pressure generated all game.
Secondary: B-
Buster Skrine had his best game of the season, although he also had a couple of lapses in coverage. Morris Claiborne was solid and so was Darryl Roberts. Marcus Maye played well, but Jamal Adams struggled again this week. He was constantly being pushed around when matched up against Rob Gronkowski, and his tackling was suspect again this week as well. He also had a questionable pass interference call that set the Patriots up at the one yard line. It was a good effort for most of the game, but the secondary is going to have to tighten up if they want to stifle the likes of Tom Brady.
Special Teams: B+
Special teams was consistent again this week, Chandler Catanzaro hit on his one field goal attempt from 28 yards out, and was two for two with extra points. Lachlan Edwards punted four times, averaging 47 yards, with a long of 51. Edwards was also able to pin the Patriots on their own seven yard line once. ArDarius Stewart needs to do a better job at deciding when not to return kickoffs, and take a touchback instead. Stewart averaged 17.7 yards per return on three returns, his best was 23 yards. All three returns put the Jets behind the 25 yard line, which is where they would have started had he taken a knee.
Coaching: C-
The offensive coaching staff (John Morton and Jeremy Bates) need to do a better job at relaying the play call to Josh McCown quickly. The Jets had to burn multiple timeouts because they didn't get to the line until they had less than 10 seconds remaining on the play clock. Timeouts have been an issue all season, and the Jets really could have used all three at the end of the game.
Overall Grade: B-
Videos
New York Jets OTA Presser Takeaways, Aaron Rodgers' Impact and Summer Delusion