New York Jets Report Card: Week 8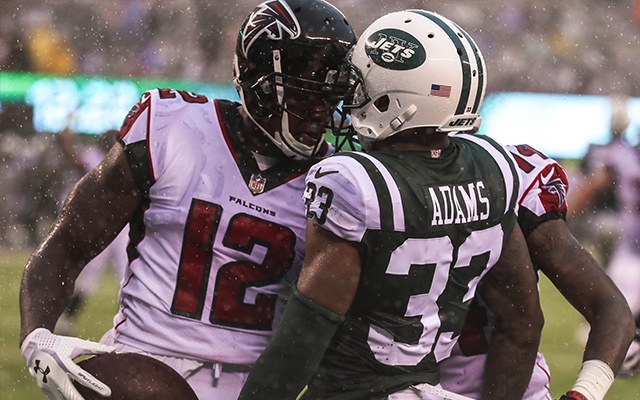 Week 8 Report Card: Jets vs. Falcons L 25-20
---
Quarterback: B+
Josh McCown: 26/33 257 yards, 2 TDs 0 INT
Statistically it was a perfect game for McCown, but again there were a couple of boneheaded mistakes that a veteran quarterback shouldn't make. The biggest mistake was taking unnecessary sacks. McCown tends to hold onto the ball too long when under pressure. Against the Falcons, he took three sacks, one pushed the Jets back while in field goal range adding seven yards making it a 48-yard attempt instead of a 41-yard attempt. Needless to say, Chandler Catanzaro missed the field goal, just wide to the right. Even when he can throw the ball out of bounds, McCown prefers to either scramble or take the sack.
Running back: C
Bilal Powell: 14 rushes for 33 yards, 3 receptions for 28 yards
Matt Forte: 4 rushes for 7 yards, 6 receptions for 45 yards
Elijah McGuire: 1 rush for 2 yards
Lawrence Thomas: 1 rush for 0 yards, 2 receptions for 11 yards
The running back group are victims of terrible run blocking. Some want to blame offensive coordinator John Morton, but the Jets have tried to run the ball with little or no success this season other than one game against the Jacksonville Jaguars. The running backs averaged two yards per rush against the Falcons, meanwhile Josh McCown was completing 78% of his passes, and had two touchdowns. It's not hard to see why John Morton has favored the pass over a non-existent run game. Defensive end turned fullback, Lawrence Thomas, had his first career carry for a whopping zero yards as well.
Wide Receiver/Tight End: B
Robby Anderson: 6 receptions for 104 yards, 1 TD, 1 rush for 1 yard
Austin Seferian-Jenkins: 5 receptions for 28 yards
Eric Tomlinson: 1 reception for 20 yards, 1 TD
Jermaine Kearse: 2 receptions for 14 yards
Jeremy Kerley: 1 reception for 7 yards
The Jets had a receiver break the 100 yard mark in a game for the first time this season. Robby Anderson had 104 yards against the Falcons. It's somewhat surprising it took until week eight considering how well Josh McCown has been playing. It was an outstanding game for Anderson who showcased his speed, although the sure-handed Jeremy Kerley had a costly fumble on a punt return. This receiving group is playing better than everyone expected, and they could be even better if they just work on consistency.
Offensive Line: C-
The offensive line really needs figure out the problem in the run game. Without any ability to get the run game going, it forces the Jets to lean on Josh McCown. While McCown has played better than expected, he can't carry this team, and neither can the defense. If the Jets are going to win more games this season they need to have a balanced offense. That being said the pass protection was relatively good, until the fourth quarter. There is a trend developing, and the Jets need to change it.
Defensive Line: B-
Well they finally did it, the defensive line finally generated a sack. It took them eight weeks, but Muhammad Wilkerson registered his first sack of the season coming off a game in which he recorded an interception. Leonard Williams is still nowhere to be seen, but the defensive line as a unit has played better in the past couple of games. They'll need to keep ascending to make up for lost time.
Linebacker: C+
The linebackers did a good job containing the run until… You guessed it, the fourth quarter. Right at the start of the fourth quarter the Jets gave up a 52-yard run by Tevin Coleman. Both Juston Burris and Darron Lee missed their tackles on Coleman. Lee did register a pass defense, and had a pretty solid game otherwise. The linebacker group has been pretty solid this season. If the defensive line can play at a higher level, the front seven can be a good unit.
Secondary: C
The Jets were without Buster Skrine, and lost Morris Claiborne during the game. Considering the fact that they were without their top two cornerbacks, they played admirably. Darryl Roberts struggled the most. Roberts was beat for 53 yards by Julio Jones (an unfair matchup) and struggled in coverage all day. Marcus Maye and Jamal Adams struggled at times against Atlanta's tight ends Austin Hooper and Levine Toilolo.
Special Teams: F
If there was any one area to blame for the loss, it was special teams. Chandler Catanzaro, who has been reliable throughout the season missed two field goals, costing the Jets six points. The sure-handed Jeremy Kerley muffed a punt, turning over three points to the Falcons. That's a total of nine points surrendered from special teams mistakes. Lac Edwards played a decent game, but it's not enough to redeem a terrible showing as a unit.
Coaching: C
It's hard to believe that the Jets are still having clock management issues. Every week the Jets burn at least one timeout because the players don't get lined up until there's less than five seconds left to snap the ball. There was also a mantra of "finishing" this week in practice. It's obvious that it didn't have any effect, seeing as they did the opposite again, imploding in the fourth quarter. Todd Bowles has a quick turnaround to try to right the wrongs.
Overall Grade: C+
Videos
NY Jets Phase 3 OTAs, Expectations and a Minor Calf Tweak with Greg Renoff