New York Jets Report Card: Week 9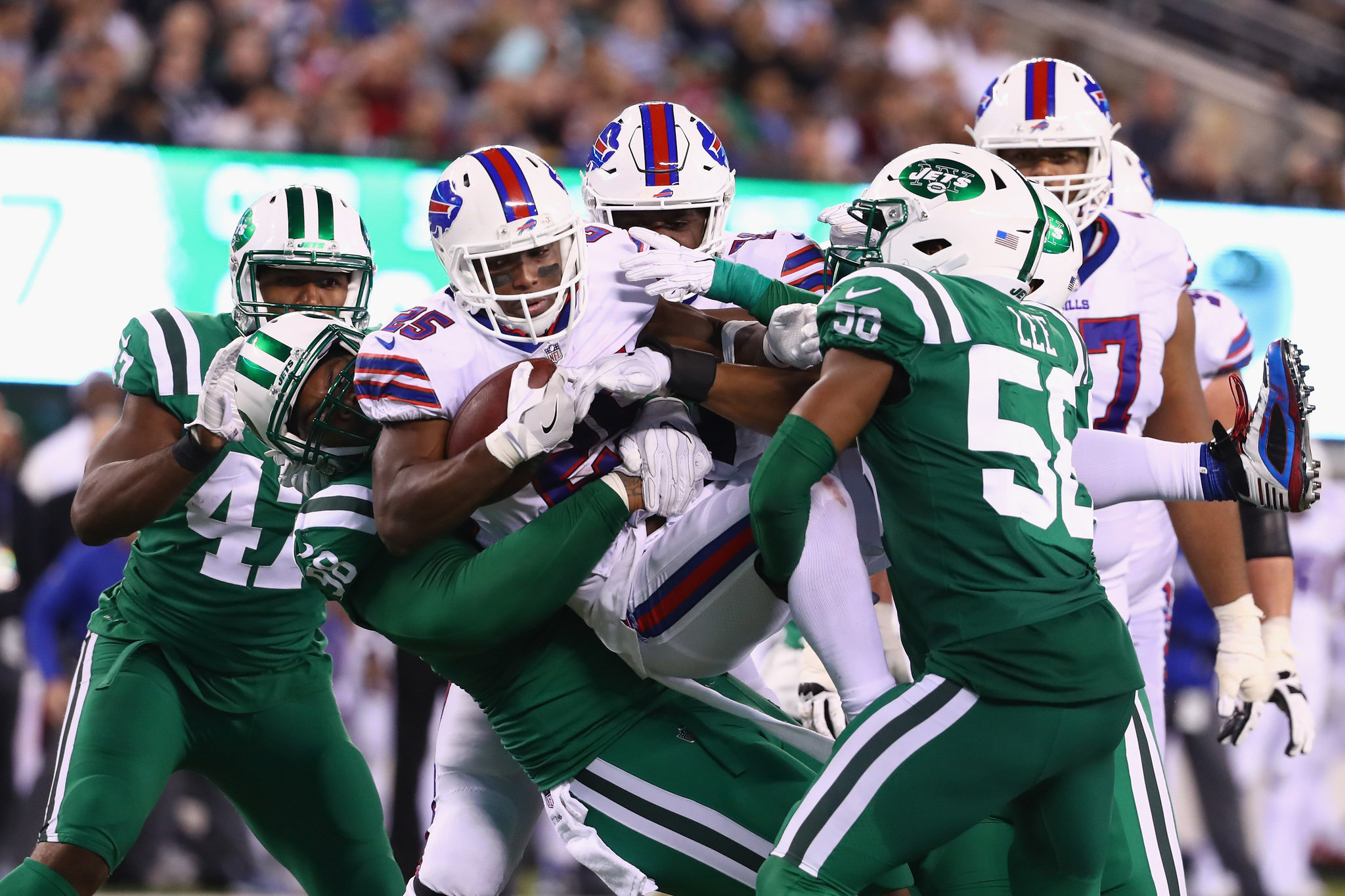 Week 9 Report Card: Jets vs. Bills W 34-21
---
Quarterback: A
Josh McCown: 14/20 140 yards, 1 TD 0 INT, 5 rushes for 13 yards, 1 Rush TD
This wasn't a stat stuffer for Josh McCown, but he played a clean and efficient game. There was one should-have-been interception early in the game that was dropped, but other than that McCown was perfect. McCown continues to impress, and he has galvanized this offense. It was also a day in which McCown matched his career high for touchdown passes at 13.
Running back: A
Matt Forte: 14 rushes for 77 yards, 2 TDs
Bilal Powell: 9 rushes for 74 yards
Elijah McGuire: 13 rushes for 30 yards
The week after Matt Forte complained about the lack of running plays, the Jets went run heavy, and it worked. The Jets ran 36 designed run plays compared to 20 throws for McCown. This week, instead of being hampered by bad run blocking, the running backs enjoyed some big holes in the defense. Bilal Powell also had a 26-yard rush nullified by a holding penalty.
Wide Receiver/Tight End: B
Robby Anderson: 4 receptions for 48 yards, 1 TD
Jermaine Kearse: 2 receptions for 38 yards
Austin Seferian-Jenkins: 2 receptions for 20 yards
Eric Tomlinson: 1 reception for 6 yards
It wasn't a huge night for the receivers, and there were a couple of drops, but it was an overall good effort. Robby Anderson continued to impress with his speed and hands after making an impressive catch in the endzone after burning cornerback Tre'Davious White. There was also a touchdown pass to Austin Seferian-Jenkins that was called back for offensive pass interference.
Offensive Line: A+
What a performance by a largely inconsistent offensive line. The offensive line dominated the Bills defensive front, and played best in their weakest area, run blocking. If this unit can play this way for most of their games, they have a good chance at winning a good chunk of the remaining seven games.
Defensive Line: A
The defensive line resurgence is underway. The defensive line played well on Sunday, but even better on Thursday. The Jets went from having one player on the defensive line with a sack to four different players. Muhammad Wilkerson is starting to look like himself, in the past three games he has two sacks, an interception, and two tackles for a loss.
Linebacker: A+
It was a huge day for the linebackers. Jordan Jenkins and Darron Lee wreaked havoc in the backfield. The linebackers totaled four sacks against the Bills. Lee has really turned his game around the past few weeks after struggling most of the season. Lee was all over the field, totaling eight tackles, two for a loss, a sack, and two quarterback hits. The linebacker group has arguably been the most consistent unit on defense this season for the Jets.
Secondary: C+
Darryl Roberts had a good game with six tackles and two passes defended. The secondary played well until the fourth quarter, when they tried to let the Bills get back in the game after giving up two touchdowns in under two minutes. The lead was too big to surpass at that point though.
Special Teams: B+
Chandler Catanzaro converted both of his field goal attempts, and Lachlan Edwards pinned the Bills inside the 20 twice. Jeremy Kerley had one punt return for three yards, then left the game and was replaced by Elijah McGuire. McGuire had one return for 10 yards. ArDarius Stewart returned two kicks for 44 yards. Most of his kick returns this season have been behind the 25-yard line.
Coaching: B
Give credit to offensive coordinator John Morton for listening to his players. The offensive game plan was the formula they should have been using from the beginning of the season. Unfortunately, the clock management issues persisted again this week. That's something the Jets need to clean up if they want to win tight games.
Overall Grade: A-
Videos
New York Jets OTA Presser Takeaways, Aaron Rodgers' Impact and Summer Delusion