New York Jets Report Card: Week 10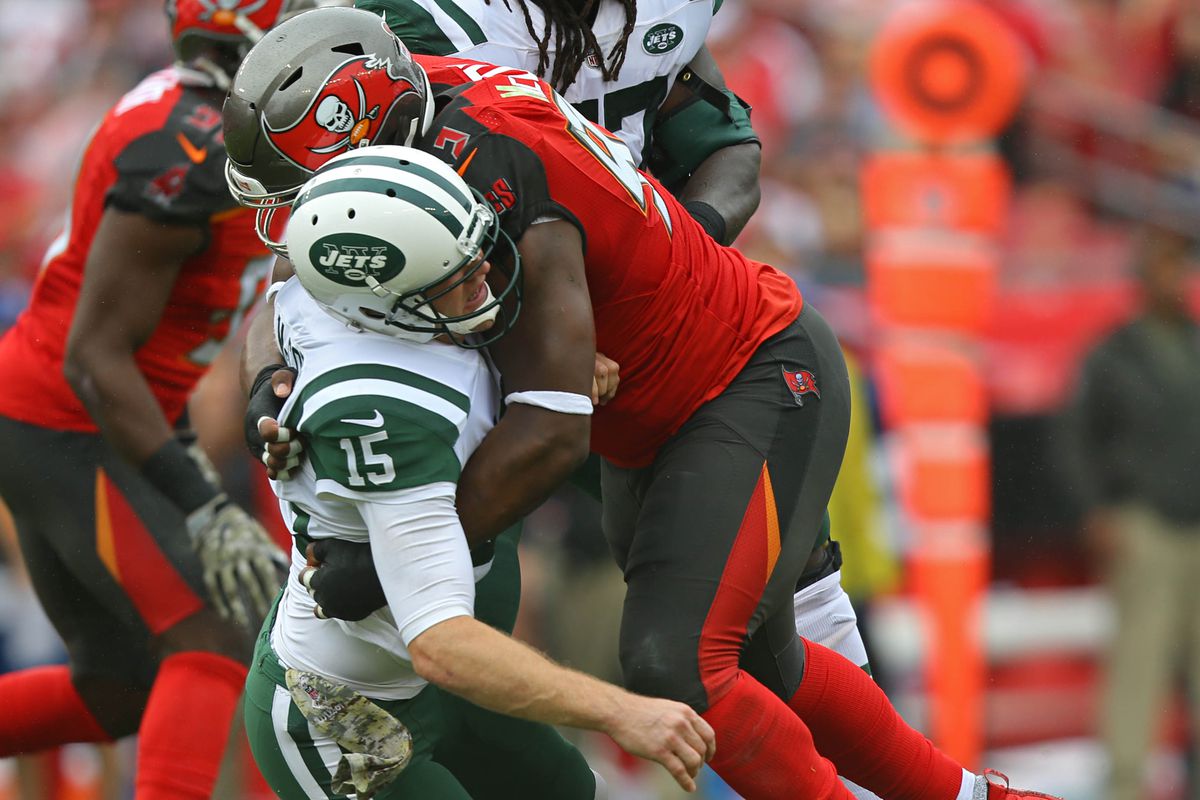 Week 10 Report Card: Jets @ Buccaneers L 15-10
---
Quarterback: D
Josh McCown: 23/39 262 yards, 1 TD 1 INT
The stat sheet isn't terrible, but McCown played a bad game against the Buccaneers. Granted, the offensive line had their worst game of the season, but McCown made too many mistakes. Failing to hit open receivers, holding onto the ball for too long, and inaccurate throws were some of the miscues. McCown also failed to complete at least 60 percent of his passes for the first time this season. On one play McCown went deep, overthrowing Robby Anderson by at least a few yards resulting in an interception by Brent Grimes.
Running back: D
Bilal Powell: 10 rushes for 30 yards, 1 reception for 6 yards
Elijah McGuire: 8 rushes for 22 yards, 4 receptions for 36 yards
The running backs haven't gotten much help up front this season, and that was the case again this week. The offensive line was manhandled by the Buccaneers' front seven, other than a 21-yard rush by Bilal Powell, the running backs were constantly met in the backfield. Matt Forte was absent against the Buccaneers due to knee swelling, but it most likely wouldn't have made much of a difference.
Wide Receiver/Tight End: C-
Robby Anderson: 4 receptions for 85 yards, 1 TD
Austin Seferian-Jenkins: 6 receptions for 67 yards
Jermaine Kearse: 4 receptions for 35 yards
Chad Hansen: 3 receptions for 33 yards
ArDarius Stewart: 1 reception for 0 yards, 1 rush for 4 yards
There were multiple drops again this week. Robby Anderson bobbled a crucial first down pass and dropped it. Austin Seferian-Jenkins didn't catch a pass until the game was almost over. Anderson has put up decent numbers for a few weeks in a row now, even though most of his yards this week didn't come until the final minute. Meanwhile, Chad Hansen recorded his first regular season reception with the absence of Jeremy Kerley.
Offensive Line: F
What a way for the offensive line to follow up their best performance of the season. This was an embarrassing showing by the line. Josh McCown was sacked six times, and the Buccaneers' front seven were living in the Jets' backfield. There's one word that can be used to describe the offensive line's play this year: inconsistent. There hasn't really been any stalwart on the offensive line since Nick Mangold was let go after last season.
Defensive Line: C
The defense played well enough to win this game, although they broke when it mattered… in the fourth quarter. The Jets can't seem to get rid of their fourth quarter woes. The defensive line generated some pressure, but missed multiple opportunities to bring down Ryan Fitzpatrick due to bad tackling. On the bright side, Leonard Williams did record his first full sack of the season.
Linebacker: B-
The front seven did well against the run, other than Doug Martin's 21-yard rush. Demario Davis gave up a game-ending touchdown pass to Charles Sims. Josh Martin did a good job getting in the backfield consistently, he recorded one and a half tackles for a loss and a quarterback hit.
Secondary: C+
Darryl Roberts played a pretty good game, he had eight total tackles, two passes defended, and an interception on a throw behind Fitzpatrick's intended receiver. The Jets' secondary has the most penalties out of any unit in the NFL. Buster Skrine and Rashard Robinson lead all cornerbacks with nine and eight penalties respectively. Morris Claiborne isn't far behind with six. Penalties were a problem again this week with the Jets recording eight against Tampa Bay.
Special Teams: C
It was an average day for special teams, nothing great and nothing terrible. JoJo Natson started at kick and punt returner, and didn't do anything special. Lachlan Edwards had seven punts that averaged 50 yards with a long of 59. Chandler Catanzaro converted his only field goal attempt of 47 yards.
Coaching: D
Well, on the bright side the Jets didn't waste a timeout this week. Unfortunately it didn't really matter since their first touchdown didn't come until there was 38 seconds left on the clock. The play calling was too conservative for most of the game, and Todd Bowles really needs to do something about the absurd amount of penalties.
Overall Grade: D
Videos
Aaron Rodgers Injury Fallout & Jets/Bills Recap