Jets' Defense Must Find an Edge to Take the Next Step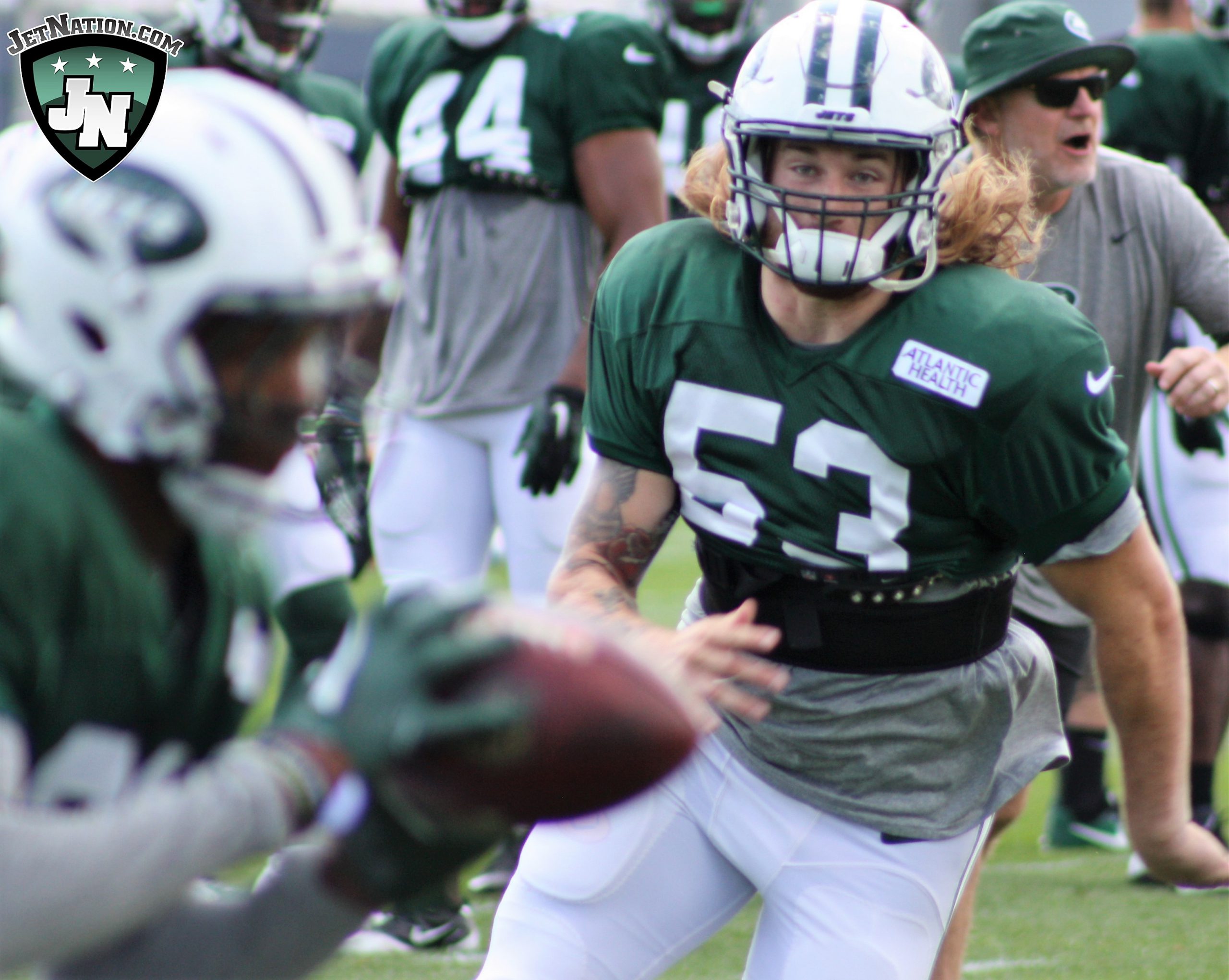 It's been said countless times over the past decade that the New York Jets have not had a true edge rusher since John Abraham. The list over the years goes on and on.  From free agent veteran pickups such as Aaron Maybin, Calvin Pace, and Jason Taylor who were moderately successful, to draft busts in Vernon Gholston and Quinton Coples. It can be said that the Jets have had equal trouble finding a pass rusher and a franchise quarterback. In 2018, things will not be any different as the search for a speedy pass rusher off the edge continues.
Two of the most important cornerstone positions to build a team from are the quarterback and a pass rushing defensive end/outside linebacker. Mike Maccagnan has failed to address the position with a high draft pick in his three years as General Manager opting to focus on other areas of need.  He could have drafted NC State stud DE Bradley Chubb but correctly chose to go with the most important position in the sport and drafted QB Sam Darnold.
The Jets have instead built their defense from the inside out. After drafting defensive linemen Nathan Shepherd and Folorunso Fatukasi to pair with Leonard Williams they will hope to generate a pass rush from the interior rather than off the edge. While it can work, not having an outside presence can close the lanes for the likes of Williams and co. on the inside.
Todd Bowles and his coaching staff will have to get creative when it comes to finding ways to generate a pass rush. They will still need a speedy linebacker such as Darron Lee, as we discussed here, to take the pressure off of their interior linemen or will have to send a DB like Jamal Adams blitzing off the edge. He has shown he can have some success in doing so, recording 2 sacks last season, but of course, that would only be situational and not every passing down.
As it stands right now the Jets do not have top-notch options to fill the position. David Bass, Dylan Donahue, Jordan Jenkins, Josh Martin, and Lorenzo Mauldin will all get their chance in training camp and preseason to show that they deserve the starting spot. Jenkins, however, should be set as the starting ROLB. Although he's not much of a pass-rusher having totaled 5.5 sacks in his first two seasons, he fills other roles such as setting the edge and stopping the run. If he can increase those numbers by a few sacks the Jets will be in much better shape.
Bass, Donahue, Martin, and Mauldin will all be fighting for playing time this summer to showcase their skills. The odds are slim that all of them will make the final roster come September. Bass played well in limited action totaling 3.5 sacks which were tied for second on the team. He played in 13 games and in only about 29% of the team's defensive snaps. He's part of the solution for now as he showed potential and provides solid depth, but probably isn't the long-term answer at the position.
Martin and Donahue will both be facing an uphill battle. Martin has 2 sacks in his 2 seasons with Gang Green and is more of a special teams ace than a linebacker that will have a key role in the defense. Although he can still carve out a role for himself since they are so starved for talent at the position.
Donahue, a Division II prospect out of West Georgia already had a tough road ahead of him making the jump from a small school. His rookie year did not go as planned, finishing with 4 tackles in 4 games and 0 sacks before an elbow injury ended his season. He also faces a possible suspension due to an off-field incident (DUI/car crash). His roster spot could be in jeopardy, but it's unlikely that the Jets are ready to cut ties with their 2017 fifth-round pick. He should have a place on the final depth chart, but he must show the coaching staff something to earn that spot by producing on the field.
Lorenzo Mauldin is the biggest name to keep an eye on. These next few months will make or break Mauldin's Jets career and the fourth-year linebacker is well aware. He recently told Darryl Slater of NJ.com, "I'm definitely trying to fight for my roster spot, I'm overwhelmed, actually, because now it's like: It's now or nothing."
Mauldin showed promise during his rookie season with 4 sacks and 12 QB hits in 15 games but had just 2.5 sacks in his disappointing sophomore season but said back in April that he is "beyond ready to go".  Mauldin has the tools and the makeup to be a productive pass-rushing linebacker for the Jets, but he has a long way to go to put it all together. He must also prove that he can stay healthy after missing some of 2016 with an ankle injury and all of last season with a back injury.
A much-improved secondary will help the Jets pass rush by giving their rushers that extra second needed to get to the quarterback, but they must still find pass rushing help sooner rather than later. The pieces are slowly starting to fall into place on the defense though they are missing that one big piece. If Gang Green has found their QB of the future in Darnold, they must now set their sights on the other side of the ball and address the edge.
Next year's draft crop is projected to have a ton of prospects at the position should they choose to go that route. With around $100 million projected in cap space for 2019, the Jets can also set their sights on a free agent such as DeMarcus Lawrence should Dallas let him come free. Time will tell if Maccagnan and co. can find their next cornerstone.
Videos
NY Jets Phase 3 OTAs, Expectations and a Minor Calf Tweak with Greg Renoff