Training Camp Capsule; Notes From First Four Days From Florham Park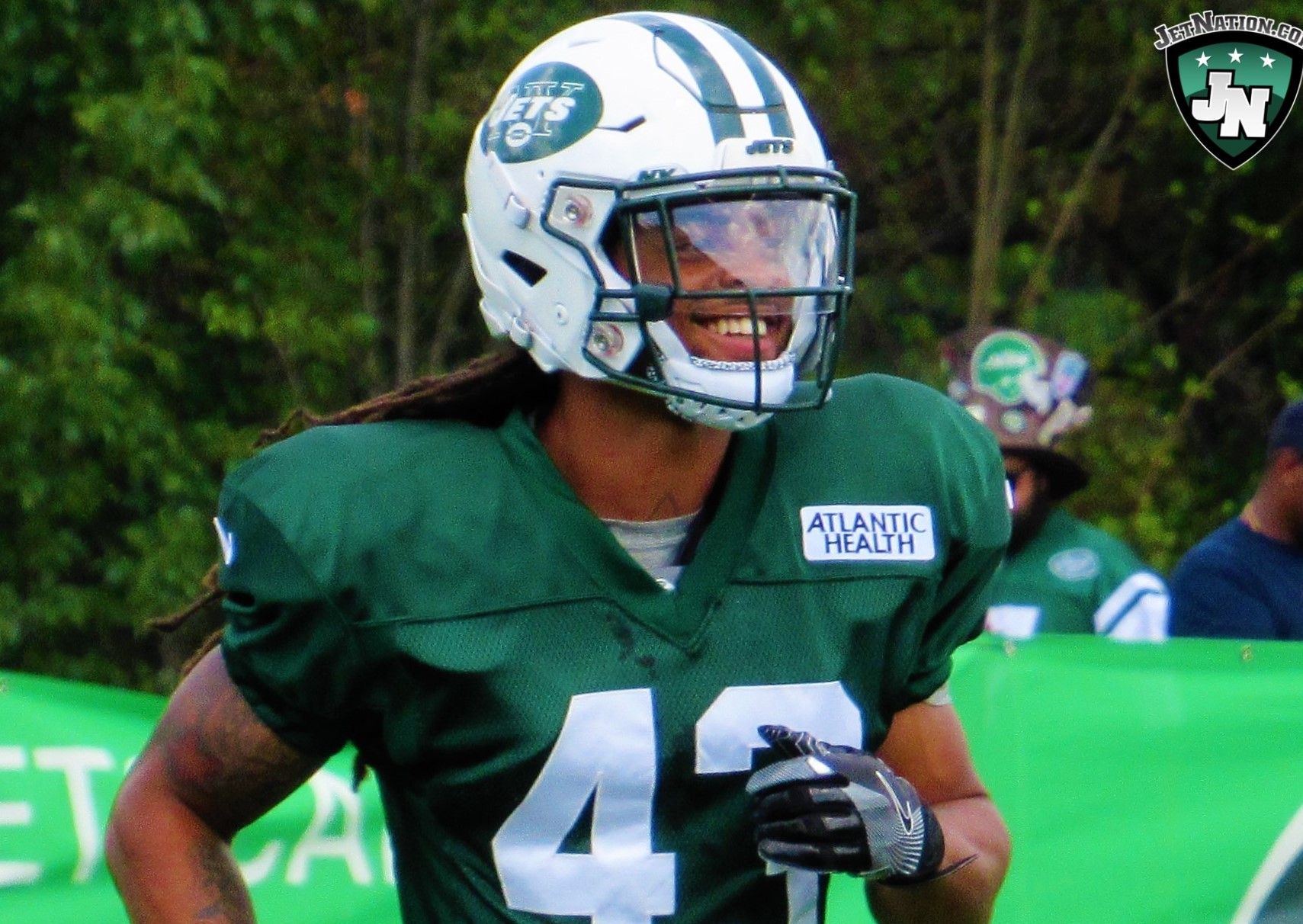 So the Jets have their first day off of training camp and it comes one day after third overall pick Sam Darnold made his debut in front of media and a few VIP's.  His reps were limited, but Darnold did impress with the small workload, finding rookie tight end Chris Henrdon and wide receiver Quincy Enunwa for a pair of touchdowns during red zone drills.  What other takeaways have there been through the first four days?  Let's unload the notebook here.
The Rookies:
Several rookies have done some very impressive things in a short time and a few names keep popping up over and over again.
Nathan Shepherd: Shepherd looked unstoppable through camp's first couple of days and while he slowed down a bit once the pads came on, he still absolutely looks the part of a quality NFL lineman.  Don't forget, Shepherd is making the leap from small school college player to the NFL and if the early results are any indication, he'll be on the field a lot this season.
Trenton Cannon: Can't stress enough the fact that this is only through four practices, but Cannon might be the better players in camp thus far.  The speedy running back has looked good with and without pads.  He consistently gets to the edge on outside runs, shows very good cutback ability between the tackles and catches the ball well out of the backfield.
Parry Nickerson: The sixth-round pick has been impressive enough through camp's first few days that he got himself a few first team reps yesterday.  The one thing that has stood out most about Nickerson is his anticipation.  No interceptions yet, but we've seen several plays that had him jumping routes and cutting in front of the receiver to come away with a pass break up.
Chris Herndon: It's easy to see what the Jets liked about the tight end out of Miami.  Herndon has looked extremely smooth catching the football and moves well once he hauls it in.  If Herndon isn't seeing a ton of reps when the season starts, it would be a shock.
Then there are the rookies who haven't been flashing every day, but are starting to show something:
Folorunso Fatukasi hasn't flashed quite as much as some of the other rookies, but he's had some impressive reps in one-on-one drills and has come away with a few run stops in the middle of the defense.  With Steve McLendon and Mike Pennel on the roster, Fatukasi may have a tough time making the 53-man roster, but he's shown some positive traits early on.
Frankie Luvu, an undrafted free agent out of Washington state has made a few plays and on several occasions has been lauded by outside linebackers coach Kevin Greene.
Undrafted linebacker Anthony Wint didn't stand out much until yesterday when he was in on a few run stops.  Looked to have very good instincts and was highly touted by Manish Mehta of the Daily News when we spoke to him here on JetNation Radio.
Edge Rusher Needed:
The fact that the Jets biggest weakness is edge rusher is no big secret, but a few names have had some positive moments.  Perhaps the most surprising name is Obum Gwachum.  A converted wide receiver, Gwachum has been a project pass rusher who has bounced around with a few teams and spent last season on the Jets 53-man roster.  Over the past three practices, Gwachum has had several pressures off the edge and has held up well against the run.  Dylan Donahue has also looked good at times along with free agent addition Brandon Copeland as well, but none of these guys are going to remind anyone of Khalil Mack.
Safety Depth: 
Starting free safety Marcus Maye has been held out of team periods as he recovers from off-season surgery.  In in his place, Doug Middleton has looked very impressive playing alongside Jamal Adams.  Aside from Middleton, JJ Wilcox and Terrance Brooks have all had their moments, particularly Wilcox who was one of the best players on the field on day three.  There looks to be very good depth at the position and as we said earlier this off-season, Wilcox is a nice upgrade over Rontez Miles.
Dog fight at WR:
For the most part, the Jets are set at wide receiver.  Robby Anderson, Quincy Enunwa, Jermaine Kearse, Terrelle Pryor and Chad Hansen top of the depth chart.  Beyond that, depending on how many receivers they carry, it's ArDarius Stewart, Charles Johnson, Tre' McBride, Lucky Whitehead, Charone Peake and Jonah Trinnaman.  Johnson has been the best of the bunch while McBride and Whitehead have made a play or two as well.  That's a lot of bodies for one or two roster spots.
Sophomore Standouts:
We'll go more in-depth on this one later, but quite a few players from last year's rookie class have shown clear improvement.
Jamal Adams was all over the field when the pads came on and only missed out an a day 1 interception when he pulled up to avoid a full-speed collision with Trumaine Johnson on what looked to be a miscommunication in the secondary.
Derrick Jones spent most of last season inactive as the converted receiver from Ole' Miss worked on making the complete transition to cornerback.  Since the pads came on, he has two interceptions and if not for a blown call by an official, would have three.  Jones also ran stride for stride with Robby Anderson on a go-route.  Impressive stuff.
ArDarius Stweart and Chad Hansen had been relatively quiet until Stewart had his best practice yesterday.  He was able to find soft spots in the Jets zone defense and got away from defenders on several plays.  Say what you will about Stewart up to this point, but the guy gives tremendous effort on every play.
As mentioned earlier, Dylan Donahue has been solid off the edge and he's a lock to stick if that keeps up.
Jordan Leggett is having a decent camp, but that might not be enough.  Chris Herndon and Neal Sterling have been stealing the show thus far.  Eric Tomlinson should make the roster as the team's blocking tight end and Clive Walford had been very quiet until yesterday when he was heavily targeted early in practice.
Can't cough it up:
For the second practice in a row, Thomas Rawls put the ball on the ground.  Before the pads came on he was very impressive and his biggest obstacle was thought to be injuries.  If he keeps coughing it up, his health status won't matter.
A steal at LT?  Not so fast:
When the Jets scooped up left tackle Antonio Garcia after he was let go by the Patriots, Jets fans hoped they had a steal on their hands.  If Garcia's early play has been any indication of what's to come, that won't be the case.  Garcia took part in one-on-one drills the other day and was beaten by every rusher who was put in front of him.
Clean up the flags:
Way too many penalties through four day.  Counted six on the first two days, five on day two and nine yesterday.  It's early, but that's still a bit much.
Odds and Ends:
Henry Anderson looked very good on days 3 and 4 when the pads came on.
Morris Claiborne has had a nice camp with several PBU's
Quincy Enunwa looks to be all the way back from his injury.  He's worn the red jersey in three of four practcies, but that looks to be precautionary.
Dimitri Flowers might have a harder time beating out Lawrence Thomas than many expected.
Look for an uptick in sacks from Jordan Jenkins this season.  Nothing huge, but seven sacks isn't out of the question.
Darron Lee has had his moments, but he hasn't been much better (if at all) than Kevin Pierre-Louis.
For all the talk of his blazing speed coming out of college, Terrelle Sinkfield has been beaten deep on a few occasions.
Leonard Williams has been largely unblockable.
Robby Anderson has seen a few reps as a return man but that's unlikely to last.  Not sure why the team hasn't given UDFA WR Jonah Trinnaman a look back there yet.
Lorenzo Mauldin has looked like a much better player than he did during training camp last season.  If that can carry over to the games, he'll stick again.
That wraps up the camp capsule, but there's more where that came from if you click here for our training camp coverage and log on to our forums to share your thoughts.
Videos
Aaron Rodgers Injury Fallout & Jets/Bills Recap