Featured Editorials Game Recap
Game Rewind; Gase Refuses to Run and Setup the Pass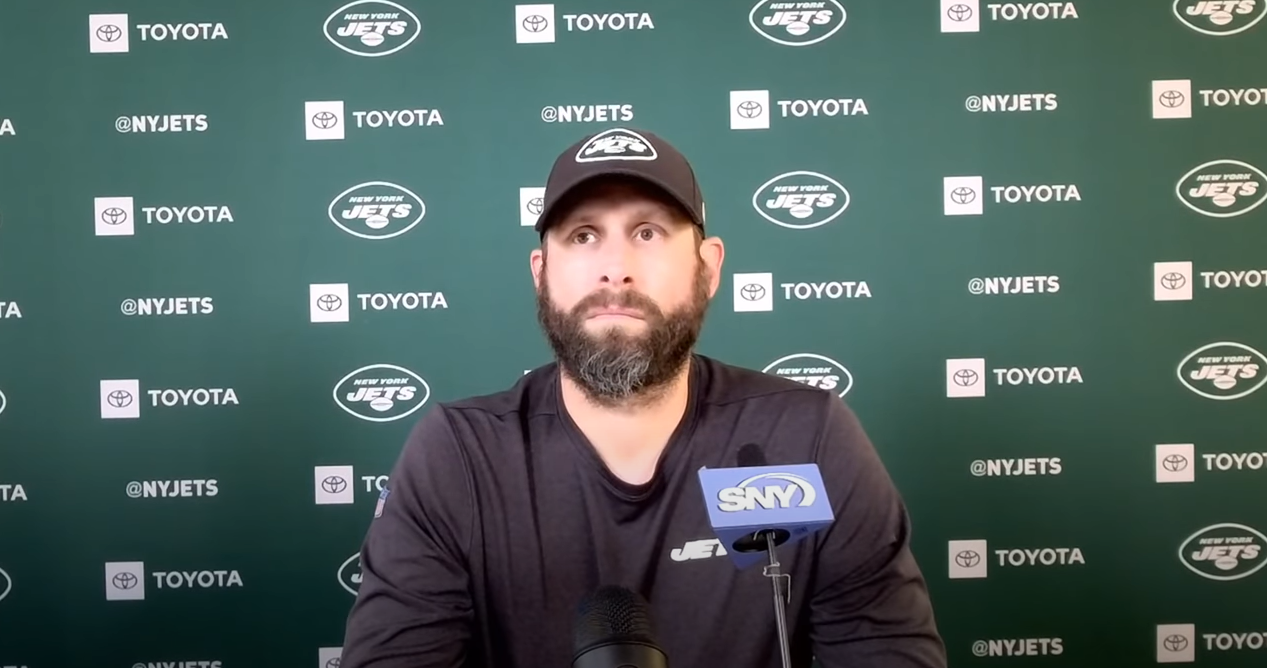 Each week KRL will provide mid week thoughts on the previous game. In case you missed it here was the initial reaction that was posted on Monday (NY Jets Monday morning game notes).
General Notes
– The game stunk
– It took 3 hours out of my life that I'll never get back
– They were in full pads, even though few players used them
Ok, now lets get serious.
– Its shocking to consider but with all the mistakes the Buffalo Bills made (2 missed FG, 2 redzone fumbles) if the Jets actually showed up they could've stolen the game.
Coach Notes
– Brant Boyer needs to tighten up the tackling on the coverage units.  Braden Mann got excellent distance on his punts but too much whiffing by the "gunners" allowed BUF too many return yards.
– Gregg Williams needs to get Pierre Desir back to his 2018 level or find someone else to start opposite Bless Austin.  And as usual is there any potential edge rusher anywhere on the roster?  Jabari Zuniga, Bryce Huff ANYONE?  Because there were multiple times Allen stood in the pocket, couldn't find anyone and still wasn't brought down.  Decent edge pressure and they would've had at least 6+ sacks.
– Offensively I have never seen a coach refuse to acknowledge Football 101 like Adam Gase.  You run the ball to establish the pass! With no pre-season a smart coach would use the early games to allow his OLine to develop chemistry and get physical by running the ball.  You know like Andy Reid and KC did in their opener, they ran the ball more than they passed it (34 to 32).

If you establish the run you make the offense "two handed" and play action becomes easy, DUH!!!  And when Mekhi Becton is 6-7 and 360 pounds why wouldn't
you allow him to get physical by running behind him?  I'm waiting.
– Every phase has to tighten up because 9 penalties for 95 yards is ridiculous
Defense Notes
– It still isn't up to the standards of a #3 pick but Quinnen Williams had a decent game (3 Tackles, .5 TFL, 1 QB Hit).  His best trait didn't show up in the stat sheet.  Credit to Williams for multiple penetrations which blew up BUF running game and flushed Allen out of the pocket.  Now let's see those penetrations turn into sacks and TFLs.
– The lack of edge pressure is frustrating as usual but there are some very promising pieces in the secondary.  Marcus Maye, Austin and Brian Poole all showed up big time.  Add in Ashtyn Davis (why didn't he play?) and Bryce Hall and the Jets may actually be looking at a deep well rounded secondary.
– With Blake Cashman going out (shocker) Harvey Langi stepped in and did a solid job (6 Tackles, 1 Pass Defensed).  Particularly impressive was his coverage on BUF RB(?) where he broke up a sure TD.  Will he remain a starter or will Avery Williamson or Alec Ogletree replace him?
Offense Notes
– I took apart Sam Darnold on Sunday so I won't go there again.  He was inaccurate, made bad decisions and rushed throws.  The clock is now ticking. But props to Brian Baldinger for the film breakdown and @SR24 for starting the thread on the stupid sack Darnold took by running out of bounds:
https://forums.jetnation.com/topic/154031-alarming-breakdown-from-baldinger/
Amazing to think if Darnold just took a shot and threw that pass to Jamison Crowder it would've been 21-17 going into the 4th quarter
– Considering they had no live reps and a HC who refused to run the ball the new OLine held up reasonably well.  Greg Van Roten had a couple of times where
he was pushed back in both phases.  But their communication on BUF blitzes was decent and Darnold's ability to move out of the pocket limited the sacks.
Other than that Alex Lewis, Connor McGovern and George Fant stayed under the radar, which is what you want from an OLine.
– Becton was good and his worst play would've never happened if Darnold threw the above TD I talked about because it was on the same drive.  On Chris Herndon's fumble Becton was responsible for getting out in front and blocking Poyer(?). He missed the block and Herndon got blown up putting the ball on the ground. Impressive footwork, hand placement, movement skills and power from Becton.
– The only plays that consistently worked offensively were the "wheel routes" to LeVeon Bell.  On probably Darnold's best throw of the game he had a 30+
yarder down the left sideline.  And Bell would've had a layup 20+ yard TD if the BUF defender (Klein?) didn't pull him down and hurt his hamstring.
– How could Ryan Griffin (one of the few receivers Darnold has chemistry with) not get a target?
Standouts
– Braden Mann
– Marcus Maye
– Bless Austin
– Brian Poole
– Mekhi Becton
– Jamison Crowder
Concerns
– What is Sam Darnold?
– Do college QB's have to be scouted, again?
– Will Adam Gase ever establish the run?
Let us know what you think about the team in the Jets Nation forum.
Videos
Aaron Rodgers Injury Fallout & Jets/Bills Recap