Jets Crushed by San Fran Backups; Week 2 Report Card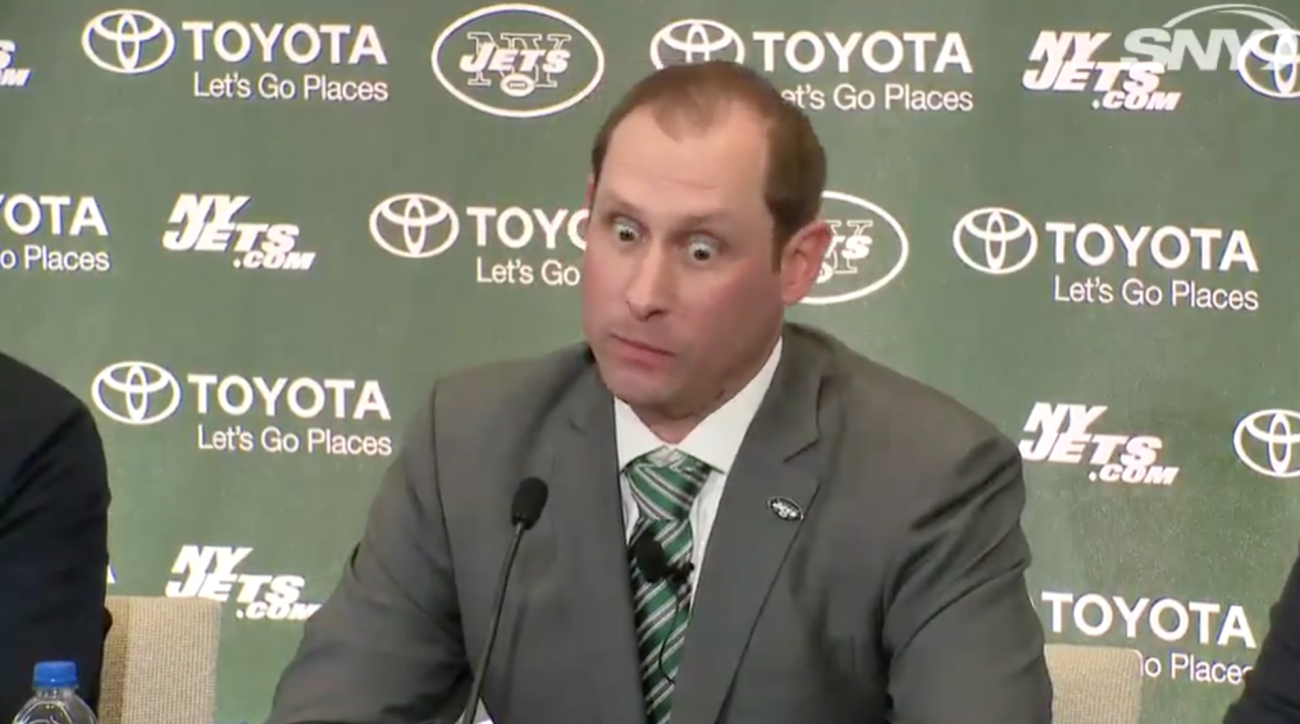 Brilliant offensive innovator Adam Gase, who is taking football where it's going, was unable to find a way to get his team in the end zone until his team's final drive this Sunday.  This despite the fact that the San Francisco 49ers were doing battle without Nick Bosa, Richard Sherman, Solomon Thomas, Dee Ford, Austin Verrett and Ahkello Witherspoon.  With backups on the field in just about every key spot on defense, Gase was in over his head.  How did everyone grade out?  Let's take a look.
Quarterback: C-
The only reason Darnold doesn't get an F is because too often we saw a staple of Adam Gase's offense; multiple throws short of the sticks on third down.  If this wasn't something Gase was notorious for in Miami we might question Darnold here, but we know what Gase is and short of the sticks is something he loves to call.  Darnold could've been better but certainly could have been worse.  Even without throws short of the sticks, the offense was extremely conservative, taking no shots down the field until garbage time.
Running Backs: D+
With Le'Veon Bell on the shelf, Gase took full advantage of his favorite back in the NFL in Frank Gore.  Gase rode the 37-year-old all day to the tune of 63 yards on 21 carries for a 3 yard per carry average.  Gase also gave the ball to Josh Adams on a fourth-down carry right up the gut with San Francisco filling the box with nine defenders.  Needless to say, Adams lost yards on the play.
With the Jets down 31-6, Gase decided to rest Gore for next week and went to La'Mical Perine who carried the ball 3 times for 17 yards.
Wide Receivers: C-
What wide receivers?  The Jets started the day with just four wide receivers and finished the day with two as Jamison Crowder and Chris Hogan left with injuries.  Most of the work they were asked to do was within 10-15 yards of the line of scrimmage which was evident as Chris Hogan led the group with just 48 yards receiving before a 28-yard grab in garbage time.  Braxton Berrios hauled in a 30-yard TD with 1:23 remaining in the blowout for a bit of window dressing.
Tight Ends: F
Just disgusting.  Very few shots to make plays as both Chris Herndon and Ryan Griffin may as well of bee on a milk carton.  Herndon had a big drop and Griffin drew a flag on one of his few opportunities on the day.  In all, the pair picked up 5 yards on 1 reception.
Offensive Line: C-
Because Gore has lost a few steps at 37, he was unable to take advantage of some of the holes the O-line opened up in the ground game.  In pass protection, things went better than they did last week and Mekhi Becton had some impressive blocks at the LT spot.
Defensive Line: C+
Quinnen Williams has arrived.  Playing against a solid O-line group, Williams was all over the place, picking up a career-high 2 sacks to go along with his 7 tackles (2 for loss) and a forced fumble.  Kyle Phillips and Steve McLendon also flashed at times, but Henry Anderson was invisible and was called for a foolish roughing the passer call late in the game.
Linebackers: F
This group was largely responsible for runs of 80 and 55 yards, one to start the game and the other on a 3rd down and 31 play.  While the D-line didn't hold up on either play, it appeared to be new Jet Alec Ogletree who was at the middle linebacker spot who was out of position and then too slow to make up lost ground that allowed the backs to break big runs.
Secondary: F
The secondary couldn't cover anyone on 3rd down as San Francisco made play after play whenever they had to.  Quincy Wilson appeared to be a liability early on before leaving with an injury and Marcus Maye was beaten for a touchdown after a fantastic performance in week 1.
Special Teams: B
Sam Ficken was good on both of his field goal attempts and Braden Mann had a beautiful punt that was wasted by the Jets inability to get down the field and down it inside the 5.  The booming punt rolled slowly down the final 10-15 yards and into the end zone.
Coaching: F-
Adam Gase coached scared, didn't use any of his young backs until the game was out of hand and as previously mentioned, called one play after another than was well short of the first down marker.  Brilliant.
Videos
Aaron Rodgers Injury Fallout & Jets/Bills Recap