Featured Editorials NY Jets Training Camp
Jets 2022 Training Camp 90-man Roster Rundown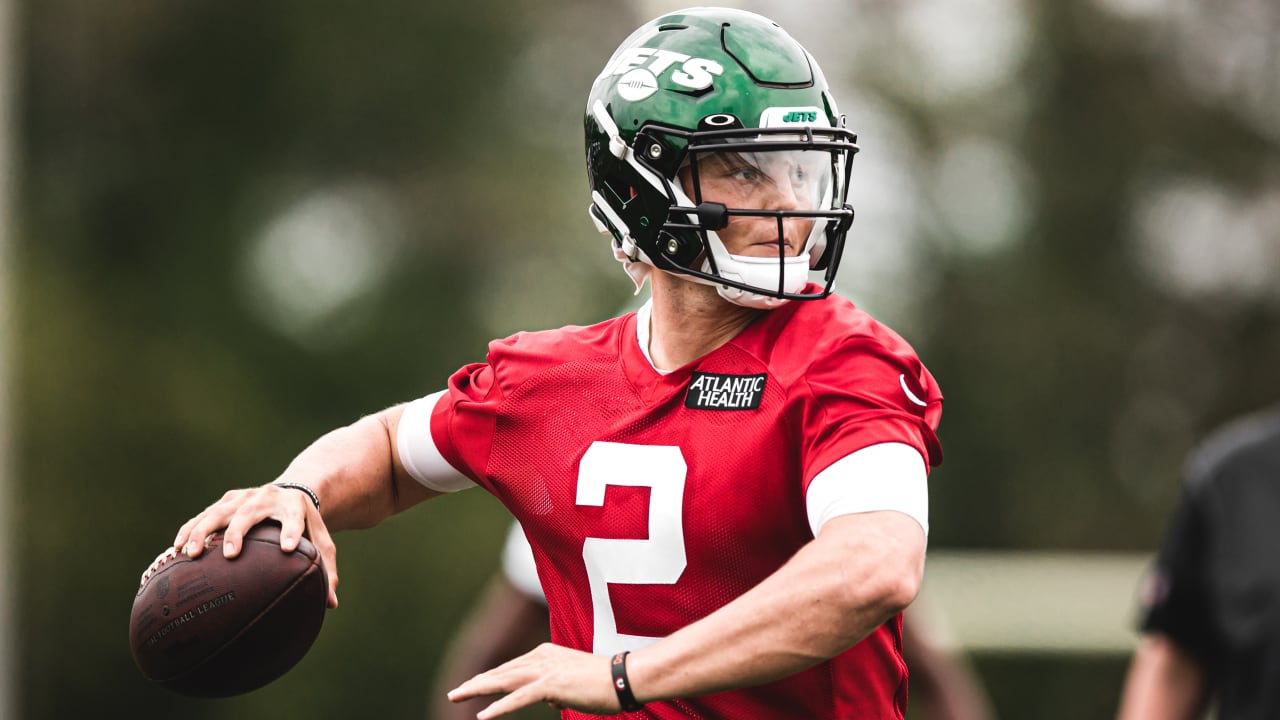 It's something we do every year as training camp approaches and this season is no different.  For those attending training camp or for those of us who will be watching pre-season games in person or from the sofa, here's the "who's who" on the 90-man roster…for now.
Abram, Keshunn – WR – 86:  The undrafted rookie free agent out of Kent State played his first two collegiate seasons at Northwest Mississippi community college after playing WR, safety and KR in high school.  Topped 100 yards receiving twice in 2021 against Iowa and Miami (OH), picking up exactly 138 yards in each contest.  In all, the 6′ 2" 193 Abram posted 699 yards on 47 receptions.
Jets UDFA WR Keshunn Abram had the only TD of the day for Kent State vs Iowa and it was a beauty. pic.twitter.com/4JWuhUKauh

— Glenn Naughton (@AceFan23) May 1, 2022
Adams, Tony – S – 22: Another undrafted free agent, Adams is a physical safety who racked up a career high 63 tackles last season at Illinois.  Also spent time at cornerback for Illinois where he became the first true freshman to start in that spot since 2006.  Posted a career best in passes defended in 2021 with five.  His chances of making the team will be aided a great deal if the Jets feel he can offer anything at all at corner as well as safety.
Anae, Bradley – DE – 50: A fifth-round draft choice (179th overall) of the Dallas Cowboys in 2020.  The former Utah product showed good get-off in college but has yet to find his way to the quarterback in 11 pro games.  His 30 career sacks set a Utah record.  Now the Jets get a chance to see if they can get something out of Anae but he'll have a long way to go to crack this D-line.
Bawden, Nick – FB – 48: Added as a free agent last September, Bawden appeared in nine games at fullback and has little competition this season if the Jets look to carry one again.  Was a seventh-round draft choice of the Detroit Lions in 2019.  Was a 3-star recruit at quarterback out of high school.
Becton, Mekhi – OT – 77: The massive offensive tackle is looking to bounce back after missing all of 2021 due to injury.  He'll be fighting for his old job at left tackle but may end up on the right side when all is said and done.  The polarizing lineman flashed elite potential two seasons ago.
Berrios, Braxton – WR – 10: Berrios finds himself in an interesting situation as the season approaches.  His chemistry with Zach Wilson developed rapidly after the QB was drafted and it continued late in to last season.  However, with the addition of several pass catchers this off-season, the number of targets Berrios sees could drop in 2022.  However, if the offense plays at a higher level, this would mean more reps for the group and could keep his targets up.
Black, Tarik – WR – 3: Added to the practice squad in December of last season, Black ended up seeing a handful of reps as the year came to a close and the receiver position was decimated by injury.  A former Texas Longhorn and Michigan Wolverine, the 6′ 3" Black produced just 747 yards and 2 touchdowns in four college seasons.  Black battled foot and leg injuries during his time in college.
Cager, Lawrence – TE – 81: The former Jets undrafted free agent receiver gets another go-around with the team.  Cager has reportedly transformed his body to get below 8% body fat as he transitions to tight end.  Multiple reports proclaimed Cager the star of the off-season program.  Has always had very strong hands and is a long-limbed target.  Tight end may be a good fit, but finding a spot on the roster will be tough.
Carter, Michael – RB – 32: A second-year pro at running back, Carter has a chance to excel with the Jets improved offensive line.  Carter's ability to catch the ball out of the backfield and pick up the blitz make him an three-down back but his size will limit the number of carries he sees as a pro.
Carter II, Michael – CB – 30: A pleasant surprise at nickel corner last season, Carter has given fans high hopes at an increasingly important position on defense.  The fifth-round pick appeared in 15 games as part of a rookie class with limitless potential in 2021.
Charles, Irvin – WR – 82: Charles is the biggest mystery on the roster at this point.  The former Penn State product saw just a few games at College Station before being dismissed.  He then played at little known IUP (Indiana University of Pennsylvania).  Little is available in terms of game footage for the wideout.  Charles was a four-star prospect according to Rivals coming out of Paul VI HS.  The 6′ 4" Charles shows surprising speed and will likely compete with Keshunn Abram for a playing time.
Jets UDFA WR Irvin Charles with his only big plat at @PennStateFball before being dismissed. What jumps out most is the amount of space he creates between himself and chasing defenders. The guy can definitely move for a big guy. pic.twitter.com/jvRIJPnP40

— Glenn Naughton (@AceFan23) May 18, 2022
Clemons, Michael – Edge – 72: A key piece moving forward as the Jets look to bolster their pass rush.  The rookie defender looked dominant at times at Texas A&M and should see plenty of action as a rookie.  His ridiculously long arms (34 7/8") should help him a great deal in disrupting opposing quarterbacks.
Coleman, Tevin – RB – 23: Coleman battled some injuries in 2021 which limited his snap count and appeared to have him hindered early on.  As the season progressed, there was a bit more pep in his step and his production reflected that as he topped 4 yards per carry just twice in his first six games.  Over his final five games he hit that mark four times.  He'll have his work cut out for him come training camp.  The additions of Breece Hall and undrafted free agent Zonovan Knight could get in  his way.
Conklin, Tyler – TE – 83: Conlin may not have been the first tight end the Jets signed this off-season, but before all is said and done we expect him to be no. 1 on the depth chart.  His presence, along with CJ Uzomah and Jeremy Ruckert make the tight end room one of the most improved groups on the roster.
With TE being such a big need, Jets should kick the tires on Minnesota TE Tyler Conklin. Played well when given a shot this season. Tough to say just how good he is here as he overwhelms an undersized Seahawks linebacker in space. pic.twitter.com/I5zQsAbb1f

— Glenn Naughton (@AceFan23) March 13, 2022
Curry, Vinny – DE – 99: Probably more of a mentor/coach that impactful player at this point in  his career.  Curry has topped 4 sacks just twice in his nine year career but is immensely respected by coaches and teammates.  With such a deep D-line, can Curry do enough to warrant a roster spot at 34-years-old?  If he does, it would be a heck of a story after sitting out last season with a rare blood disorder.
Davis, Ashtyn – S – 21: Another Joe Douglas draft pick who enters year three with some question marks.  The Jets had hoped his elite athleticism and sub 4.4 40 would have led to more results on game day than we've seen.  However, Davis did end the season trending upward.  All four of his passes defended and both of his interceptions came in the second half of the season.  The former track and field star who walked on at Cal will be tested in 2022 as the Jets added more talent for Davis to compete with for playing time.
Davis, Corey – WR – 84: Everything was going great for Corey Davis as he entered free agency last season.  He was catching more passes.  He was picking up more yards.  He was scoring more touchdowns.  Then he signed with the Jets.   After averaging one drop per 26 targets with the Titans, he fumbled twice on just 34 targets in 2021.  And after fumbling just 4 times over his first four seasons, he had two last year.  The answer?  It was an aberration.  Look for a big bounce back season from Davis.
Dunn, Isaiah – CB – 27: A training camp favorite last year, Dunn will have a tougher run this season.  With a depleted cornerback room in 2021, Dunn managed to make the 53 but saw little action.  With the additions of DJ Reed and Sauce Gardner, things just got more crowded.
Echols, Brandin – CB – 26: After just one pro season, Echols looks to be a great value pick by Joe Douglas.  The sixth-rounder (200th overall) started 14 games, intercepted two passes and had 9 pass break-ups.
Edoga, Chuma – OT – 70: One of the last remaining draft choices of Mike Maccagnan, Edoga has never managed to crack the starting line-up but has been asked to line up at both tackle spots in a pinch.  His versatility bring value, but the addition of Max Mitchell puts his long-term future with the team in doubt.
Fant, George – OT – 76: One of the best free agent signings of the Joe Douglas era.  Fant has started at both tackle spots and did an outstanding job on the left side in 2021.  He'll look to win the same spot back as he hopes to land a contract extension.
Feeney, Dan – OL – 67: Feeney was a bit of an anomaly last year.  He looked like a doormat in the pre-season but cleaned things up and held his own when called upon late in the season.  He'll look to add veteran depth once again this year.
Ferguson, Parker – OT – 68: The Air Force Academy product spent last season on IR after signing as an UDFA.  May get a look at guard with the Jets but tops out as a likely practice squad candidate this season.
Flacco, Joe – QB – 19: The veteran signal caller gives Zach Wilson a voice in the QB room who has "been there, done that".  Flacco also performed well while under center last year.
Franklin-Myers, John – DL – 91: Expect big things from Franklin-Myers this season.  Adding multiple edge rushers should mean more time on the interior for Myers which is where he does his best work.  While his sack numbers dipped after singing his extension last season, there was no dip in effort and he continued to disrupt opposing QB's.  With an improved secondary, JFM could break out.
Gardner, Sauce – CB – 1: The number 4 overall pick will look to showcase all of what he has to offer from the second the Jets hit the practice field.  As always, plenty of anticipation surrounds the top 5 selection.
Guidry, Javelin – CB – 40: Arguably the fastest man on the roster, Guidry has carved out a nice role for himself on the 53.  He has been used both inside and outside as well as on special teams.
Hall, Breece – RB – 20: Perhaps the most physically gifted runner the Jets have had on their roster in decades.  Will it translate on Sundays? Jets fans sure hope so.
A big play waiting to happen. Iowa State running back Breece Hall is the top back in this year's class. pic.twitter.com/yYEMAnOk2J

— Glenn Naughton (@AceFan23) April 29, 2022
Hall, Bryce – CB – 37: Tough offseason for Hall who goes from potential CB1 to CB3.  Still a talented player who should see a fair number of reps in today's pass happy NFL.
Hardee, Justin – CB – 34: One of the best special teams players in the NFL, Hardee is fun to watch and safe on the 53.
Harris, Marcell – LB – 36: A converted safety, Harris joins Robert Saleh after playing under him in San Francisco.  Harris has appeared in 52 career games (20 starts), picking up 155 tackles, 1 sack, 9 passes defended and 1 interception.
Hennessy, Thomas – LS – 42: You know you've got a good long snapper when he hangs around and you never hear his name.  This has been the case with Hennessy since landing with the Jets in 2017.
Herbig, Nate – OL – 71: A potential coup for the Jets, Herbig was snatched up off waivers from the Eagles.  The O-lineman has started 17 games along the interior and impressed in doing so.
Nate Herbig: 77.5 career grade when playing at Right Guard. 7th highest among all RG's since 2020👀 pic.twitter.com/xZxZ0bCd2Q

— PFF NY Jets (@PFF_Jets) June 21, 2022
Hermanns, Grant – OT – 63: Another undrafted free agent offensive tackle who hung around after last season.  The Purdue product spent the season on the team's practice squad and will compete for a spot again in 2022.
Huff, Byrce – Edge – 47: Time for Huff to show what he can do.  Another great story as an UDFA who stuck two seasons ago, Huff has had some very impressive moments as a Jet but hasn't been able to get to the QB often enough.  With the aforementioned improved secondary, the hope is that Huff can capitalize on what has been an very good win rate.
Jackson, Calvin – WR – 9: The "Last Chance U" player gets his first chance to show what he can do as a pro.  There will be plenty of competition at wide receiver and Jackson has some quality traits.  Will it be enough to help him stick?  Practice squad is his most likely destination.  If Jackson can be even half of what his cousin Marquise Brown has become, Jets fans would be thrilled.  Jackson's father also played DB at Auburn and spent six years with the Miami Dolphins.
Johnson, Jermaine – Edge – 52: Jets fans were elated when the team traded up in to the back half of the first round to draft a player who many felt was a top 2 or 3 edge rusher in this class.  Johnson has a variety of moves to work with and as another star of "Last Chance U", is as hungry as any rookie you'll find.
Johnson, Ty – RB – 25: Johnson's frame and speed make him a good fit for Mike LaFleur's offense.  Only problem for Johnson is the additions of Breece Hall and Zonovan Knight.  There should be plenty of competition at running back this season.
Joyner, Lamarcus – S – 29: Joyner returns after a full season on injured reserve in 2021.  The Jets clearly see him as a fit or they wouldn't have rolled the dice on a second contract with the safety turned cornerback turned safety again.
Kelly, Derrick – OL – 62: A Florida State product who has spent time with the Saints and Giants, Kelly comes in as a veteran tryout player who will look to earn a spot as a swing tackle.
Knight, Zonovan – RB – 35: Knight was a player many predicted would be taken in this years draft.  However, the Jets snapped him up when he went undrafted.  A three down back who can run, catch and block, Knight has a shot to hang around.  Knight was remarkably consistent in college, averaging 5.5, 5.5 and 5.4 yards per carry in three seasons at NC State.  Knight also brings value as a return man.
@nyjets are likely to add a running back via draft and getting one who can catch and run is essential in this offense. One guy who did it well when given the chance was @PackFootball RB Zonovan Knight. pic.twitter.com/o9pVSdpFTU

— Glenn Naughton (@AceFan23) April 3, 2022
Lawson, Carl – Edge – 58: Lawson gets ready to return after missing all of last season with a ruptured achilles.  Hope remain high that Lawson will give the Jets a true presence off the edge.
Mann, Braden – P – 7: Mann saw his average yards per punt jump from 43.9 as a rookie to 45.7 in year two.  Will he ever approach the 48.9 yards he averaged in college?
Marshall, Jonathan – DL – 96: 2021 was largely a red shirt season for Marshall who played only a handful of snaps.  After sitting back to learn for a season, 2022 should be a chance for Marshall to show what he can do.  His incredible athleticism makes him an intriguing player to watch.
Martin, Jacob – DL – 54: Brother of former Jets linebacker Josh Martin, Jacob comes over from the Houston Texans where he looked to be an ascending player.  He'll join what has suddenly become what appears to be a pretty deep group.
McDermott, Conor – OT – 69: The veteran lineman returns for a third season with the Jets as a potential depth piece at offensive tackle.
McGovern, Connor – C – 60: McGovern enters his third season as a Jet after playing at a much higher level in 2021 than in 2020.  He's not going to make any All-Pro teams, but still a quality starter at the position.
Mims, Denzel – WR – 11: A guy who has become an afterthought in the eyes of many fans following the addition of Garrett Wilson.  No player on the roster had a worse on-field experience than Mims in 2021.  He rarely saw the field and when he did it seemed he had more gaffes than receptions.  This is a big year for Mims who has earned plenty of praise from Jets coaches after getting himself in great shape for the season.
Mitchell, Max – OT – 61: The rookie was the 111th overall pick in the draft and brings youth and versatility.  While at Louisiana, Mitchell played both tackle spots and some guard as well.  PFF named him the sunbelt player of the year after giving up just 13 pressures on 859 snaps.  Also earned All-American and All-Conference honors in 2021.
Moffatt, Jovante – S – 38: The little-used Moffatt has appeared in just 14 career games (no starts) with the Cleveland Browns, picking up 10 tackles.  Played more games than any other player at Middle Tennessee State (55) and was fifth all-time in school history with 313 tackles.
Montgomery, DJ – WR – 6: A familiar face returns in Montgomery who seems to occupy the 54th spot on the Jets roster.  The team has seen him spend time on the active roster and practice squad before releasing him.  They then picked him up once again to compete with the other receivers on the roster.  A burner who has not yet found his way.
Moore, Elijah – WR – 8: Should be the Jets WR1 when all is said and done.  Can get open from the slot and on the boundary.  Just needs the ball to be delivered on time and on target.  If that happens, Moore's potential is limitless.
Elijah Moore over the final six games of his rookie season:

Rec: 34
Yds: 459
YPG: 76
TD: 5

That's a 1,200+ yd and 10+ TD season extrapolated over 17 games.

No reason he can't be WR1.

— Glenn Naughton (@AceFan23) January 10, 2022
Mosley, CJ – LB – 57: Mosley returns after a bounce back season in 2021 that saw him pick up a career-high 168 tackles.  He'll continue to be a leader on defense but his time remaining with the team may be short.
Nacua, Kai – S – 46: A special teams player out of BYU, Nacua has started just 3 pro games and picked up 16 tackles.  It's unlikely we'll see him much after camp wraps up.
Nasirildeen, Hamsah – LB – 45: We already mentioned Denzel Mims having arguably the worst season of any Jet in 2021.  If we were goin to pick a runner-up, it would be Nasirildeen.  Not to be too hard on the rookie, but he went from being a starting LB from training camp all the way up to the season opener.  By week two, he was benched for the rest of the season outside of special teams and a few reps on defense in the season's final weeks.  The converted safety will be looking to bounce back from a nightmare rookie campaign.
Parks, Will – S – 39: Parks didn't see a lot of action as a late season addition in 2021 but he clearly made an impression on coaches and teammates.  Parks played well in his limited reps and was voted by teammates as a position captain during OTA's.  It doesn't guarantee anything, but it shows how quickly teammates came to respect Parks.  Parks has spent time with the Broncos, Dolphins and Eagles.
Perine, La'Mical – RB – 22: Perine is in a tough spot through no fault of his own.  Drafted prior to the arrival of Robert Saleh, he was supposed to play in a much different style of offense than the one the Jets now run.  He didn't see much of the field last season and is unlikely to make the team this year.  He may still pan out in the league, but it won't be as a Jet.
Phillips, Del'Shawn – LB – 43: Phillips didn't look bad when he found the filed in 2021 and has a chance to make this roster again with linebacker being one of it's critically undermanned groups.  Phillips picked up 31 tackles and a sack in 2021.  Captain of his defense as a senior at Illinois in 2018, Phillips led the team with 4 interceptions that season.
Check on the hands on Jets longshot linebacker Del'Shawn Phillips from his college days in Illinois. Has spent time with the Bills and Falcons before coming to the Jets. pic.twitter.com/a8PY4rdBu5

— Glenn Naughton (@AceFan23) July 20, 2021
Pierschbacher, Ross – OL – 66: A project O-lineman that you love to have on your roster.  Played at a very high level for Alabama at center and guard.  Was part of an offensive line that allowed just 1 sack per game in 2018.
Pineiro, Eddy – PK – 15: The Jets hope they finally have an answer at kicker in either Pineiro or Greg Zurlein.  Pineiro was a perfect 8-for-8 on FG attempts as a Jet last season and hit 9 of 10 extra points.
Pinnock, Jason – S/CB – 41: Pinnock was drafted as a cornerback out of Pitt last season but impressed coaches with his play at safety late last season.  That led to Pinnock seeing increased time at safety during the off-season program.  Pinnock has a chance to be a very valuable player for this defense.
Rankins, Sheldon – DT – 98: Rankins is the type of player who can drive you a little bit crazy.  He'll have stretches or even bursts where he looks absolutely unlockable.  Then he'll follow that up by seeming to disappear for long stretches of time.
Rashed, Hamilcar – Edge – 55: Another UDFA who stuck last year but appeared in just one game.  Rashed looked primed to be a premium pick after amassing 16.5 sacks and 34 tackles for loss from 2018-2019 at Oregon State.  However, he would go without any sacks and just 2 tackles for loss in his final collegiate season.
Reed, DJ – CB – 4: A free agent addition from the Seattle Seahawks where he had plenty of work to do at corner without much help from the safety position.  Reed hopes that will change in 2022 as he joins a revamped Jets secondary that includes Jordan Whitehead, Joyner, Davis and Pinnock on the back end.
Riley, Elijah – S – 33: Riley did a decent job at safety for the Jets last season as the team's safety room was depleted by injury.  However, multiple additions and a healthy group would make it unlikely he hangs around.
Ruckert, Jeremy – TE – 89: Already a fan favorite due to his Long Island roots, it turns our Ruckert can also be a heck of a football player and not just a local kid who made good.  The Ohio State product's college highlights consist of several eye-popping catches.  At a different college we likely see a ton of production and an earlier draft slot for Ruckert.
Even with two tight ends signed this off-season, the Jets picking up Jeremy Ruckert is a solid move. Gives them a young player who can play all 3 downs and have an impact in run and pass game. pic.twitter.com/NhOot2LMxh

— Glenn Naughton (@AceFan23) April 30, 2022
Samia, Dru – OL – 65: Former Oklahoma product who spent time with the Vikings but has little chance of making the Jets roster unless the new offense sees him become a much better player than he was for Minnesota.
Senat, Greg – OT – 64: Senat may not have the name recognition that Jeremy Ruckert has, but he's another local product who was born in Queens.  A sixth-round draft choice for Baltimore, Senat has spent time with the Ravens, Chiefs, Browns, Cowboys and Colts.  A college basketball player who transitioned to football for just two seasons at Wagner, Senat's athleticism surely piqued the interest of Jets coaches.
Shepherd, Nathan – DT – 97: Shepherd returns on a one-year deal after hitting free agency.  The Jets likely believe Shepherd's struggles with penalties in 2021 were an outlier as it was never an issue prior to the season.
Sherwood, Jamien – LB – 44: Like Nasirildeen, the Jets drafted Sherwood last season with the intention of moving him from safety to linebacker.  Unfortunately for Sherwood, he was injured in his first pro start and would spend the rest of the year on IR.  With so little depth at linebacker, Sherwood still has a chance to see the field this season.
Smart, Tanzel – DL – 79: Smart spent last season on the practice squad but we thought he stood out as one of the best players on the roster during the pre-season.  It's going to be interesting to see how the Jets proceed with a player who showed excellent get off and motor during his brief look in 2021.
Smith, Jeff – WR – 16: Despite adding several receivers in front of him on the roster, we like Smith's chances to make the 53 man roster again in 2022.  The speedster was named by several outlets as having a very good offseason and he has managed to impress multiple head coaches in his short time as a Jet.
Jets had some opportunities to hit on some big plays with Jeff Smith last year but QB's were just off the mark. pic.twitter.com/8C79sjJ8kc

— Glenn Naughton (@AceFan23) June 13, 2021
Thomas, DQ – LB – 53: An undrafted free agent who earned a contract with the team, Thomas will have plenty to prove as a small school product (Middle Tennessee State) looking to find his way on to a roster.  On game days he looks to play the run much better than the pass.
Thomas, Solomon – DL – 94: Another former San Francisco 49er, Thomas signed with the Jets as a free agent as he looks to reach some of the potential that made him the 3rd overall pick back in 2017.  His 3.5 sacks last year with the Raiders were a career high.
Tomlinson, Laken – LG – 78: The Jets signed Tomlinson and planned to move him to right guard but decided against it.  Now he keeps his familiar spot on the line and the Jets hope it helps him maintain the elite level of play he has achieved in year's past.  Tomlinson's addition is huge for an O-line that will look to finally get its act together and keep the quarterback upright.
Uzomah, CJ – TE – 87: Uzomah gives Zach Wilson another big tight end (6′ 5") in the middle of the field to be a part of what the Jets hope will be a potent trio with Uzomah, Conklin and Ruckert.
Vera-Tucker, Alijah – RG – 75: Hoping to build off of an impressive rookie campaign, AVT will make the move to right guard where he'll hope to make further strides toward hitting his potential as a possible All-Pro lineman.
Ward, Tim – DE – 51: A rotational, long-limbed defensive end, Ward is going to have his work cut out for him if he hopes to make this roster again.  The return of Lawson, the signing of Martin and drafting of Johnson and Clemons make it tough sledding for Ward.
Wesco, Trevon – TE – 85: One of the few remaining Mike Maccagnan draft choices, Wesco's best shot to last another year is to blow the coaches away with his work at fullback and blocking tight end.
White, Javin – LB – 9: Stop me if you've heard this before, but White is a former college safety who the Jets plan to give a look at linebacker.  The list of players in the situation seems to be ever-growing, but White  might be one of the better cover guys  in the group.  He's a long shot, but don't count him out.
White, Mike – QB – 5: White will likely be the team's third QB behind Zach Wilson and Joe Flacco.  While not every team carries 3 QB's, it makes sense to do it if your QB2/mentor is on his last legs.  Should Flacco step aside after this season, White slides in as QB2.
Whitehead, Jordan – S – 6: You may not always think of a new player in the secondary dramatically improving your run defense but that's what Jets fans should expect from Whitehead.  He's a sniper when coming downhill against the run and should also help fix a broken unit against the screen game.
Just finished up watching 4 TB games on all 22 and I think Jordan Whitehead has a chance to finally help fix a Jets defense that hasn't been able to defend a screen pass for much of the past 30 years. Reads the offense well, gets through blockers and a GREAT tackler one on one. pic.twitter.com/e8HfeQpWIR

— Glenn Naughton (@AceFan23) March 16, 2022
Wildgoose, Rachad – CB – 31: Hands down best name on the roster.  Chances of making it?  Not as good.  In all seriousness though, the former Wisconsin Badger played the boundary and slot in college.  If the Jets feel he can do a bit of both as a pro, he would have a much better chance.
Williams, Quincy – LB – 56: Williams was a last-second addition last season and ended up winning over a Jets coaching staff that opted not to use a draft pick on a linebacker with Williams expected to come back in and start.
Williams, Quinnen – DT – 95: One of the most talented players on the roster, Williams has to be all about consistency in 2022 if he wants to see a long-term commitment from the Jets.
Wilson, Garrett – WR – 17: Watch Garrett Wilson in college and you'll see a dynamic young receiver with great hands and body control.  He has a chance to pair with Moore to give the Jets their best 1-2 punch since the days of Wesley Walker and Al Toon.
Wilson, Zach – QB – 2: No excuses for Wilson this season.  The OL has been beefed up.  The receiver room is better.  The tight end group is A LOT better.  The running back room dynamic and versatile.  Much improvement from Wilson will be needed if panic among Jets fans is to be avoided.
Yeboah, Kenny – TE – 88: We liked Yeboah quite a bit coming out last year and were happy to see him come in and make the roster.  Can he do that again with this group?
Zuerlein, Greg – K – 14: Zuerlein will compete with Pineiro for the kicking job.  He's got the power, but will the accuracy be enough?
Zuniga, Jabari – DL – 92: Zuniga has been largely invisible since his arrival two seasons ago.  He has logged just 8 tackles and 1 sack through two seasons.  It's hard to imagine Zuinga making the roster this season unless he comes in looking like a completely different (and obviously much better) player.
Videos
New York Jets OTA Presser Takeaways, Aaron Rodgers' Impact and Summer Delusion