Aaron Rodgers Ready to Lead Jets With Camp Looming; Full 90-Man Roster Rundown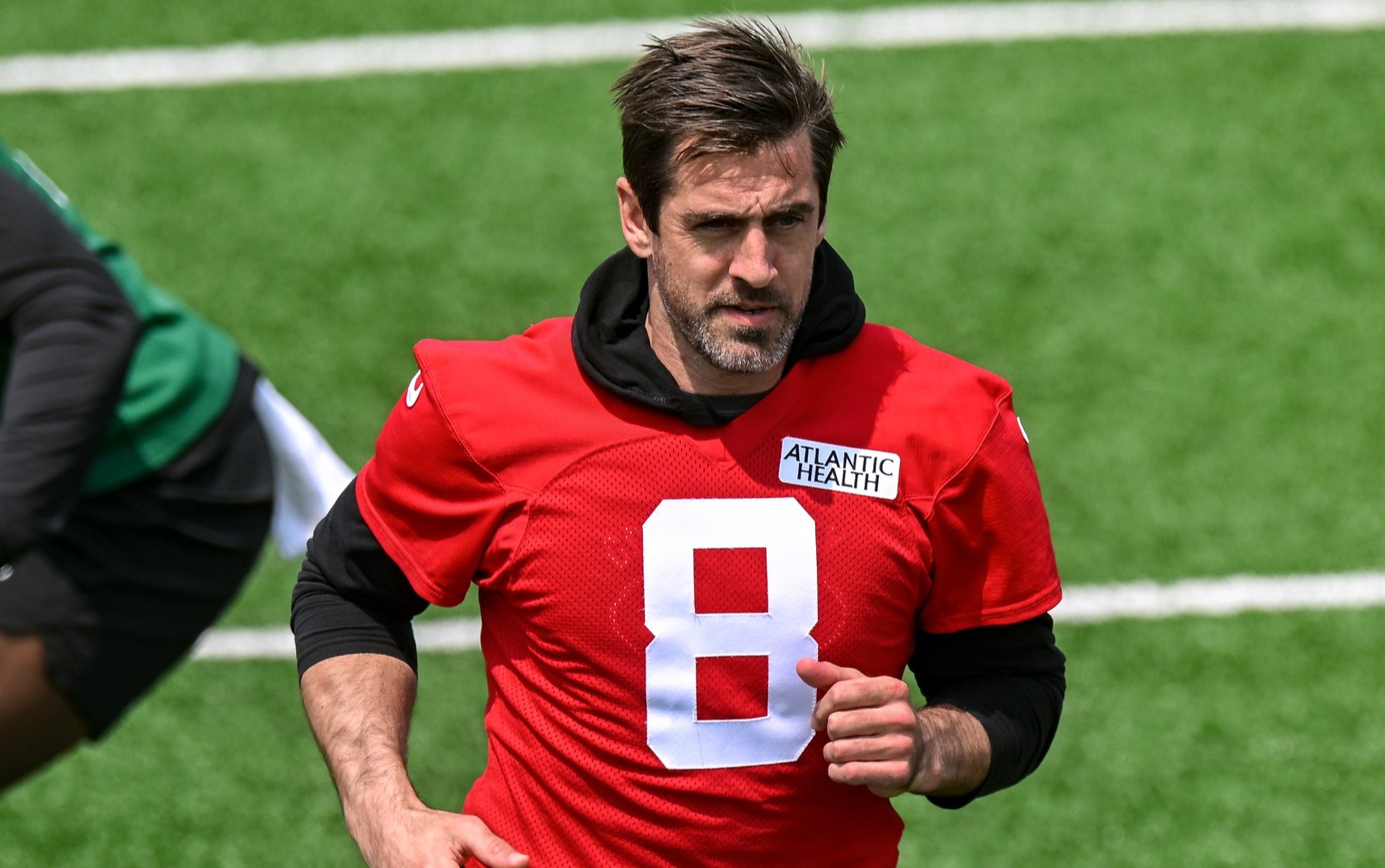 With Aaron Rodgers ready to lead his New York Jets at 1 Jets Drive in just a few weeks, Gang Green will have plenty of star power.  But as you know, not everyone is a star in the NFL.  And when your roster is at 90, there are probably a handful of players plenty of fans have never heard of.  Well, we're here to help with a full rundown of the Jets 90-man roster with a few words to say on each player.
RB Israel Abanikanda – 25: An explosive rookie chosen in the fifth round (143rd overall) of this year's draft, Abanikanda gives the Jets another home run threat out of the backfield to pair with Breece Hall.
Israel Abanikanda is more than just a guy who hits the hole and goes. Can run inside, outside and make plays after the catch. Not an easy guy for opposing defenses to bring down. pic.twitter.com/y6EgS60gDF

— Glenn Naughton (@JetsPicks) January 21, 2023
S Tony Adams – 22: An undrafted free agent out of Illinois last season, Adams impressed and worked his way from UDFA to the active roster late in the season.  He impressed enough in limited action that the Jets look to be expecting a lot out of him in year two.
DE Deslin Alexandre – 98: Alexandre one of three Pitt products out added by the Jets this offseason as he joins Abanikanda and rookie tackle Carter Warren.  Alexandre was quality defender on a deep Pitt D-Line who will have a hell of a time making the team's 53 man roster, but a spot on the practice squad isn't out of the question.
Have been raving about the players @Pitt_FB has up front since last season. Calijah Kancey (8), Deslin Alexandre (5) and SirVocea Dennis (7) are all going to play on Sundays and could see more than one of them becoming impact players. Jail break run stuff here vs Tennessee. pic.twitter.com/loKHe7DIxc

— Glenn Naughton (@JetsPicks) January 27, 2023
S Adrian Amos: The Jets added Amos after losing safety Chuck Clark for the season with a torn ACL.  The veteran safety is entering his ninth pro season after splitting his first eight years between the Bears and Packers.  Known for his cover skills, Amos saw a dropoff last season with the Packers and is hoping to bounce back with the Jets.
LB Zaire Barnes – 53: The rookie linebacker out of Western Michigan showed good versatility and a nose for the ball in college.  A versatile player who shows some ability both in the box and in coverage with quick twitch reactions once he diagnoses the play.
A pair of @nyjets rookies going head-to-head.

Pass is bobbled by running back Israel Abanikanda who still has a chance to make the catch before a quick trigger from Zaire Barnes who shoots past the TE and takes Abanikanda's legs out from under him. pic.twitter.com/0jjhprnI5t

— Glenn Naughton (@JNRadio_Glenn) May 1, 2023
FB Nick Bawden – 48: Given the amount of talent on the current roster, Bawden is going to have a hard time finding a way to stick.  He's a quality player but one whose shoes can be filled by a player like Jeremy Ruckert when the Jets are looking for a blocker out of the backfield.
OT Mekhi Becton – 77: Becton's weight and injury histories are well-documented at this point but he has spent this off-season getting himself in a good place both mentally and physically.  A big bounce back season from the former first-round pick would be huge for Gang Green.  Expect Becton to work at right tackle this season if both he and Duane Brown are healthy.
S Jarrick Bernard-Converse 29: Chosen with the 204th pick in round six of the draft, Bernard-Converse has college experience at both safety and corner but will work the latter for Jeff Ulbrich's defense.  Bernard-Converse has the speed and length to be disruptive against the pass if he's a quick study in the film room.
QB Tim Boyle – 7: If Boyle is on the roster come week 1, that won't be very good news for the Jets.  It would mean that Boyle either beat out Zach Wilson, or the Jets are going with Wilson as their number 2 quarterback.  Neither is a desirable scenario.
OT Duane Brown – 76: The veteran tackle returns on the left side for another season after ending 2022 on injured reserve.  Brown will turn 38 just before the season kicks off, meaning his health will be a lingering concern.
WR Jason Brownlee – 16: Brownlee earned high praise from Rodgers following training camp and if you watched him play in Southern Miss you'd understand why.  Brownlee shows excellent hands, the ability to win in traffic and while he lacks elite speed, he's got enough to make plays.
Watch a few @SouthernMissFB games and you're bound to see WR Jason Brownlee make at least one highlight reel grab. Big play receiver who posted 16 TD's over past two seasons while averaging 15.9 YPC over the course of his college career. pic.twitter.com/LjxZ11rNwj

— Glenn Naughton (@JetsPicks) January 19, 2023
OT Yodny Cajuste – 70: Cajuste isn't a player who can be relied upon to be any more than a camp body at this point.  The big tackle was drafted in 2019 after battling serious injuries in college.  He would then miss each of his first two pro seasons due to various injuries.  Cajuste finally found his way on to the field in 2021 and appeared in just 7 games.  Through his first four pro seasons, his injuries have limited Cajuste to 5 starts in four seasons.
RB Michael Carter – 32: After an impressive rookie season that saw him average 4.3 yards per carry en route to 639 yards rushing, Carter took a step back in 2022 at 3.5 YPC and just 4-2 yards.  With the addition of Abanikanda, the return of Breece Hall and semi-emergence of Bam Knight, the running back has his work cut out for him.
CB Michael Carter II – 30: Quite possibly the most underrated player on the Jets roster, Carter provides some of the best nickel corner play in the NFL.  As part of a trio that includes himself, Sauce Gardner and DJ Reed, the Jets should have one of the stingiest groups of corners in the league.
WR Irv Charles – 19: Charles was added as an undrafted free agent last off-season but didn't see any time as a rookie.  The 6′ 4" receiver showed impressive speed in college.  After a year of development on the practice squad in 2022, he'll be one of the more interesting players to keep an eye on this pre-season.
LB Claudin Cherelus – 41: Cherelus is one of three undrafted free agent linebackers currently on the roster.  Having played at such a small school (Alcorn State), there is very limited game action available to evaluate.  However, in what we have been able to get our hands on, the 'backer has a non-stop motor and looks like a player who may be able to make an early impression on special teams.
@nyjets UDFA LBer Claudin Cherelus looked like an absolute monster in this game vs Prairie View. Logged 15 tackles (8 solo), 1.5 TFL's and 1 sack. The @AlcornStateFB product is one of many 'backers the Jets added from the UDFA pool. pic.twitter.com/uXYJChCOlr

— Glenn Naughton (@JNRadio_Glenn) May 1, 2023
S Chuck Clark – 23: Clark signed a one-year deal with the Jets before tearing his ACL and will be out for the season.  The Jets may opt to bring him back on a one-year deal again next season, but for now Clark is on the back burner.
DL Michael Clemons – 72: Clemons impressed in limited action as a rookie in 2022 and is now looking at an expanded role.  After adding 20 pounds to his frame, Clemons is going to get more action along the Jets interior according to defensive coordinator Jeff Ulbrich.
WR Randall Cobb – 18: Cobb has gone over 500 yards just once in the past five seasons but gives Rodgers a hand picked former teammate with who he already has plenty of chemistry.  While not the player he once was, Cobb is still a reliable and familiar pair of hands for Rodgers to work with.
OL Trystan Colon – 65: A backup interior lineman added through free agency, Colon has played both center and guard for the Ravens through his first three pro seasons.  Colon has just 3 career starts.
TE Tyler Conklin – 83: Following an up and down debut season in which he was plagued by drops and fumbles early on, Conklin hopes to return to his 2021 form when he had just 1 drop and 1 fumble with the Vikings.
S Ashtyn Davis – 21: Entering his third pro season, the two things Davis has going for him is the Jets lack of depth at safety and his status as a top 100 pick.  If the DB doesn't snow significant improvement, that shouldn't be enough for him to keep around.
WR Corey Davis – 84: Having battled injuries though his first two seasons with the Jets, Davis may be asked to take a pay cut prior to the start of the season but still has plenty of value.  A boundary receiver who saw 28 of his 32 receptions go for first downs last season.  Even still, expect the Jets to ask Davis to take a pay cut prior to the start of the season.
S Trey Dean – 38: Dean was believed by many to be a draftable prospect coming out of Florida last season but the safety returned to college for one more season.  After a poor showing at the combine in running a 4.75 40, Dean went undrafted and landed with the Jets.  Given their lack of depth at the position and Dean now being healthy after being dinged up for pars of last year, we like his chances to make the roster or earn a practice squad spot.
RB Travis Dye – 35: The Jets have plenty of options at running back but don't count out the undrafted Dye.  A former running back for Oregon and USC, Dye had some eye popping production in college and is a solid all-around back.
While at Oregon and USC, @nyjets UDFA RB Travis Dye showed outstanding vision in working his way through traffic and into the end zone. Put up 25 rushing TD's over his final two collegiate seasons. pic.twitter.com/jJxHs1Z3kg

— Glenn Naughton (@JNRadio_Glenn) May 8, 2023
CB Brandin Echols – 26: Echols looks to be one of the best value picks of the Joe Douglas era.  Taken in the sixth round (200th overall) of the 2021 draft, Echols is a quality depth corner who has had some good moments as both a starter and backup.
DL John Franklin-Myers – 91: Franklin-Myers remains one of the most important players on the defensive side of the ball for Gang Green.  The versatile lineman makes plays both inside and out and looks to join Michael Clemons on at DT a bit more this season.
CB Sauce Gardner – 1: The reigning All-Pro defensive rookie of the year, Gardner looks to build on what was one of the best rookie seasons for any cornerback in NFL history.
TE Izaiah Gathings – 43: The Middle Tennessee State product caught the Jets attention during mini camp and earned himself a contract.  Making the move from wide receiver at MTSU, Gathings' pro day numbers would have been top five or ten among tight ends who tested in Indy.
Pro day numbers form new Jets TE Izaiah Gathings (converting from WR) and how they would have ranked at the combine.

40: 4.67 (7th)
10 yd split: 1.69 (14th)
Vert: 36'' (6th)
Broad: 10' 1'' (t-9th)
3-Cone: 7.11 (t-4th)
Shuttle: 4.26 (4th)
Bench: 19 (9th)

— Glenn Naughton (@JNRadio_Glenn) May 16, 2023
WR Xavier Gipson – 82: Gipson was another young receiver who heard his name mentioned by Aaron Rodgers as OTA's wrapped up.  A speedy slot receiver who also offers plenty as a return man, Gipson would have to contribute on special teams early on to steal a roster spot.
OL Chris Glaser – 64: Glaser has been on and off the Jets practice squad since last season so it would appear the team sees something they like.  But given the glut of interior lineman on the roster, hanging around won't be a walk in the park.  Glaser saw extensive action at both guard spots in college at Virginia.
CB Javelin Guidry – 40: The former Jet returns after a year away with the Las Vegas Raiders.  The former undrafted free agent stuck with the Jets out of Utah just a couple of seasons ago and now has a shot to play for Gang Green once again.  His blazing speed makes Guidry a potential asset on special teams while offering solid play at nickel.  While it has been on a limited basis, Guidry has also seen action on the boundary.
RB Breece Hall – 20: Hall looked primed to win offensive rookie of the year last season before a torn ACL ended his campaign prematurely.  Hall is reportedly doing well in coming back for the injury, but how much he'll have to offer early on remains to be seen.
CB Bryce Hall – 37: The Jets had high hopes for Hall who fell in the 2020 draft due to an injured ankle.  After starting seventeen games in 2021, Hall couldn't get on the field last season.  Could his days as a Jet be numbered?
LB Maalik Hall – 46: Another of the Jets three undrafted free agent linebackers, Hall played his college ball at Southeastern Oklahoma State where he logged 77 tackles and 8 sacks last season.
CB Justin Hardee – 34: Hardee remains one of the top special teams aces in the NFL after joining the Jets as a free agent two seasons ago.
WR Mecole Hardman – 6: Somewhat of a forgotten man this off-season, Hardman hasn't seen his name mentioned much in recent months but could be talked about quite a bit if all goes well this season.  One of the fastest receivers in the NFL, Hardman will look to avoid the "gimmick" label and establish himself as a more well rounded receiver.  With Aaron Rodgers under center, Hardman should put up career numbers if given a shot.
LS Thomas Hennessy – 42: Hennessy remains a steady and reliable long snapper whose name is rarely mentioned during the season which is aways a good thing.
Edge Bryce Huff – 47: Huff remains a fan favorite who does an excellent job in a very limited role.  An explosive edge rusher who will only see a handful of snaps per game, Huff makes it count.  One of the more efficient pass rushers in the league, Huff should generate some trade interest as the season approaches.
CB Craig James – 31: A little known corner out of Southern Illinois, James has played just a handful of NFL snaps with the Philadelphia Eagles before coming to the Jets.  A true longshot to make the roster.
DT Quinton Jefferson – 93: Jefferson was added to beef up the interior after losing Sheldon Rankins and Nathan Shepherd in free agency.  Pairing Jefferson with Quinnen Williams inside will give the Jets a pair of tackles who do a great job of harassing opposing quarterbacks.
TE EJ Jenkins – 49: An undrafted free agent out of Georgia Tech, the 6′ 6" Jenkins will look to make an impression at tight end.  The practice squad is likely Jenkins' best hope at this point.  Jenkins got a hefty $100,000 bonus to sign with the Jets.
Saw some great hands from Georgia Tech WR/TE EJ Jenkins this season who is reportedly signing with the @nyjets. pic.twitter.com/0QYEdixU6j

— Glenn Naughton (@JNRadio_Glenn) April 30, 2023
LB Caleb Johnson – 43: Johnson played his college ball at UCLA and Miami before going undrafted this offseason.  With the Jets being as thin as they are at linebacker, Johnson will hope to show more than the other undrafted linebackers brought in to camp.
Edge Jermaine Johnson – 52: After an impressive rookie campaign, Johnson enters his second season as part of an even more beefed up defensive line.  The former FSU product should see a bit more of the field in 2023 than he did as a rookie.
WR Jerome Kapp – 31: Kapp is another tryout player who earned a contract this offseason.  During his time at Kutztown he found the end zone 22 times.
RB Zonovan Knight – 27: Knight opened plenty of eyes over his first few pro games last season, racking up just under 300 yards from scrimmage through three games.  From that point on, as the offense fell apart as a whole, Knight was largely invisible.  With better offensive line play this season, Knight should be in the conversation for a roster spot.
TE Zach Kuntz – 81: An athletic freak and likely multi-year project, Kuntz will make the roster on a likely red shirt season.
OL Brent Laing – 63: A Minnesota-Duluth product, Laing can play multiple positions along the O-line and had an impressive week at the East/West Shrine Bowl.
Love hearing that former Lakeville North HS stud Brent Laing received an invite to the NFL Draft Combine. Played OL at Minnesota-Duluth — has to be rare for a Bulldog to participate at Combine. He had a great week at Shrine Bowl, has position flexibility. pic.twitter.com/pnBJrz3ps3

— Darren Wolfson (@DWolfsonKSTP) February 6, 2023
CB Derrick Langford – 36: Langford's size and physicality make him a candidate to get a look at safety at some point but the 6′ 3" Washington State product is currently listed as a corner.
Per previous tweet…Langford isn't the shy type when it comes to contact as you can see here in @WSUCougarFB on Fresno State 2022 meeting. https://t.co/yWGjfehVm3 pic.twitter.com/qD5zeKUxBx

— Glenn Naughton (@JNRadio_Glenn) July 5, 2023
Edge Carl Lawson – 58: Lawson will be two years removed from his ACL injury which has the high-priced edge rusher excited for the 2023 season.
WR Allen Lazard – 10: When it was clear that Aaron Rodgers was heading to the Jets, Allen Lazard reached out to Gang Green to come over from Green Bay as a free agent.  Not quite the player Corey Davis is, Lazard will still likely see more of the field given his history with Rodgers.  Seeing a large chunk of time in the slot isn't out of the question for Lazard.
WR TJ Luther – 85:  The 6′ 1" Gardner-Webb runs a 4.4 40 and was a high end kick returner in college.  Luther topped 1,000 yards in his final college season, going for 1,166 yards and 8 touchdowns.
DT Isaiah Mack – 97: An interior defensive lineman who has spent time with the Titans, Patriots and Ravens, Mack has appeared in 25 career games (1 start), logging 17 tackles and 2.5 sacks.
Edge Will McDonald IV – 99: The Jets first round pick in this year's draft, McDonald bring elite explosiveness and bend off the edge, giving the Jets and their fans hope in finally drafting an elite edge rusher for the first time since John Abraham.
C Connor McGovern – 60: McGovern returns to the Jets on a team friendly 1-year deal, giving the team an excellent backup center who also has experience at guard.  There's an outside chance of McGovern starting this season but expect rookie Joe Tippmann to win that job.
WR Denzel Mims – 11: Mims will likely be spending his final days as a Jet in the coming weeks if he's not traded before that.  Plenty of talent, poor fit whose concentration lapses have been maddening.  He'll get a shot with another team in another system and hope to show that his flashes as a rookie were no fluke.
OT Max Mitchell – 61: The offensive tackle outplayed his draft slot as a rookie last year before landing on IR with blood clots.  Once cleared to go, he'll compete at RT with Mekhi Becton.
CB Jimmy Moreland – 33: Moreland has appeared in 37 career games (10 starts) as a member of the Commanders and Texans but a roster spot with the Jets looks unlikely.
P Thomas Morstead – 5: Morstead is back after an outstanding season with the Dolphins in Miami.  The veteran punter should be an immediate and significant upgrade over the departed Braden Mann.
LB CJ Mosley – 57: Mosley earned plenty of accolades in 2022, but looked to be a liability in pass coverage later in the season.  Look for teams to exploit that early on this year before we see how the Jets adjust.
LB Hamsah Nasirildeen – 45: Another player who could be spending his final days as a Jet, Nasirildeen went from immediate starter as a rookie two years ago, to watching from the sidelines after just six quarters of football.  He hasn't really been seen since, having played just 7 snaps last year.
OT Adam Pankey – 62: Through five NFL seasons Pankey has appeared in just 9 games (1 start) and is unlikely to hang around with the Jets in 2023.
CB DJ Reed – 4: One of the best free agent signings the Jets have had in many years, Reed was a lockdown corner last season.  The Jets will need a repeat performance this season if they hope to make the post season.
QB Aaron Rodgers – 8: Jets fans anxiously away the Hall of Famer taking his first snaps under center in a game that matters.  A franchise altering player.
TE Jeremy Ruckert – 89: Ruckert saw virtually no action for much of last season before blowing up defenders as a blocker in week 17 loss to the Dolphins.  Expect and expanded role with far more production from Ruckert this season.
OL Wes Schweitzer – 71: A potential depth signing from the Washington Commanders, Schweitzer has experience at both guard and center.
OT Greg Senat – 64: Senat was a sixth-round pick of the Ravens back in 2018 but has played just a handful of NFL snaps which came with the Dallas Cowboys in 2020.
LB Jamien Sherwood – 44: Sherwood looked like a much improved player last season after making the switch from safety after college.  He should be CJ Mosley's primary backup and could log some real snaps this season should Mosley falter.
DT Tanzel Smart – 79: Smart has spent most of his time on the Jets practice squad over the past two seasons and was active for three games last season.  He'll be in the mix for a backup/practice squad spot again this year.
WR Diontae Spencer – 14: Primarily a return man as a pro, Spencer came and went last year as the Jets picked him up, let him go and then signed him again.  With several return men on the roster this season, Spencer's chances of sticking aren't good.
DL Marquiss Spencer – 51: A long shot defensive tackle who appeared in 1 game for the Denver Broncos in 2021, Spencer has reportedly had issues managing his weight.  Was a seventy round draft choice of of Mississippi State back in 2021.
QB Chris Streveler – 15: Streveler saw some game action last season and showed that while he may be an asset with the right package of plays, he simply does not have the arm to be an every down NFL QB.
LB Chazz Surratt – 55: Surratt is a dark horse to make the Jets roster.  Being as thin as they are at linebacker, there aren't many guys you can rule out.  But Surratt is particularly interesting as he moved from QB to LB in college and racked up over 200 tackles in his final two college seasons.  He has had time to adjust to the pro game and was activated last season before pulling a hamstring on kickoff.
WR Malik Taylor – 86: Another pass catcher who has some history, albeit limited, with Aaron Rodgers.  Taylor spent the last two seasons in Green Bay where he appeared in 25 contests, hauling in 7 balls for 80 yards and a touchdown.
DT Solomon Thomas – 94: Thomas returns as a rotational depth piece at defensive tackle.  Clearly a favorite of head coach Robert Saleh who also had Thomas in San Francisco with the 49ers.
C Joe Tippmann – 66: The rookie second round pick should win the starting job out of training camp or at the very worst, steal it at some point during the season.  Tippmann's ability to pull outside and hit moving targets should do wonders for the Jets offense.
@BadgerFootball center Joe Tippman gets two for the price of one as he pulls and picks up oncoming MLB and OLB to ensure a clear path around the left side.

Viewed by some as the top center in this class or no worse than second behind John Michael Schmitz. pic.twitter.com/hanCk152l9

— Glenn Naughton (@JetsPicks) April 10, 2023
LG Laken Tomlinson – 78: The high priced left guard will look to bounce back after a very disappointing debut season in Green and White.
OT Billy Turner – 54: Turner has a couple of very important fans at 1 Jets Drive in offensive coordinator Nathaniel Hackett and QB Aaron Rodgers.  That clearly won't hurt his chances in making the roster.
TE CJ Uzomah – 87: Uzomah isn't a player who is going to blow you away physically, but he's a steady player who looks to be an outstanding locker room presence.
OG Alijah Vera-Tucker – 75: Vera-Tucker returns from a torn triceps injury that ended his season prematurely as he looks to continue paving the way up front for Gang Green.
OT Carter Warren – 67: Warren is a third-round pick who was injured for much of last year but will look to climb the depth chart as a rookie.  A very strong pass protector, Warren still has work to do as a run blocker.  While a red shirt season would be ideal, that would require plenty of players with concerning injury histories to stay healthy.  Don't be surprised if Warren sees the field do to being forced up the depth chart or just stealing a job on his own.
DB Marquis Waters – 35: Waters' name wasn't mentioned all that much in the wake of Chuck Clark's injury but it should have been.  Waters is the closest thing to Clark on the Jets roster in terms of versatility but could be held back by his inexperience.  If he picks things up quickly enough, we like his chances to surprise by winning a roster spot.  Waters' versatility saw him play all over the field for Texas Tech last season.
Watched more Jets UDFA's over the past 48 hrs and Marquis "Muddy" Waters out of Tex Tech is super impressive. Saw him lined up everywhere so took a look at PFF snaps breakdown by position:

OLB: 219
ILB: 159
Slot: 465
FS: 25
CB: 15

INT in man cov out of slot vs Ole Miss pic.twitter.com/H7V5oV18hy

— Glenn Naughton (@JetsPicks) May 5, 2023
S Jordan Whitehead – 3: While Whitehead had his moments last season, he was largely inconsistent as a tackler and needs to be better in year two if the Jets defense is going to get stronger up the middle.
LB Quincy Williams – 56: A classic boom or bust player, Williams will have you jumping out of your seat on one play, and scratching your head on the next.
DT Quinnen Williams – 95: The best young player on the Jets roster, Williams is hoping to lock up a big new contract before the start of the season.  Will the Jets pay up or let it linger?
WR Garrett Wilson – 17: The rookie of the year on the offensive side of the ball, Wilson's 2022 production was nothing short of miraculous when considering the carousel of quarterbacks he played with.  If Aaron Rodgers stays healthy, look for Wilson to challenge a few Jets receiving records.
QB Zach Wilson – 2: This is a huge year for Wilson.  Despite looking nothing like an NFL quarterback for much of the 2022 season, the Jets added his boyhood idol as a mentor in Rodgers.  If working with Rodgers doesn't turn things around for Wilson, nothing will.
DL Al Woods – 96: A space eating defensive tackle in the middle of the D-Line, the herculean Woods hopes to clog the middle for opposing offenses this season.
TE Kenny Yeboah – 88: A promising young tight end who joined the Jets as an undrafted free agent a couple of years ago, improved depth at the position is going to make it much harder for Yeboah to hang around in 2023.
K Greg Zuerlein – 9: It would appear the Jets have finally fixed the kicker position by retaining Zuerlein who had a very good 2022 season and still boasts one of the most powerful legs in the NFL.
Videos
Aaron Rodgers Injury Fallout & Jets/Bills Recap