Week 8 Jets Report Card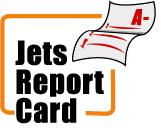 N.Y. Jets-13 Cleveland-20
By Joe Grinwis
Quaterback – F
Pennington (11-28, 108 yards, 2 INT's)
Chad had one of his worst days in his career against a Browns defense that was struggling coming into the game. Pennington posted a 21.1 passer rating (2nd worst in his career). His best throw of the day was called an incomplete pass on the Jets' final play of the game. In an attempt to tie it at 20 with 1:06 remaining, the officials ruled that Chris Baker would not have come down in bounds with his one handed grab he made in the corner of the endzone when he was shoved out by Browns safety Brodney Pool.
Running Back – D
Washington (15 carries, 51 yards, Fumble)
Barlow (5 carries, 16 yards)
Washington had a few nice runs but otherwise the running game struggled against the 29th ranked Browns run defense. Washington's fumble was just another sloppy mistake by the Jets' offense.
Wide Receiver – D
Cotchery (5 receptions, 43 yards)
Coles (4 receptions, 40 yards)
Coles was pretty much shut down by Leigh Bodden and aside from a few nice 1st quarter grabs Cotchery went basically unnoticed.
Tight End – D
Baker (1 reception, 17 yards)
Baker's one handed grab that was ruled incomplete with 1:06 to play should've been ruled a touchdown and if it weren't for his one 1st down catch and it would've been another non existent week for the Jets tight end unit.
Offensive Line – C
The running lanes were not there against the Browns who used NT Ted Washington sparingly and were also missing OLB Willie McGinest for some portions of the game. Pass blocking was very good however but Pennington's numbers wouldn't support it. The line let up only one sack.
Defensive Line – F
Rueben Droughns ran all over the Jets defense all day and once again there was no pressure from the front 3/4.
Linebackers – D
Eric Barton led the defense with 10 tackles and a sack as he was the main stopper of Droughns. Jonathan Vilma racked up 8 tackles but had a near INT that hit his chest in the 4th quarter.
Secondary – D
Andre Dyson left in the 2nd quarter and did not return but Drew Coleman played the best back there. Rookie Eric Smith had his first interception as a pro, Kerry Rhodes dropped an INT and once again Justin Miller struggles.
Special Teams – B+
Justin Miller = Outstanding day
Ben Graham = Outstanding day
Mike Nugent = Good day (2-3 FG's, okay kickoffs)
Coaching – D
The play calling on the first drive of the game inside the red zone was horrible and throughout the game it didn't get much better. The defense needs to stop with the 3-4 scheme and play more of a 4-3 at least for the remainder of this season because the Browns offense, THE BROWNS OFFENSE, killed the Jets defense all afternoon.
Videos
Aaron Rodgers Injury Fallout & Jets/Bills Recap