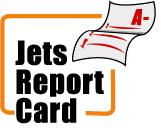 NYJets – 17 New England – 14
By Joe Grinwis
The Jets put an end to two Patriot streaks on Sunday by beating New England for the first time since 2002.  They also ended their streak of avoiding consecutive game losses (hadn't happened since 2002).  Here is this weeks Report Card:
Quarterback – B+
Pennington – 22-33, 168 yards, TD, INT
Aside from one bad pass from Chad early on, he was on target most of the day.  He didn't make any huge mistakes. The games big play was courtesy of Chad's perfect throw which was thrown where only Jerricho Cotchery could get it.  Cotch did make a great catch though.  Also, what about Chad's punt? Nice, no?
Running Back – B+
Barlow – 17 carries, 75 yards, TD
Washington – 9 carries, 35 yards
Kevan Barlow used his big body, bull-type rushing style to storm right up the middle of the Patriot defense.  Most noticeably on the 16 play, 9:12 TD drive by the Jets in the second quarter in which Barlow carried the ball 9 times for 42 yards and the score.  Washington was the change of pace back and also had a few good runs himself.
Wide Receiver – B
Cotchery – 6 receptions, 70 yards, TD
McCareins – 3 receptions, 31 yards
Coles – 5 receptions, 29 yards
For the 3rd straight game, the opposing team keyed on stopping Laveranues Coles.  Jerricho Cotchery once again stepped up and led the receiving core and scored the games winning touchdown.  He had one of the best combinations of catch and footwork we've seen this year.
Tight End – C
Baker – 1 reception, 7 yards
Baker continues to not get the ball enough but when he gets his opportunities he has usually been there to make a play. He's blocked well after struggling in his first few seasons in the league.
Offensive Line – A-
Did Chad get hit? He was sacked once and he didn't even go down on the play. The holes were wide open for Barlow up the middle in large part because of Nick Mangold's great play against Vince Wilfork.
Defensive Line – A-
If you take out the 55 yard run by Dillon the DLine in large part helped keep the 2 headed monster of Dillon & Laurence Maroney in check. A sack by each of the starting 3 helped keep Tom Brady on the Gillette Stadium turf most of the afternoon.
Linebackers – B+
Pressure, pressure, pressure and that is what the LB core did a lot of on Sunday. Vilma, Hobson Barton, Kassell, Chatham and Thomas (who had a sack) continued to blow past the Patriot offensive line and hit Brady in the mouth. They also were key contributors in stopping the running game.
Secondary – B
Brady picked on Drew Coleman often.  Fortunately for the Jets, Andre Dyson and Hank Poteat (remember him Patriot fans?) stayed on their men for most of the day. Don't remember Poteat's play? The fake spike by Brady right before the half on which Poteat didn't bite.
Special Teams – B+
Another good day from Ben Graham and Justin Miller. Mike Nugent was 1-1 on his FG's but once again could not kick the ball inside the opposing 10 yard line on his kickoff's. May there be a kickoff specialist on the 2007 roster? Time will tell.
Coaching – A
If the game ball goes to anyone it should be shared between Mangini & Little Shotty. What a game plan and great offensive calling. Bob Sutton did a stand up job as well finally blitzing the linebackers and safeties throughout the game and not only in the 4th quarter.