JetNation Week 11 Report Card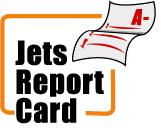 Chicago – 10 N.Y. Jets – 0
By Joe Grinwis
Quarterback – F
Pennington – 19-35, 162 yards, 2 INT's
Both interceptions came at costly times and the first one in the second quarter was inside the 10 yard line.  Pennington missed a wide open Laveranues Coles on the other side of the field. The Bears routinely had 8 or 9 in the box and forced Chad to beat them. He couldn't.
Running Back – D
Houston – 11 carries, 50 yards
Washington – 13 carries, 22 yards
Barlow – 4 carries, 2 yards
Cedric Houston playing in his first game since Week 4 vs. Indianapolis had a successful day but the double team of Washington & Barlow who had been successful in recent weeks struggled.  Aside from two nice Washington runs he was shut down and Barlow was out of the game by halftime.
Wide Receiver – C
Coles – 8 receptions, 80 yards
Dwight – 5 receptions, 40 yards
Cotchery – 3 receptions, 25 yards
LC had a good day coming up with a few nice 1st down grabs and Tim Dwight emerged as an offensive threat for the first time this season. The Bears took Cotchery out of the game with their cornerback tandem of Nathan Vasher and Charles Tillman.
Tight End – F
Baker – 1 reception, 3 yards
Baker was called twice for penalties (once for holding, the other for an illegal shift) in the middle of drives and again was pretty much absent from the offense.
Offensive Line – B
The line let up only 2 sacks and Pennington was protected pretty well throughout the day. Not a lot of holes for the ground game but an ineffective passing game led by Pennington had the Bears being able to leave 8 in the box nearly every time.
Defensive Line – C-
Thomas Jones & Cedric Benson ran for 172 yards on 31 carries and nobody on the line had more than 2 solo tackles. Dewayne Robertson continues to improve as he is looking more and more like he may be able to stay in Mangini's 3-4 scheme.
Linebackers – C+
Blitzing was effective and it led to a lot of pressure on Grossman by Thomas & Hobson specifically. My question is where the hell was Jonathan Vilma?  I will take Nowhere for $500 Alex. 9 tackles yeah with only 2 of them being solo.
Secondary – B+
Corner's Andre Dyson, Drew Coleman, David Barrett & Justin Miller played well for the most part (minus Coleman's slippage / missed tackle on the Bradley 56 yard TD reception in the 4th quarter). Dyson left in the second half and did not return. Kerry Rhodes… hell of a day. Led the team in tackles with 8 (all solo) and had a big sack of Grossman early on. Also applied pressure by batting down a ball and coming close to sacking Grossman a few other times.
Special Teams – B
The onside kick could've been in the air more than it was, Ben Graham had a very good day again, Miller only had a 16.0 average on 3 returns and it appears Nugent's leg is becoming more of a concern to Mangini since he passed up on FG attempts of 52 and 50 yards out to punt / go for the first down.
Coaching – D
Bob Sutton, good job. Everybody else, awful. Mangini's decision to do the onside kick was STUPID and the timing of it was even worse.  Horrible play calling on offense by Shottenheimer as well. What is this? Marty ball? Hackett ball? 8 in the box and you run 23 times in the 1st half? Give me a break. Throw the damn ball… Chad wasn't as ineffective until the Jets were trailing.
Videos
Aaron Rodgers Injury Fallout & Jets/Bills Recap