JetNation Week 12 Report Card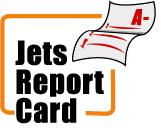 Houston – 11, JETS-26
By Joe Grinwis
Quarterback: A
Pennington – 24-31, 286 yards, TD
All Jets fans quickly went silent when they noticed #10 was on the ground but when he bounced back up pumping his fists in the air the Meadowlands crowd exploded. It just goes to show you who the majority of Jets fans want leading this team. #10 Chad Pennington. Oh, and, by the way, he had a pretty good game as well.
Running Back: F
Houston – 11 carries, 13 yards, TD
Washington – 5 carries, 17 yards
Barlow – 8 carries, 5 yards
Horrible running game from both teams but especially the Jets who in total ran for 27 yards on 26 carries. Wow. Cedric Houston did score a TD but it was only a one yard run. Don't know why Leon Washington didn't get more play calls from Offensive Coordinator Brian Schottenheimer, but, he should've.
Wide Receiver: A
Coles – 9 receptions, 111 yards, TD
Cotchery – 7 receptions, 110 yards
It was the second time this season (Week 2 vs New England being the other time) that both Coles & Cotchery had 100+ receiving games. Cotchery made two tough catch and run grabs over the middle and LC made a nice TD grab in the 3rd quarter to increase the Jets lead to 16-3.
Tight End: C
Baker – 1 reception, 28 yards
Great catch and run by Baker but once again the offense needs to get him the ball more. This guy is a monster waiting to be unleashed. Lets not forget Jets fans, this is the same tight end who when he left Michigan State University was the all time receptions leader.
Offensive Line: C+
The pass protection was solid for the most part but Pennington did get hit a few more times than last week. Run blocking was horrible but that also plays into the Texans putting 8 in the box and making Chad beat them, much like the Bears had success with last week.
Defensive Line: A
The front 3 and 4 were the ones causing most of the havoc in the Texans' backfield and created a lot of pressure. DE Shaun Ellis had 1.5 sacks and NT Dewayne Robertson had a 0.5 sack as well. Best game of the season for the front line by far. The Texans ran for only 25 yards and the front line played a big part in it.
Linebackers: A-
Bryan Thomas led the team with 2 sacks and Victor Hobson tied the team lead in tackles with 11 on the day and was routinely in the Texans backfield applying pressure on Carr and stopping RB Wali Lundy. And as listed above, the linebackers as well played a big part in holding the Texans to only 25 yards on the ground.
Secondary: B+
Eric Moulds & Andre Johnson both had 10 receptions a piece but those stats are misleading due to a lot of them coming in the final 8 minutes when the Jets led 26-3. S Kerry Rhodes continues his push for the Pro Bowl with a team high tying 11 tackles, a pass defended and his 3rd interception of the season.
Special Teams: A
Boy does Ben Graham have a leg? But, we knew that. The day belonged to Jets K Mike Nugent who tied a career high with 4 field goals on the day.  One of which was the longest of his professional career, a 54 yarder.  With just 1:09 remaining in the first half it gave the Jets a 9-3 halftime lead. Kudos to Nuge, he and Chad were the players of the day. Oh and if you ask where was Justin Miller? The Texans were too scared to kick his way, so, he gets an A for being a key decoy.
Coaching: A
Schottenheimer called an agressive game attacking the Texans' weakest link (their secondary). The running game wasn't there and he figured that one out early on. Kudos to Little Shotty. Bob Sutton also had a strong game plan. The Jets didn't blitz like crazy as they had done the previous 2 weeks against the Patriots and Bears because the front 3 / 4 was able to stop Wali Lundy.  This let Linebackers Bryan Thomas & Victor Hobson drop into coverage and blitz at more surprising times.  Great game plan by Mangini & Co.
Videos
Aaron Rodgers Injury Fallout & Jets/Bills Recap