JetNation Week 13 Jets Report Card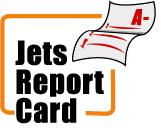 Jets – 38, Green Bay – 10
by Joe Grinwis
Quarterback: A-
Pennington – 25-35, 266 yards, 2 TD's, 2 INT's
Aside from the 2 picks, one of which was deflected at the line of scrimmage, Pennington had a near perfect day.  He hit his receivers in stride every time and used the play action pass early and often in the 1st half. Two straight very good games from #10.
Running Back: A
Houston – 22 carries, 105 yards, 2 TD's
Washington – 7 carries, 40 yards, TD
B.Smith – 1 carrie, 32 yards
Cedric Houston had his best game of the season, Leon Washington added another 40 yards on 7 carries and rookie Mr. Everything Brad Smith had his longest play of the season on the 32 yard reverse in the 2nd quarter. The ground game was very efficient and helped the play action passing game come alive early.
Wide Receivers: A-
Cotchery – 9 receptions, 99 yards, TD
Coles – 3 receptions, 28 yards
B.Smith – 2 receptions, 14 yards
Jerricho Cotchery got his career high in receptions with 9 and continues to add to a breakout season for the 3rd year wideout. Laveranues Coles made some nice catches and B.Smith finally got the ball thrown his way.
Tight End: A
Baker – 4 receptions, 54 yards
Baker had his best game of the season receiving wise.  He was also a big part of the blocking for Chad (sacked 0 times) and for the running game.
Offensive Line: A
No sacks allowed, running game produced 173 yards, excellent game for the mostly young OLine.
Defensive Line: B+
Ahman Green (14 carries for 102 yards) ran well but it clearly wasn't enough to make any difference in the game. DE Shaun Ellis got a half a sack and put constant pressure along with NT Dewayne Robertson all day.
Linebackers: A
Where did this pass rushing ability come from with Bryan Thomas? Two straight weeks now with 1.5 sacks, fresh off his new 5 year extension. Jonathan Vilma finally made some noticeable plays and Victor Hobson and Eric Barton once again put pressure on the quarterback and stopped the run.
Secondary: A+
Kerry Rhodes – INT. Andre Dyson – INT. Great play from the corners, inclulding, HELLO, a Justin Miller sighting! Hank Poteat played well and Green Bay did not have a Wide Receiver get more than 41 yards. Their leading receiver? Back-up running back Noah Herron.
Special Teams: B+
Nugent was 1-1 on his lone FG attempt but had 2 poor kickoffs, the rest were okay. Justin Miller had a few good returns and Ben Graham's lone punt went 51 yards.
Coaching: A
LOVED the play calling, except for one play which keeps this grade from an A+. When you're up 31-3 midway through the 3rd quarter, you don't go play action 40 yards down the field and challenge Charles Woodson. But, other than that, another great game calling day by Mangini & Co.
Videos
Aaron Rodgers Injury Fallout & Jets/Bills Recap