Week 14 JetNation Report Card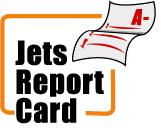 Buffalo-31, Jets-13
By Joe Grinwis
Quarterback: F
Pennington – 22-35, 182 yards, TD, 2 INT, 1 Lost Fumble
Pennington gave the Bills 14 points (interception, fumble). By himself he turned the ball over 3 times and he did not throw the ball down the field. He's struggled mightly in this last 6 quarters of play and the Jets need him to pull out of this funk if they have any hope left of making the playoffs.
Running Back: D
Houston – 18 carries, 50 yards
Washington – 7 carries, 55 yards
Leon did have a pretty good day in his limited amount of carries but why did the Jets shy away from Cedric Houston? Sure he was stopped on a few runs but he gives the Jets there best consistent option on the ground.
Wide Receiver: D
Coles – 4 receptions, 67 yards, TD
Cotchery – 5 receptions, 36 yards
LC had a good first half but in the second half he was invisible. Cotchery was taken out of the game by the Bills once again.  
Tight End:Â D
Baker – 2 receptions, 17 yards
Where was Chris Baker? Once again, nowhere for the most part, and his blocking which is usually good, was nowhere to be found either.
Offensive Line:Â D
The running game was inconsisent and Pennington was pressured throughout the game by Bills DE Aaron Schobel (3 sacks) & Co.
Defensive Line:Â F
Where was the pressure? Both Dewayne Robertson & Shaun Ellis had one of their worst games of the season.
Linebackers:Â C
Jonathan Vilma was limited to ONE tackle. ONE tackle? For a Pro Bowl linebacker? There is no excuse for that. Bryan Thomas (1 sack) and Victor Hobson (2 sacks) had decent days but like Vilma, Eric Barton was nowhere to be found.
Secondary:Â C
If you take away the Lee Evans 77 yard touchdown grab, the secondary stepped up and played well. Then again, J.P. Losman only had to throw the ball 15 times before the game was pretty much over and they were able to give the ball to back-up running back Anthony Thomas.
Special Teams:Â B
Mike Nugent was 2-for-2 on field goal attemps, Justin Miller had a couple nice returns but Ben Graham failed to pin the Bills inside their 10 yard line when the Jets were down 8 and punted on a 4th and 6 from the Bills 43 yard line.
Coaching:Â F
The play calling was ridiculous on offense, the defense got beaten twice for big play touchdowns in the first half and Mangini picked the wrong game to go conservative. Let me get this straight Eric, you can go for onside kicks in tie ball games but you can't go for 4th and 1 down by 8 in the 3rd quarter? Ridiculous.
Videos
Aaron Rodgers Injury Fallout & Jets/Bills Recap