JetNation Week 15 Jets Report Card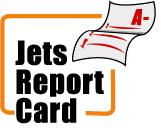 Jets-26, Minnesota-13
By Joe Grinwis
 
Quarterback: A
Pennington – 29-39, 339 yards, TD, INT
Pennington had a near perfect game with his lone mistake (interception) coming when the game was basically over with the Jets leading by 19 in the 4th quarter. Chad rebounded strongly after his poor performance against the Bills and the saying proves right again. As Chad goes, so go the Jets.
 
Running Back: C
Houston – 21 carries, 53 yards, TD
Cedric Houston ran for a yard less than Minnesota gives up per game on the ground.  The Jets as a team ran for 68 yards. Usually 68 yards would warrant an F or a D, but against Minnesota's Run D? Lets give it a C.
 
Wide Receiver: A
Coles – 12 receptions, 144 yards, TD
Cotchery – 6 receptions, 56 yards
McCareins – 2 receptions, 70 yards
Hello! We have a Justin McCareins sighting! LC had a career day in receptions tying his high in a game with 12 and also hauled in his 6th TD of the season. Jerricho Cotchery made some nice catches early on and Brad Smith too had a nice 19 yard catch and run play.
 
Tight End: B
Baker – 4 receptions, 33 yards
Baker & Ryan blocked well for the most part today and Baker was there for a few nice grabs.
 
Offensive Line: B+
If you take out the 2nd play of the game where Pennington was hit and fumbled, the OLine pass protected well throughout. Heck, they even opened up a few holes on the NFL's #1 run defense.
 
Defensive Line: B
Constant pressure on Brad Johnson early on was the key. CJ Mosley came back to Minnesota and got a sack and Dewayne Robertson was seen in the backfield as well.
 
Linebackers: B+
If Victor Hobson doesn't get a contract extension then this team is crazy. Another big day from Hobson (8 tackles, 1 sack) and the rest of the linebacking core applying pressure and stopping the Vikings' Chester Taylor (11 carries, 38 yards) on the ground.
 
Secondary: B+
There were times where they were beaten but Hank Poteat stepped up and played a very good game as well as Erik Coleman. David Barrett clinched the victory with a late 4th quarter interception.
 
Special Teams: A
Mike Nugent (4-for-4) was perfect on his field goal trys and one of them was a 52 yarder, his second straight 50+ yarder made in as many tries. Nugent now has hit 13 straight field goals on the season and has missed just once (Week 8 in Cleveland) since Week 1. Punter Ben Graham for the most part punted well in the Dome and Justin Miller really didn't get too many chances to return but when he did he didn't make any mistakes. Leon Washington had a nice punt return as well.
 
Coaching: A
Hell of a job by Brian Shottenheimer today with his play calling and Bob Sutton brought the blitz at the right time on defense. Eric Mangini lit a fire under the Jets' collective butts and this team is back into the playoff picture with two weeks to play.
Videos
Aaron Rodgers Injury Fallout & Jets/Bills Recap