JetNation Week 16 Report Card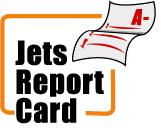 By Joe Grinwis
Jets 13 – Miami 10
Quarterback C
Pennington – 14-29, 237 yards, TD
Chad had an average day and most of his work was done on the 64 yard dump off to Leon Washington late in the game. Two nice passes to Cotchery & McCareins were pretty much it for Chad.  He didn't turn the ball over and has brought this within one win of the playoffs.
Running Back B
Washington – 6 carries, 26 yards – 4 receptions, 108 yards
Kevan Barlow (18 carries, 36 yards) hopefully will not see the field again this season and boy what about Leon? That Herm for Leon trade looked pretty darn good last night, didn't it?
Wide Receiver C
Cotchery – 4 receptions, 50 yards, TD
Coles – 2 receptions, 9 yards
McCareins – 2 receptions, 47 yards
Jerricho Cotchery made a nice TD grab and McCariens hung onto the wet ball to make a key grab in the second half. LC was basically non-existent with him not playing at 100%, Miami double covering and a few early drops which I'm sure led to him not seeing the ball thrown his way much in the second half.
Tight End C+
Baker – 1 reception, 11 yards
One good first down reception by Baker and pretty good blocking throughout the night gives Baker a C grade. Sean Ryan, once again, had a good day blocking as well.
Offensive Line B
Pass protection was well for the most part (besides a few plays where Jason Taylor blew past D'Brick) and in the running game they had to block for Kevan Barlow, not Cedric Houston.
Defensive Line B-
The line put decent pressure on Harrington & Lemon but the run D still does need work. Dewayne Robertson once again stood out for the good things, not the bad.
Linebackers B+
Bryan Thomas, Jonathan Vilma and Victor Hobson all had good games.  They put the majority of the pressure on Harrington & Lemon. If Hobson is not re-signed before the end of the 2007 season (when his rookie contract expires) like Thomas, Jets fans should be angry.
Secondary B+
Hank Poteat had another strong game, Kerry Rhodes as well (minus the bad tackling on the McMichael touchdown). Andre Dyson, well lets just hope he's okay because at corner he's been the one constant throughout. Overall a pretty good day for the secondary.
Special Teams B
Mike Nugent has now made 15 field goals in a row (2 for 2 last night), Ben Graham punted often and well early on. Justin Miller had no chance to return anything as Miami K Olindo Mare booted a couple touchbacks. Once again, no fire power on punt returns.
Coaching A
Another great coaching job by Mangini, Shottenheimer, Sutton & Westoff.
Videos
NY Jets Phase 3 OTAs, Expectations and a Minor Calf Tweak with Greg Renoff